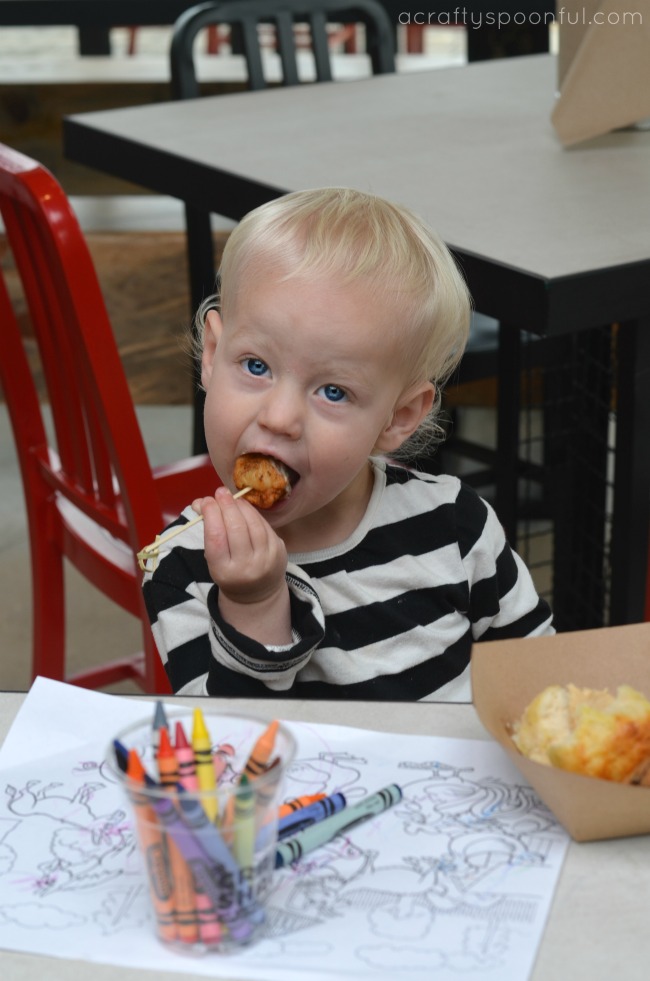 This past Tuesday the littlest and I headed out to Encinitas to check out the latest from Juniper & Ivy owner Michael Rosen and acclaimed Top Chef All-Stars winner Richard Blais. The Crack Shack Encinitas, the second location of their fast casual concept restaurant that originated in Little Italy, is opening up on Monday, 2/13 at 9am.
Occupying a former Coco's – originally a Bob's Big Boy circa 1975 – on the bustling corner of Encinitas Boulevard and Calle Magdalena, The Crack Shack Encinitas brings the brand's playful approach to traditional chicken and eggs to coastal North County. Even the toddlers will want to come back again and again after enjoying this deliciousness!
Just like their location to the south, The Crack Shack Encinitas menu features an all-day selection devoted to fried (or grilled) chicken and egg-centric dishes conceptualized by Chefs Blais and Jon Sloan (Juniper & Ivy Executive Chef.) However, the new location will expand its offerings with the addition of their six signature sauces on tap, and an espresso bar fueled by the local Bird Rock Coffee Roasters.

The Food
Sourcing both produce and proteins from boutique local farms, the menu utilizes free range, non-GMO eggs and high-end organic ingredients while relying on its own custom bread program to produce hundreds of handcrafted English muffins daily. My little one's favorite part of the menu? The "deviled chickens" or deviled eggs. The delicious eggs are paired with candied bacon and a french toast crumble to create a tasty 2-3 bite appetizer.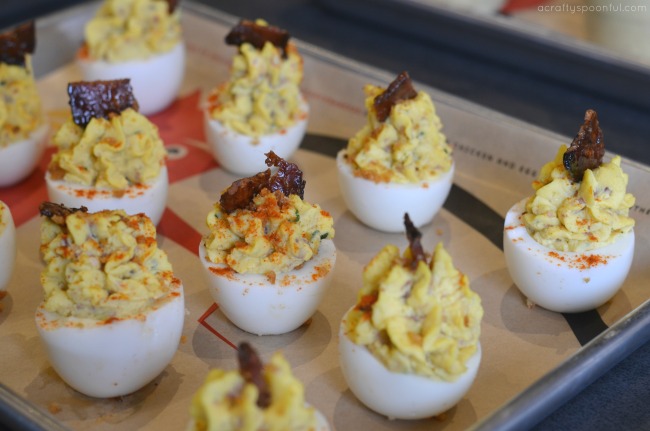 Other menu highlights include The Royale with savory chicken sausage, organic sunny side egg and smoked cheddar on a house made English muffin, the Firebird with spicy fried thigh, cool ranch, crispy onions, and pickles on a potato roll, Fried Chicken available in five or ten piece portions, hearty Matzo Ball Posole with braised chicken, lime, schmaltz, and all the fixins', as well as lighter options such as the Downward Dog with local vegetables, hazelnuts, quinoa, hummus, kale, lemon yogurt vinaigrette and option to add a fried egg and the newly revamped Kale Salad with sliced apples, goat cheese, hazelnuts and champagne vinaigrette. But my favorite salad has to be the Baja Chop. Absolutely outstanding!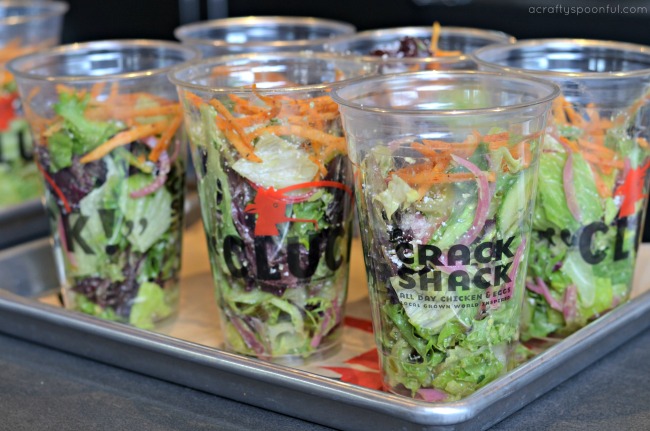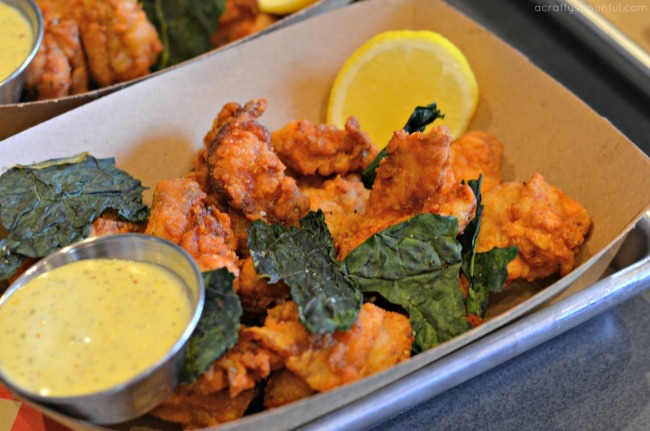 The Crack Shack's signature topping-centric Soft Serve will also be making its way to the Encinitas location, in addition to a variety of other desserts to complement the savory side of the menu.
To seamlessly balance the restaurant's chicken- and egg-inspired menu, The Crack Shack Encinitas will feature a full bar program with craft cocktails developed by Bar Manager Eric Johnson, while also offering 32 taps – including two on nitro – of local craft beer and wine at their 18-seat wraparound bar. Mindful of the range of meal opportunities presented by the all-day menu, Johnson's drink list has been fashioned with something to appeal to imbibers at any and every point in the day, and the beverage program will also include a variety of options catering to those abstaining from alcohol.
We were able to chat with Eric and are excited to come back and try some of the tasty cocktails he's crafting up. Including some beer cocktails, classic flavors, and a few locally highlighted breweries on tap.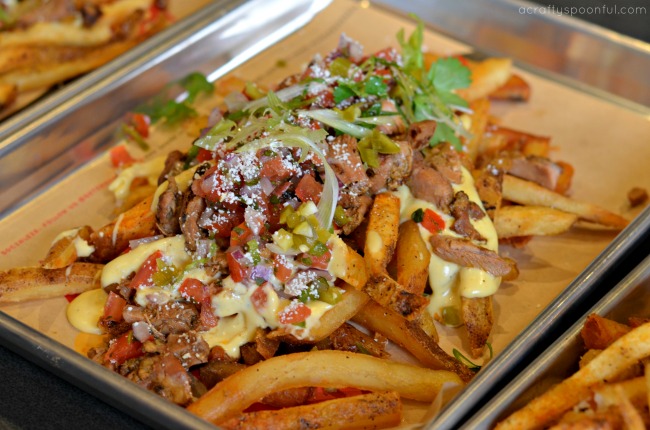 The Ambiance
With the keen attention to detail they applied at the original location, Bluemotif Architecture is back again with a strong emphasis on the overall experience that The Crack Shack Encinitas will provide, and design elements that play to that mindset. In addition to staying consistent with signature elements from Little Italy – custom-made tables, bocce ball court (that can be turned into a putting green if needed) – The Crack Shack Encinitas will feature a kid-friendly sandbox and chalkboard wall, an all-weather outdoor dining area with retractable roof, chicken-themed American Gothic mural, custom chandelier, and a semi-private room with fireplace and multiple large screen TV screens along with the restaurant's now signature nine-foot-tall chicken statue.
If you have small kids, this outdoor area is the perfect place for you to enjoy good food and a good beer while still entertaining the little ones. The one thing the little one wanted to do when we got there was jump into the sand box. Too bad it had rained the night before! Next time we come back, it's on!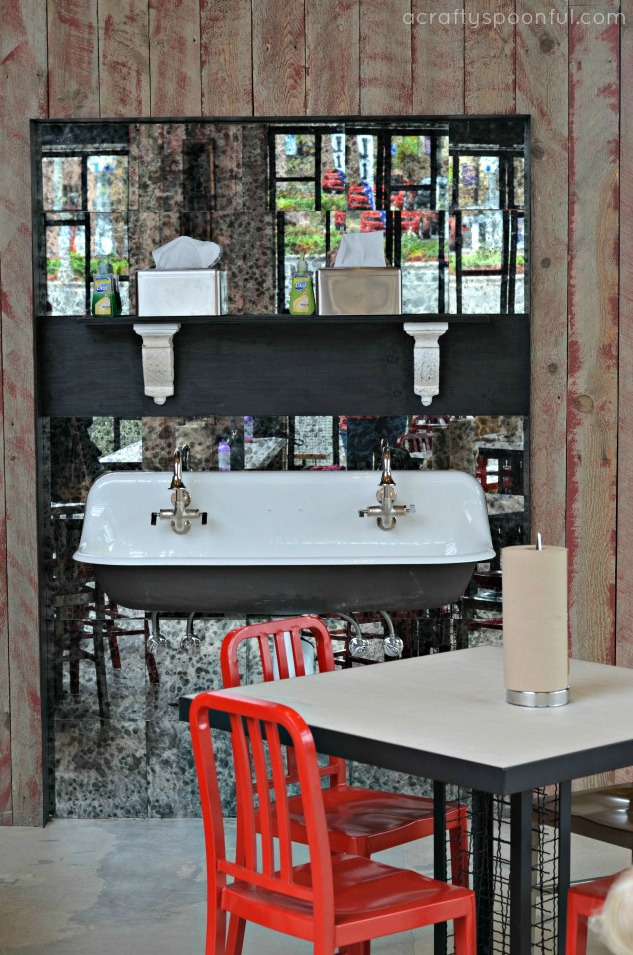 Keeping the original bones and concrete floors from the Coco's overhaul, additional construction of The Crack Shack Encinitas has centered around a focus on sustainability and an homage to the true chicken 'coop'. Each design element has a story to tell from the reclaimed corrugated metal roofing that was part of an actual chicken barn to the communal table benches made from local Torrey pines that fell naturally due to weather or age. The landscaping is deliberately native and drought-tolerant, while solar panels on the roof work to offset power consumption. Additionally, the design team has incorporated chicken coop wire to surround the outdoor fire pit, as well as stained mirrors, vintage inspired tiles and a trough-style sink, all reminiscent of the mid-century chicken farms that defined portions of American history.
From the custom-made communal tables, including one with seating for 10 along an open fire pit, to the various large screen TVs, low Adirondack-style chairs, and turf court that can be utilized for bocce, cornhole and mini-golf, the indoor-outdoor dining area was intentionally designed to encourage guests to eat, drink and linger throughout the day, while the retractable roof eliminates weather concerns that are sometimes a consideration at the Little Italy location.
Meanwhile, those opting to take their meal to-go experience an expedited ordering process from a walk-up station that affords the opportunity to skip long lines at the main entrance.
Whatever way you choose to enjoy The Crack Shack – dine in or take out – I suggest just heading over and trying a little of everything!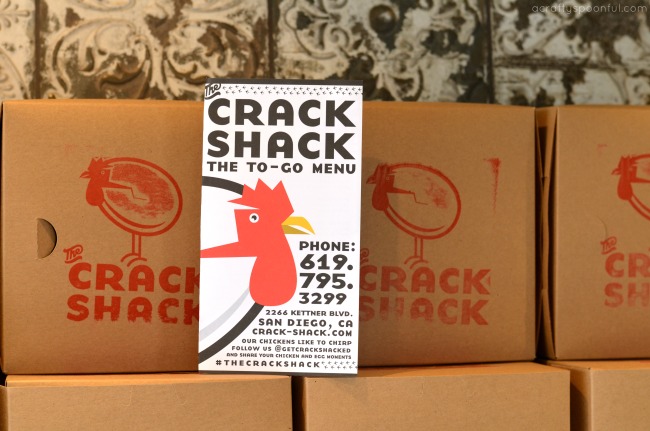 The Crack Shack is located at 407 Encinitas Boulevard, Encinitas, CA. For complete information, visit: www.crack-shack.com.
You can follow The Crack Shack on Facebook, Instagram, and Twitter!