I don't know what it is about slow cooker pulled pork but it's one of my absolute favorites to make! From root beer pulled pork, to coke pulled pork, to regular old spiced up pulled pork like this one, a pulled pork sandwich is definitely comfort food in my home.
And if you don't have time to make homemade buns, simply grab some slider buns from the grocery store and enjoy some mini pulled pork sliders like these. Don't forget the dill pickles on top though. They definitely add something to this delicious meal.
This meal is perfect for the family or for parties when you have lots of people over. And the leftovers (if there are any) can easily be incorporated into other dishes throughout the week.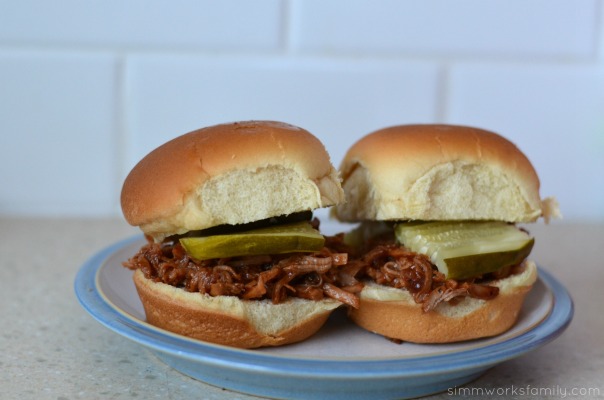 Mini Pulled Pork Sliders
1 medium onion, chopped
1/2 cup ketchup
1/3 cup cider vinegar
1/4 cup packed brown sugar
2 tablespoons tomato paste
2 tablespoons paprika
1 teaspoon cayenne pepper
2 tablespoons Worcestershire sauce
2 teaspoons salt
1 teaspoons black pepper
2 pounds pork loin
8 mini slider buns
Combine all of the ingredients except the pork and the buns in a large slow cooker. Stir together with a spoon until well combined.
Add the pork and place the lid on the slow cooker. Cook for 8 hours on low or until pork is tender and easily pulls apart.
Take two forks and shred the pork. Or if you have a Kitchenaid mixer, mix with a paddle attachment until shredded. Place the pork back into the slow cooker with the remaining sauce. Stir well and serve on rolls or buns.