This sponsored post about how to care for kids with a fever is brought to you by Pediacare.
Ever wake up in the middle of the night to crying kids with a fever? They are upset, don't feel good and just want to be comforted? Well I've been there. And trying to give the right dose of acetaminophen to reduce the fever and offer relief can sometimes be a pain.
Not knowing the right dosage, having to turn on a light and wake everyone up, and worst of all, having an upset child not want to take their medicine. Well now with the Squeezable Single Dose Packets by PediaCare®, giving medicine is a heck of a lot easier!
That's right! The geniuses over at PediaCare have created a single dose packet that's simple and easy to use. A no-brainer! And Dr. David Hill, father, pediatrician and author of Dad to Dad: Parenting like a Pro, agrees that this is the perfect solution to all of our medication problems!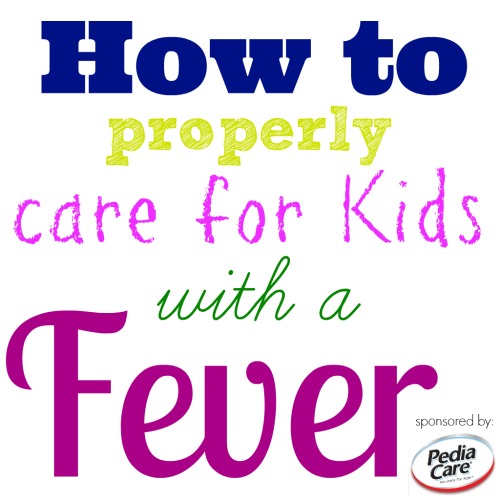 How To Properly Care For Kids With A Fever
Dr. Hill also addresses the misuse of medication with children. Did you know that one-third of ER visits last year involved kids under 12 and medication? 80% were due to unsupervised kids on their own while 10% were due to medication dosing errors.
Well PediaCare and Dr. Hill want that to change. With the help of PediaCare single dose packets and the information below, we're hoping to lessen the number of ER visits parents have to make with their kids and make sure our children are receiving the proper dosage of medication.
Always use a thermometer to take your child's temperature. While you can use your hand to see if your child's warm, it is not a good indicator of fever.
A fever is classified as:
100.4 degrees or above if taken rectally,
100 degrees or above if orally,
99 degrees or above if taken in the armpit.
A fever cannot hurt a child in general, only call if your child has the following symptoms:
child younger than 90 days has a fever
child over 90 days old has a fever over 104 degrees
child's fever lasts over 3 days
Watch this video by Dr. Hill to learn just how these single dose packets are designed to be safe and easy for everyone.
PediaCare® Single Dose contains the accurate dose for just one treatment and is available in two sizes. The 7.5 mL packet is for children 36-47 lbs. or ages 4-5, and a 10 mL packet is for children 48-59 lbs. or ages 6-8.

PediaCare® Single Dose is specially designed for little mouths to make taking medicine less intimidating, and the squeezable packet helps eliminate spills and creates less mess than a dosing cup. Each packet is child resistant with a fold-and-tear opening process.

Caregivers then simply squeeze the medicine from the packet directly into the child's mouth, similar to the squeezable yogurt and pureed fruit products to which most children have become accustomed.
Have you dealt with medicine mishaps?