One of the biggest things we're working on right now with our kids is learning the alphabet. From their curriculum at preschool to what is done at home, we're always thinking of how to help your preschooler learn the alphabet.
Since my son is entering kindergarten in the Fall I want to make sure that he has every opportunity to explore the alphabet and get a head start on what he'll be learning in the classroom.
I also need to make sure I'm making it fun for him too. Because if he isn't interested, he isn't going to participate at all! 
How to Help Your Preschooler Learn The Alphabet
In Every Day Life
Placemats: Consider using alphabetical placemats during mealtime. Not only is it always visible but some even come with dry erase markers so your child can trace the letters as they eat.
Magnets: Keep the letters visible by adding alphabet magnets on the fridge. My kids LOVE playing with these all the time and are now trying to create names out of the letters.
Books: access to books (consider creating a kids reading nook to make it inviting).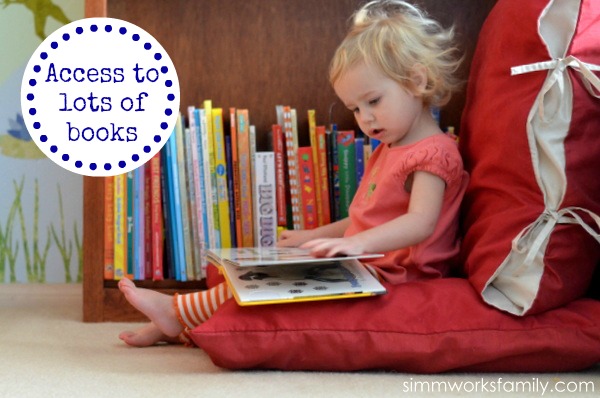 In The Car
Music: Consider making a few CDs with alphabet songs.
Tracing: We found some awesome dry erase boards in the dollar section at Target (they're also at the dollar store too!) that we take whenever we're in teh car. Kids can practice their letters while driving around.
Sight Letters: Point out letters on signs, buildings, etc and see if your child can recognize them. Or point out pictures on billboards and see if they know what letter the photo starts with.
Out In The World
Draw letters in the ground: draw letters in the sand at the beach or in the dirt at the playground. Let your child trace them and/or draw their own.
Use other objects: find sticks to create letters on the ground or rocks and pebbles. Make it fun and creative to get the kids involved.
Point things out: point out the letters on license plates or signs. Every day when we walk to the community garden we point out the letters on the street signs and license plates as we pass them.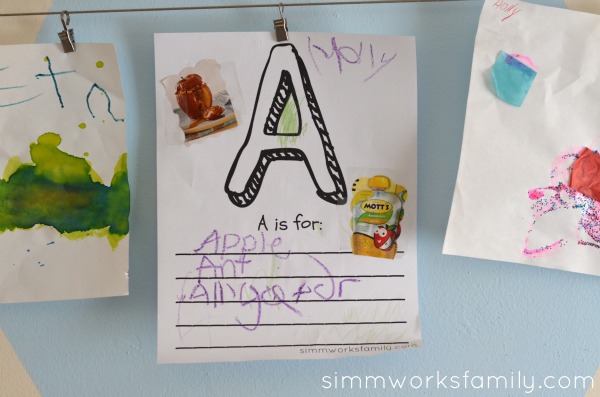 Activities to Do:
Alphabet Worksheets: Use printable worksheets to work your way through the alphabet. Put together each page and create an alphabet book.
Letters Out Of Cereal: Grab some dark colored construction paper and use white glue to make a letter. Have your child place cereal on top of the glue to "trace" the letters. Make an alphabet book out of their work.
Craft and Create: Let your child craft out letters with anything she can. My son used to use crayons, beads, all kinds of things…
Stamp it up: Create some fun potato stamps to let your kids play around with stamping different simple words (like their name).
Use Sensory Tools: Cut out letters from sandpaper so they can trace them and feel them.
Apps and Technology
Dinosaur Train A-Z: Dinosaur Train A to Z is the ultimate dinosaur app from the hit PBS KIDS show Dinosaur Train. The app not only help kids build reading skills, but also will encourage the exploration of life science and natural history through discovery, play and reading. Targeting kids ages 3-6, the app is designed to extend the series' science curriculum and PBS KIDS' focus on STEM education. Through the letters of the alphabet, kids will learn about 26 dinosaurs by touching and feeding them, x-raying them, discovering dinosaur facts and more.
Leapfrog Letter Factory: This is a great DVD that encourages kids to explore letters. You can also find some Leapfrog programming on Netflix too. Once my kids found them they couldn't turn them off!
Other Educational Apps: Check out these 10 best iPad apps for preschoolers if you're looking for other ways to incorporate the alphabet into their everyday learning and play.
How do you help your preschooler learn the alphabet?
 Disclaimer: I received a free code to download Dinosaur Train A to Z from PBS Kids. Regardless, I only promote products and companies I believe in. All opinions are 100% my own.