Check out these great elementary school fundraising ideas to raise money for school the easy way! There's a lot we can do for our school by simply signing up for programs that already exist. And there are way more than just the "known" programs we've seen.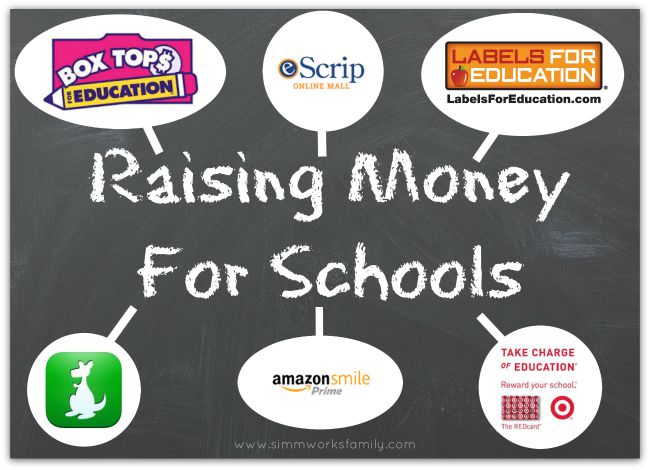 Over the past two years, I jumped onto the parent teacher organization bandwagon and joined my son's school's PTG board (a variation of a PTO). As someone who has made social media and this blog her job over the past few years, I decided to use the skills I've learned – networking, promoting, and marketing myself essentially – for something good. And with that, I stepped up into a brand new role for the school – the sponsorship coordinator. Basically, I would reach out to local and national businesses and ask for their support.
But in addition to reaching out to local businesses for donations, there's a lot we can do for our school by simply signing up for programs that already exist out there. And there are way more than just the "known" programs we've seen.
In an effort to make things easier on me, I decided to do a little research and ask fellow parents and teachers to share what programs their schools are using – public and private – to raise funds. And, of course, I'm sharing that with you!
Below is a list that I'll continue to add to and update with ways schools – teachers, parents, students, the community – can raise money easily and with little effort. If you have any other tips or tricks that can help, they'd be warmly welcomed!
How to Raise Money For School: Elementary School Fundraising Ideas
eScrip –
eScrip is a simple and easy way for schools to earn money by selling gift cards and receiving rewards by having parents and individuals register their reward cards and their debit/credit cards. Every time a purchase is made, depending on the retailer, a percentage of the sale is given to the schools. An added bonus? You can buy a gift card to the store you're using your rewards card at and receive double the bonus (rewards for buying the gift card and then rewards for using your rewards card). You can find out more on how to register – like less than 5 minutes and you're done – by going to their site here.
eScrip also has a program called ForgetMeNot™ that you install on your computer to remind you when you visit one of the shops online that gives back. You can also click when you see the ForgetMeNot™ reminder to activate your earnings and to access all available coupons & offers. Save money while earning for a great cause.
Box Tops for Education –
Now most schools are already utilizing this program but it does take a little extra work. If someone on the PTG or PTA board isn't already in charge then this might be someone you'd want to reach out and find to act as the Boxtops coordinator. Once the school is set up, its as easy as 1, 2, 3, 4!
Find Box Tops on hundreds of products.
Clip Box Tops from each package. Do the school a favor and make sure you follow the edge carefully and trim all Box Tops before turning them in. While doing this check to make sure the Box Tops haven't expired.
Send the Box Tops to your school.
Box Tops are each worth 10¢ for your school.
Fore more info, visit the Box Tops website.
Campbell's Labels for Education –
Labels for Education a fun and easy program where families and members of the community work together to "Earn Free Stuff" for their school.
By collecting UPCs and beverage/sauce caps from many participating products and supplementing your earnings with bonus offers, your school earns points that can be redeemed for Arts, Athletics, andAcademics merchandise. Explore the online catalog to see what your school can earn.
If your school or organization is not one of over 60,000 registered with the Labels for Education program, you can help your school enroll by contacting your school principal and asking them to appoint a coordinator, or you can volunteer to be a coordinator. The school coordinator helps by managing the school's account, program communication, point collection, and redeeming points for merchandise for the school.
America's schools and organizations have earned over $114 million in merchandise over the Labels for Education program's 42 year history. You can find more info here on their website.
Please note: You will need to choose between enrolling in Labels for Education OR Box Tops for Education. Your school cannot currently participate in both.
Target REDcard Take Charge of Education® –
I don't know what it is about Target but every time I go in, I come out at least $100 poorer. Sure I *needed* that dollar spot notebook, and those throw pillows for the couch, but if I could also be benefiting my son's school while shopping there too I'd feel a LOT better about the amount I spend there. If you have a Target REDcard, choose your kids' elementary school, the neighborhood middle school or any other eligible K–12 school and they'll donate up to 1% of your REDcard purchases at Target stores in the U.S and at Target.com. More info can be found here to find out how to sign up.
* Since first publishing this article, Target has decided to end this program
Amazon Smile –
Do most of your shopping online when you're not shopping at Target? Amazon has a program that's just for you! By shopping through your school's Amazon Smile link you can help earn 0.5% of the purchase price for your school. AmazonSmile is a website operated by Amazon that lets you enjoy the same wide selection of products, low prices, and convenient shopping features as on Amazon.com. The difference is that when you shop on AmazonSmile (smile.amazon.com), the AmazonSmile Foundation will donate 0.5% of the purchase price to the eligible charitable organization of your choice. More info can be found here if your school isn't already signed up.
* I must note that when shopping on Amazon through eScrip, it looks like Amazon donates 1.2% of your purchases back. So I'm not sure if it's better to go through Amazon Smile or eScrip when shopping on Amazon. Maybe it's possible to take advantage of both? Please comment below if you have any experience!
Shoparoo –
Oh yes, there's an app for that. Shoparoo is a quick and easy way for schools to earn money by having the user scan receipts from any store, big or small, that sells grocery items to earn Roo Points (cash donations) for your school. Whether you're shopping at a supercenter, dollar store, or local convenience store – it doesn't matter where you shop or what items you buy – Shoparoo will make a cash donation for every receipt! Submit up to 20 grocery receipts within a rolling 7 day period. Here are some examples of grocery retailers:
Grocery Stores
Convenience Supercenters
Club Stores
Drug Stores
Liquor Stores
Dollar Stores
There's even a program for non-grocery stores. For more information, check out the Shoparoo app website and download the app today!
Do you know of a different program that supports schools or offers funding?What are your best elementary school fundraising ideas?
This post was originally shared on Aug 12, 2015