I made this delicious spicy peanut sauce as part of a compensated social shopper insights study for Collective Bias and SeaPak. All opinions are my own.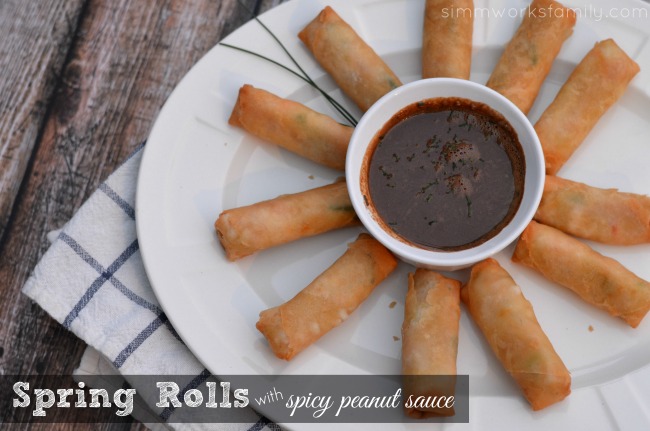 It is officially December and I'm in holiday planning mode. That means seeking out the best holiday appetizers and desserts for our annual get-togethers and events. This weekend will kick off the celebrations with my daughter's 3rd birthday. Not only are we feeding a large crowd, we're also entertaining them as well.
When I decided on the party food I wanted to serve at her birthday party, I went with simple, delicious, and crowd-pleasing. Luckily these spring rolls are just that. By making a spicy peanut sauce to pair with the chili sauce included in the packaging, I can make a store bought appetizer more homemade. And everyone loves options, right? Since I can prepare the dip ahead of time I can spend more time with my guests.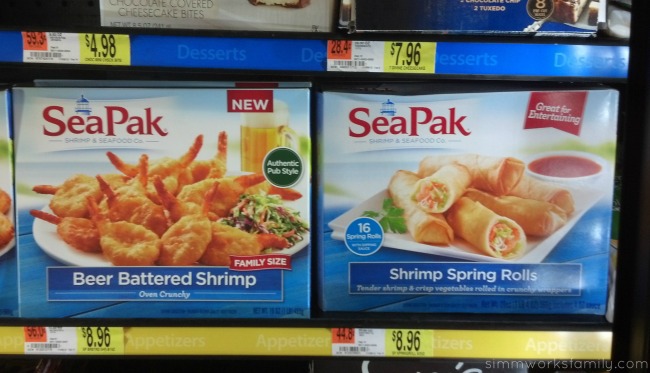 When I was out grabbing party supplies at Walmart I found the SeaPak spring rolls in the freezer section on an endcap. By purchasing already-made spring rolls I was able to heat them up and serve instead of spending time making the rolls. Plus it's from a brand I trust so  I knew they'd be good. And they were!
SeaPak will be hosting an upcoming demo of their products at Walmart on December 8th (between 1pm to 5pm). This is a great opportunity to sample the products before purchasing for your next event.
If you are looking for more great ideas for frozen appetizers you will want to check out the Ladies Home Journal "The 15 Best Frozen Appetizers to Serve at a Party" article and stock up on your favorites.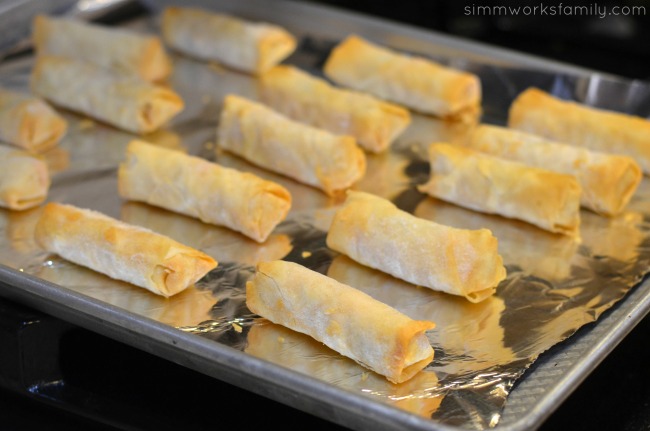 If you're planning out the holiday appetizers you want to make at your next event and want to keep things simple here's a list of great foods that would pair perfectly with these spring rolls:
Chicken Satay Skewers served with the spicy peanut dipping sauce
Thai salad
Coconut Shrimp served with the chili sauce
Vegetable platter with spicy peanut sauce (or a milder version for those who aren't into the heat)
It's great to have one or two dipping choices that go well with a majority of the items you're serving so you don't have too much going on. By keeping it simple and only sticking to a few choices you'll have less stress and will be able to spend more time with your guests.
Spring Rolls with Spicy Peanut Sauce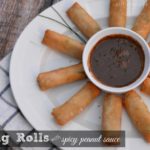 1 package SeaPak Spring Rolls
1/2 cup creamy peanut butter
1/2 cup soy sauce
1 tablespoon white rice vinegar
1 teaspoon chili sauce
1 teaspoon sugar
1 tablespoon cilantro (chopped)
1 tablespoon chives (chopped)
Cook spring rolls according to package directions.
Mix the soy sauce and peanut butter together in a small bowl until well combined. Add other ingredients and stir.
Taste dip and adjust flavors accordingly, adding more chili oil if you like your dip a little hotter.
Serve dip with hot spring rolls.

What's your favorite appetizer to bring to a party?