This shop featuring Star Wars Rebels Star Destroyer Inspired Paper Airplanes has been compensated by Collective Bias, Inc. and its advertiser. All opinions are mine alone.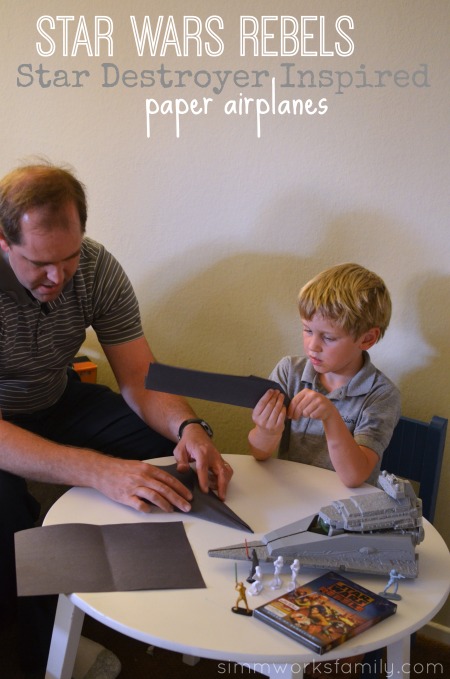 Sometimes you have to just give into your inner kid, sit on the ground, and start making paper airplanes based off of your favorite movies and your son's new favorite TV series.
That's exactly what my husband did after we took home Star Wars Rebels on DVD last Friday. He even let my son pick out a Star Wars toy so that he'd stop playing with my husband's Millennium Falcon and X-Wing fighters.
Luckily Walmart has a great selection of Hasbro Star Wars toys that piqued my son's interest. He ended up deciding on a pretty sweet Star Wars Rebels Comand Star Destroyer Set.
The Star Wars Rebels DVD is released exclusively at Walmart from 10/3 to 10/13. We spotted it in the Entertainment department on an end cap. As soon as my son spotted it he ran to go grab it.
We weren't home but 5 minutes when he started begging to watch it. and 45 minutes later he was asking to watch it again. Needless to say it's quickly becoming a favorite. So is his new toy. Yup… that's totally a remote control so my son can use the force to open his star destroyer and launch missiles.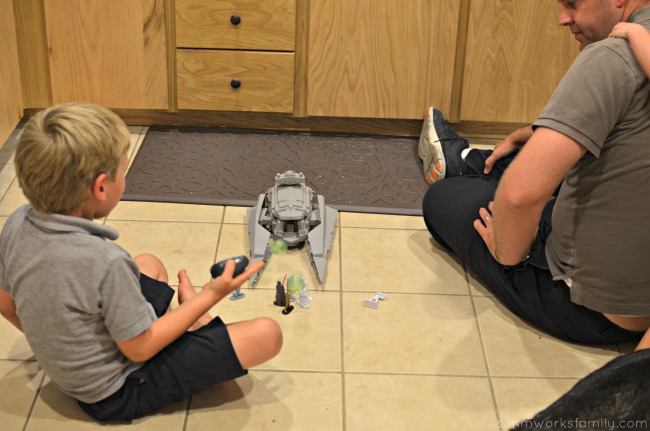 After the fun of watching Star Wars Rebels Spark of Rebellion and playing with the new Star Destroyer in our lives, my son asked if he could make some Star Destroyers of his own.
So my husband did what any good parent would do and grabbed some construction paper.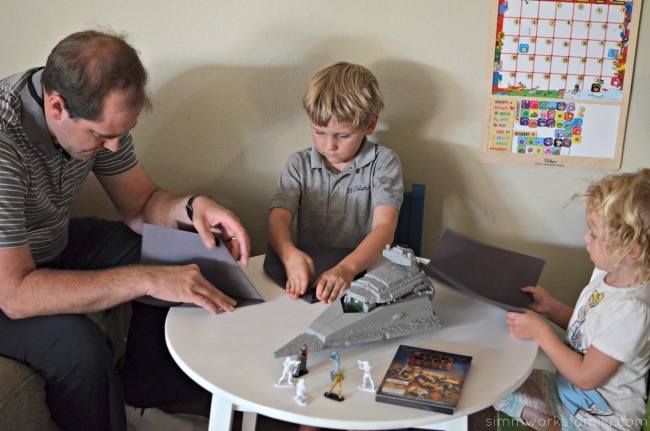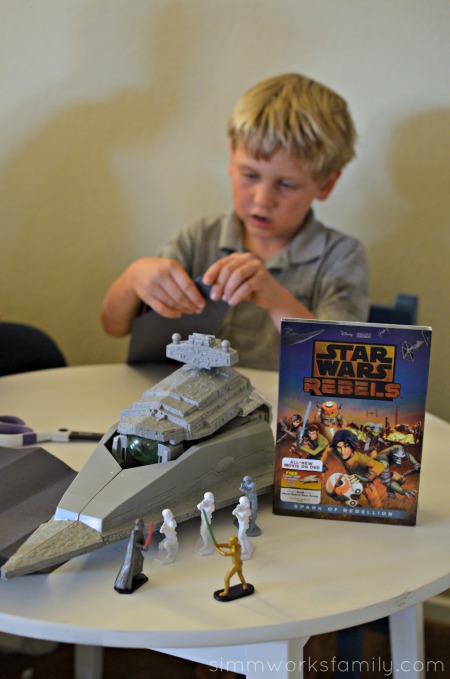 After finishing their paper airplane creations they headed outside to test them out. My son created his own take on the Star Destroyer and my daughter snagged Daddy's to play with.
Check out how well their airplanes flew:

While most take offs and landings went as planned, there were a few casualties in the bushes after launch. Luckily Daddy's tall so he could rescue any stranded Destroyers.
If you're looking for the perfect gift for that young Star Wars fan in your life, I highly suggest introducing them to the Star Wars Rebels series on Disney XD by picking up a copy of Star Wars Rebels Spark of Rebellion on DVD.
And check out the selection of Hasbro Star Wars toys to accompany it. Not only are they a great pair but they'll continue a long line of Star Wars fans to come! Who knows, maybe one day my son will bring out his Star Destroyer to play with his son or daughter…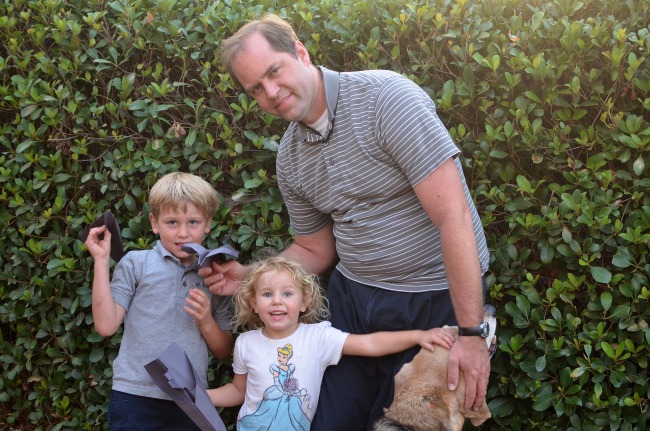 How do your kids favorite movies inspire them?