Earth day is right around the corner and, like every day, we love finding new ways to repurpose and reuse old things around the house in an effort to reduce the waste we send to the landfills. This DIY Dinosaur Toothbrush, brought to you by our sponsor Toms of Maine, is the perfect way to upcycle old toys AND get the kids excited about brushing their teeth. Win-win!
*No real dinosaurs were harmed in the making of this project*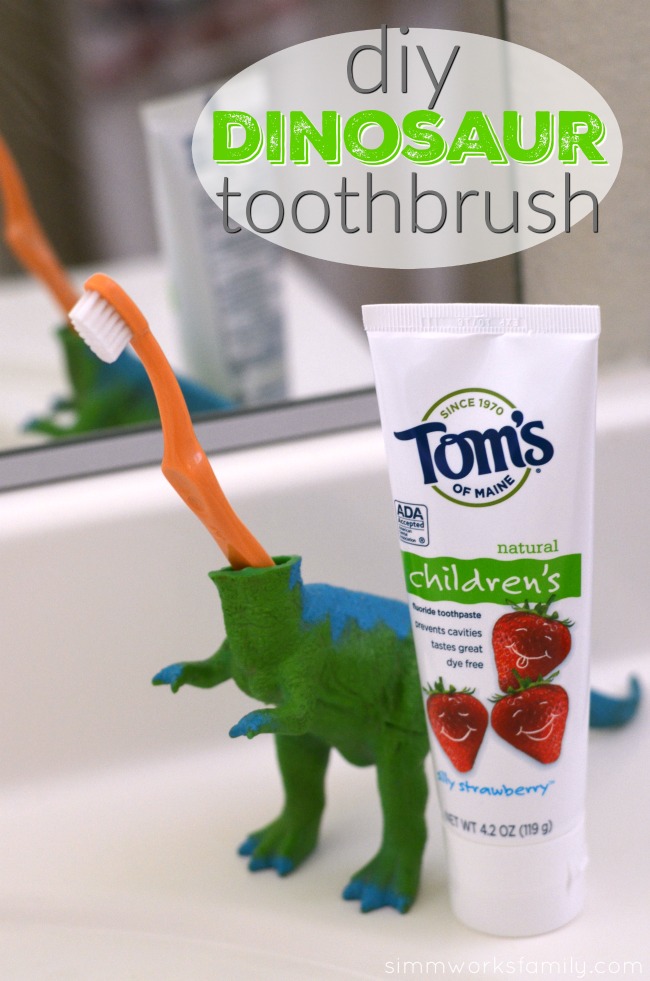 I'm pretty lucky. After dinner is over my husband completely takes over with the older kids while I put the baby to bed. He makes sure the homework is done, takes care of the bedtime routine, and then lays with them for a bit before they go to sleep. But I was noticing a little more struggle over the past few weeks with getting the kids to do one thing… brush their teeth!
So when I was purging the kids toys, I saved a few for an idea I had to spark some excitement back in their routine. And since it's so close to Earth Day I figured it'd be the perfect time to recycle and reuse some of the items I was getting rid of. I grabbed some of the dinos from the giveaway pile (don't worry… my son still has PLENTY of dinosaurs in his collection) and here's what I came up with! Now the kids love playing while they make their dinos brush their teeth and we've helped create less waste.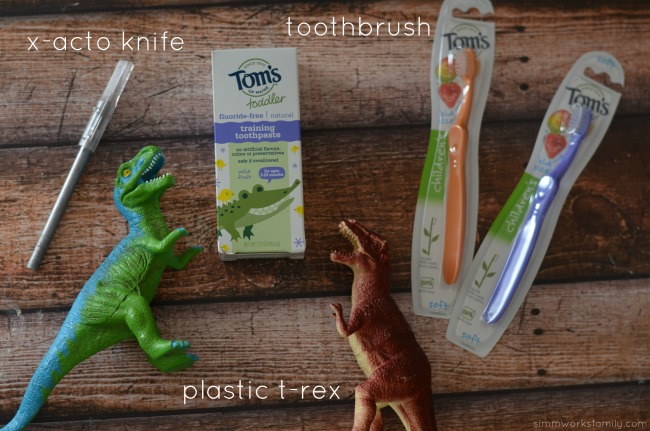 DIY Dinosaur Toothbrush
What you'll need: 
Plastic T-Rex or Brachiosaurus dinosaurs
x-acto knife or other craft knife
Tom's of Maine kids toothbrush
What you do: 
1. Make sure the dinosaur you choose has a body that's around the same size of the toothbrush handle.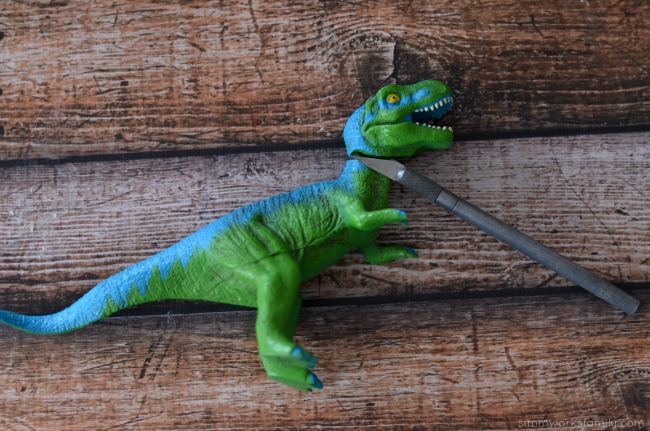 2. Then grab the x-acto knife and cut off the dinosaur's head. Try and trim/even up the cut on the top of the body.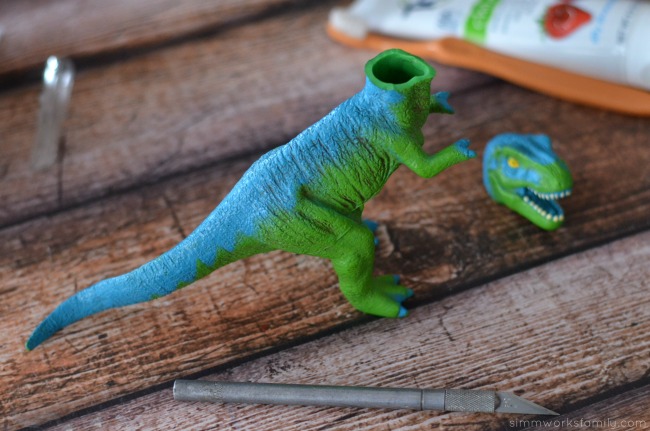 3. Stick the toothbrush into the hole and angle it to fit into the body cavity.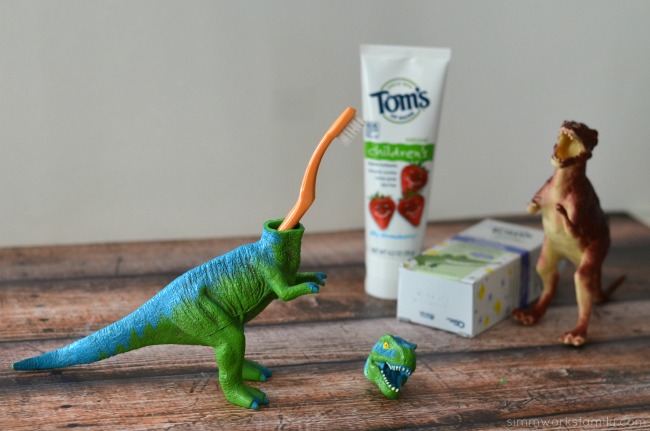 There are so many ways you can repurpose the toys in your home! Find some other great ideas of toy repurposing on my Upcycled Toys pinterest board.
With more than 250 million tons of waste generated every year in the United States,1 Tom's of Maine, is teaming up with recycling leader, TerraCycle, to decrease the amount of trash ending up in landfills by launching the #LessWasteChallenge pledge. The pledge is meant to inspire families to reduce their household waste by one pound per week. You can join Tom's of Maine by taking the simple pledge with just one click at www.tomsofmaine.com/lesswaste.
In Maine, the company is working to get to zero waste by 2020. Learn more in the Goodness Report here. Find ways you can help out by following the #LessWasteChallenge and taking the pledge! Then share how you're making less waste by sharing on social media and using the hashtag!
Looking for more ways to product less waste? Check out these awesome videos:
How have you upcycled toys?
1 Environmental Protection Agency. (2016). Municipal Solid Waste. Retrieved from http://www3.epa.gov/epawaste/nonhaz/municipal.
Find more great upcycled projects right here!