This shop features an awesome DIY Ring Toss Game that's super easy to make and has been compensated by Collective Bias, Inc. and its advertiser. All opinions are mine alone. #HandsOnCrafty #CollectiveBias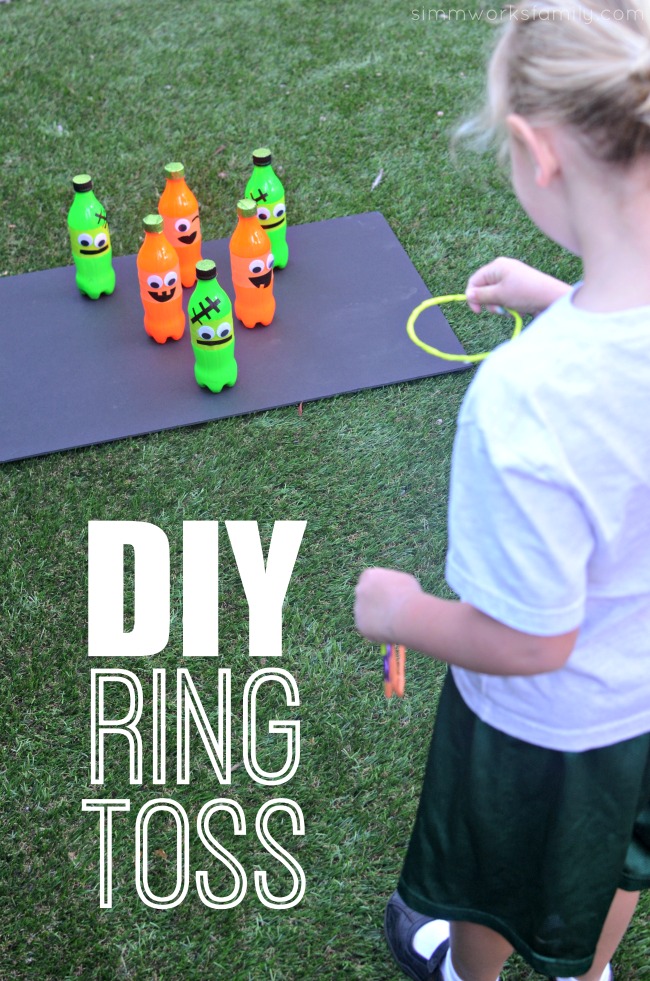 Every year my kids' school has a Halloween Carnival on or around Halloween. Each grade has a game or craft set up and the kids get to run around and play them for the last hour of the day. It's a great way for the kids to enjoy a little Halloween fun at school in costume without getting distracted in class. Plus it's a fun way for the parents to come up with small fall carnival games – like this DIY ring toss game.
Since my son started Kindergarten, I've always helped out with his class's game. The first year we built a cute bean bag toss where we painted three pumpkins on top of each other and cut out holes where their mouths went so the kids could toss the bean bags in. Each successful toss earned a piece of candy. Last year we made fun Halloween themed crafts like spider rings out of poms and pipe cleaners, and fun face masks that I got from an online retailer.
But this year is my daughter's first year joining in on the festivities so I thought I'd get her involved in making a fun activity that Kindergarten could host for their game. And we decided on this awesome Halloween-themed DIY ring toss game. You won't believe how easy it is to make! Even a Kindergartener can do it.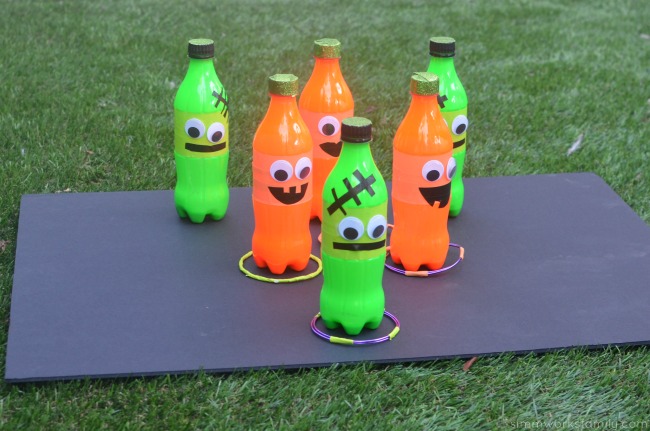 What I love about this project is that it's so versatile! So much so that when my husband accidentally recycled the glass wine bottles I had set aside to use for this project, I was able to make due with the plastic bottles we had left over from the party we hosted last week.
How To Make A DIY Ring Toss Game
What you'll need:
6 bottles – glass or plastic
washable paint in green and orange
Scotch® Create Double-sided Tape
Scotch® Expressions Washi Tape in black
Scotch® Expressions Glitter Tape in green
Scotch® Expressions Masking Tape in green and orange
Aluminum floral wire (found in the Walmart craft aisle)
Goggly eyes
scissors
Scotch® Create Glue Pen
large piece of cardboard or foam board in black
Scotch® Create Mounting Squares
What you do:
1. Remove the labels and rinse out the bottles you will be using. Let dry completely.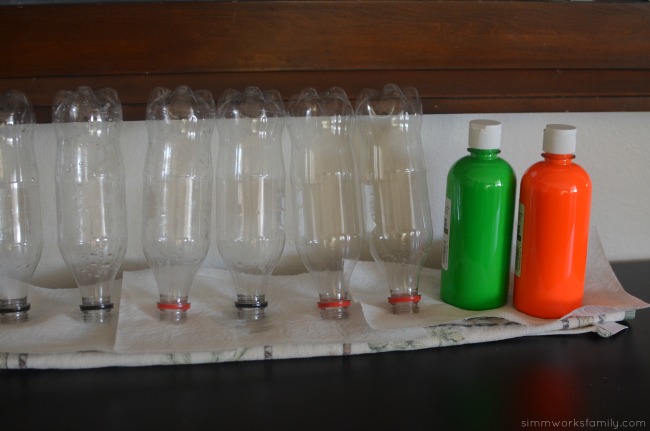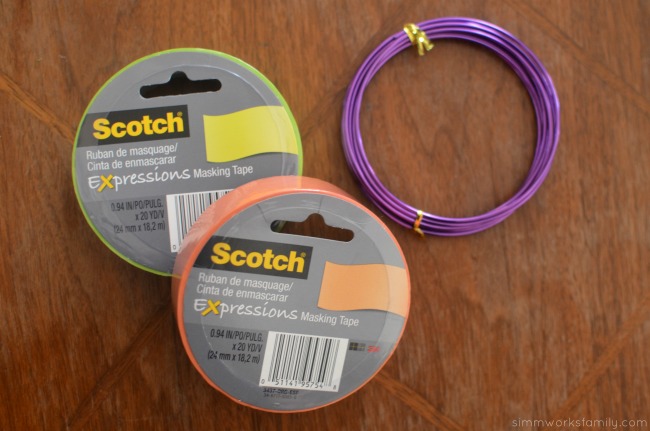 2. While bottles are drying, grab aluminum wire and cut into rings using wire cutters.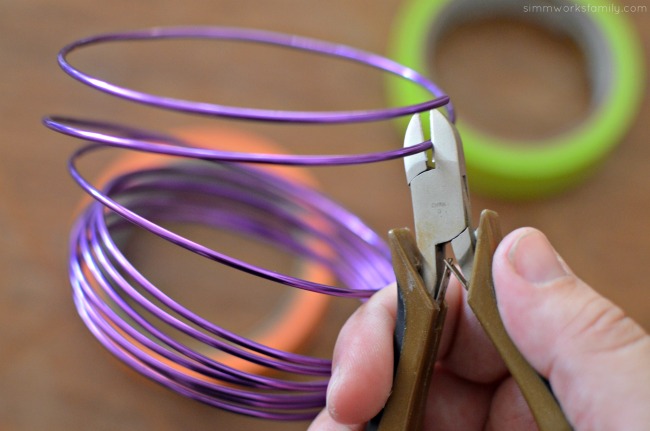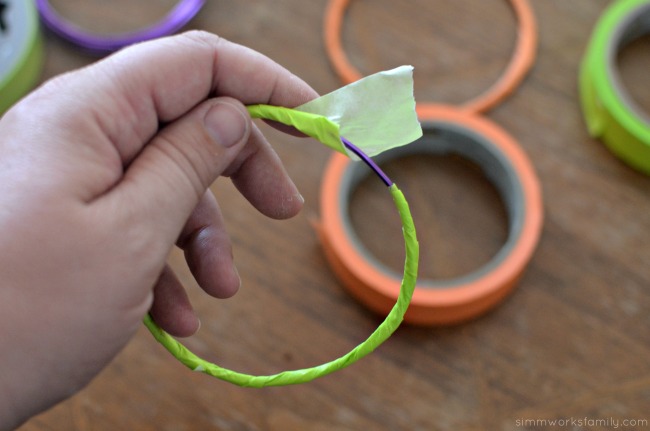 3. Use the Scotch® Expressions Masking Tape to secure the ends of the wire together and then completely cover the wire with tape. You can also decorate the wire in various places with tape instead of covering completely as long as the ends are secured.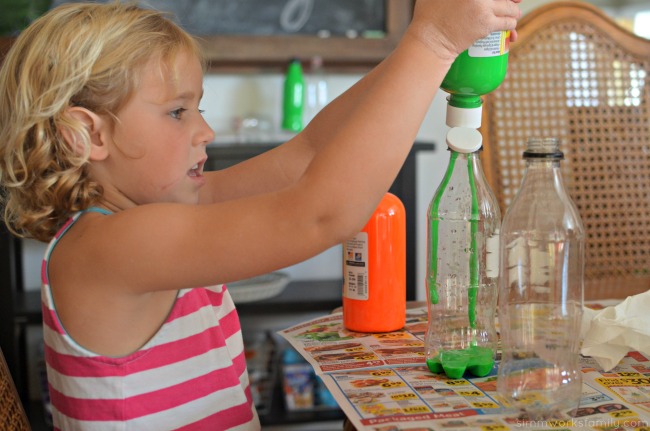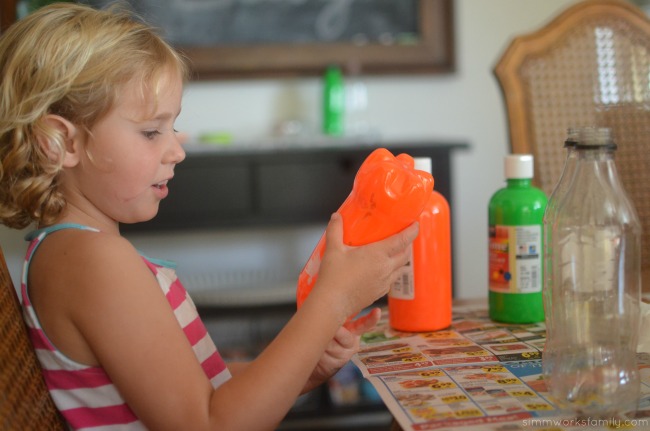 4. Squirt a good dollop of paint into each bottle. Secure the cap onto the bottle (if there is one) and shake the bottle until the paint has completely covered the inside of the bottle and you can't see through anywhere. If you are using a glass bottle with no lid, simply use your thumb to cover the opening while shaking so the paint doesn't go everywhere. Take cap off and let excess paint drip out. Let dry completely.
This is the same technique I used to make my thumbprint ornaments for Christmas.
5. Once paint is dry on the inside, glue cap onto top of bottle with Scotch® Create Glue Pen and let dry. Skip this step if you're using a cap-less bottle.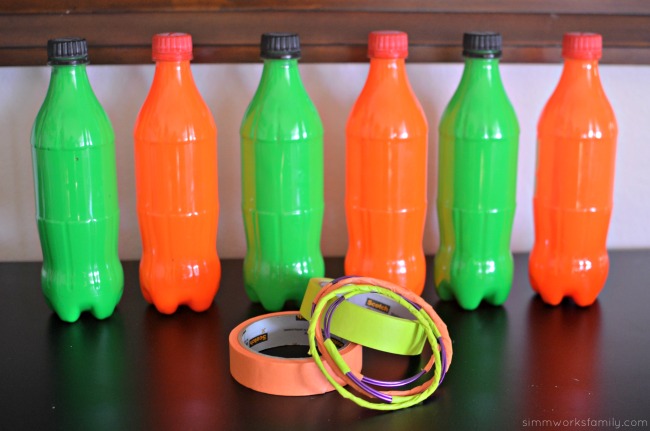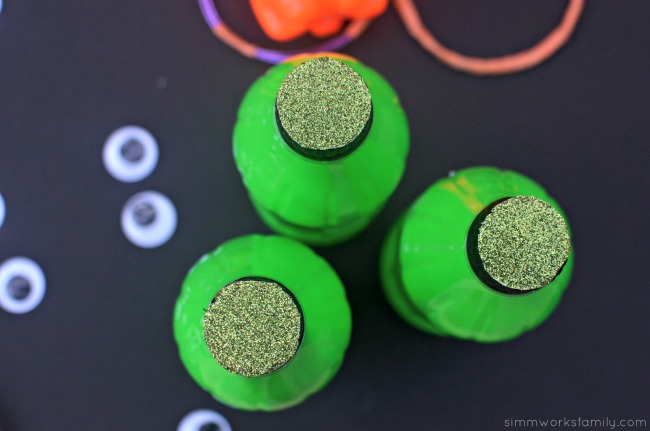 6. Now for the fun part! Grab your Scotch® Expressions washi and glitter tape and start decorating!
For the green bottles – Using the Scotch® Expressions Glitter Tape in green, cover the caps with two rows of glitter tape side by side. Then cut the excess around it so that there is a perfect circle on the top of the green bottles. You can use scissors or an xacto knife for this. If using an xacto knife, turn bottle upside down and cut around the edge of the cap on a piece of cardboard so you don't cut anything else.
For the orange bottles – cover the bottle cap with three pieces of tape in a star pattern on the top. This should completely cover the top of the bottle cap. Then use another piece of tape to go around the side of the bottle cap to cover the ends of the three pieces you put on the top. Now you have a cute pumpkin stem!
Then, using the green and orange Scotch® Expressions masking tapes, tape the middle of the bottles with three layers of tape. This will create the base for your bottle's face.
Grab the goggly eyes and Scotch® Create Double-sided Tape to secure the eyes onto the bottles. Now grab the Scotch® Expressions washi tape in black to make the mouth and any other decorations you'd like to add to your bottles. We layered two pieces of tape side by side and cut out mouths for our orange bottles and simply cut out lines for the mouths and "stitches" of our green bottles. Our end results were pumpkins and Frankensteins.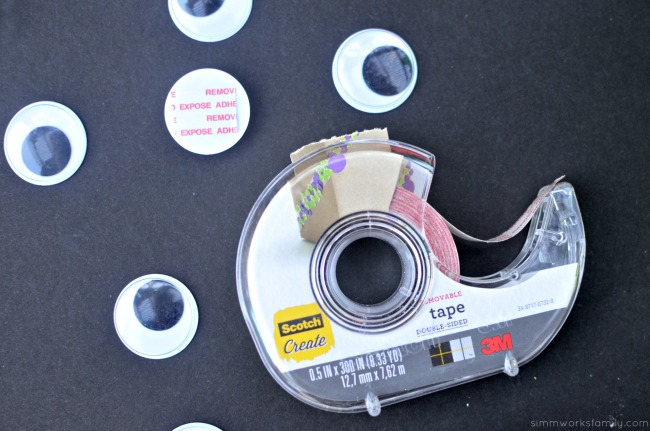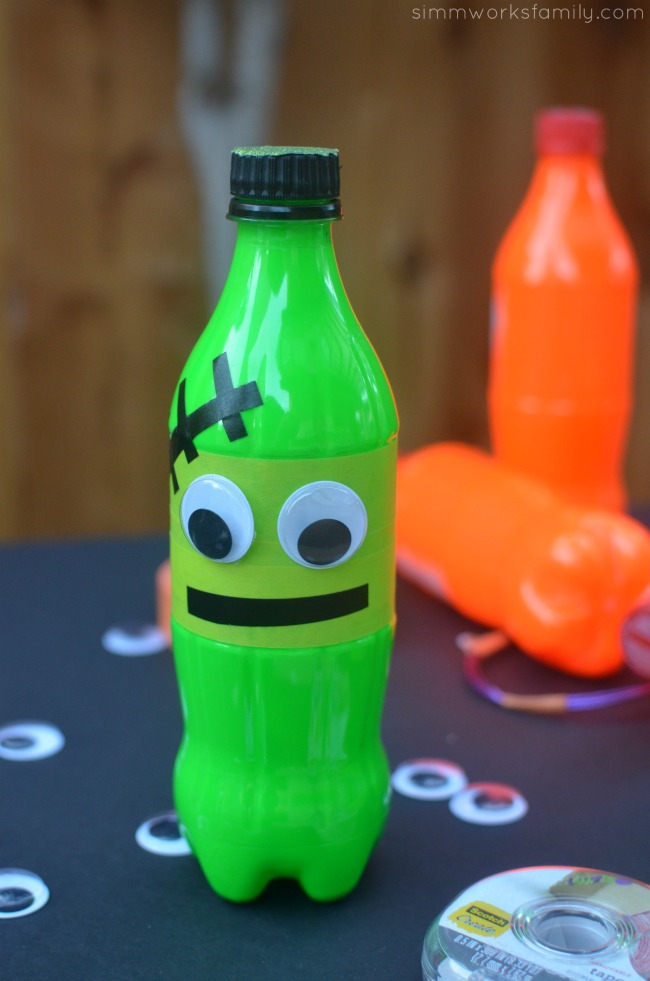 7. Now that the bottles and rings are good to go, grab your black cardboard or foam board and space out your bottles so that the rings can be tossed onto them without any problems. Secure bottles to the board with Scotch® Create Mounting Squares
Once the bottles are secured in place, you're ready to play!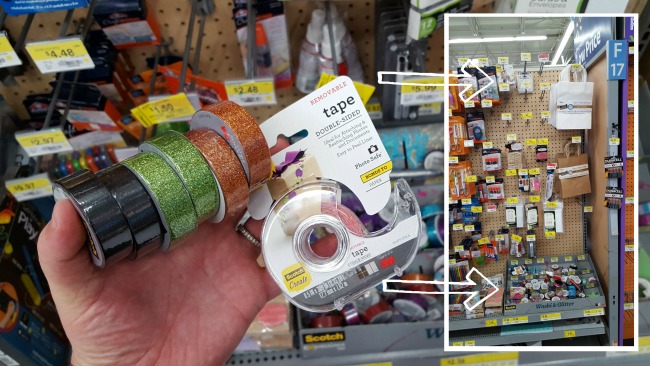 You can find everything you need for this project, including all of the Scotch® brand products, in the craft aisle at your local Walmart. How's that for a one-stop shop?
I love how the Scotch® Expressions washi and glitter tape were able to take my project to the next level. They were the perfect combo of versatility, function and fun! From masking tape in various colors to the easy to use Scotch® Create Glue Pen and everything in between, o matter the task, there's a Scotch® Brand product to match AND make my life easier.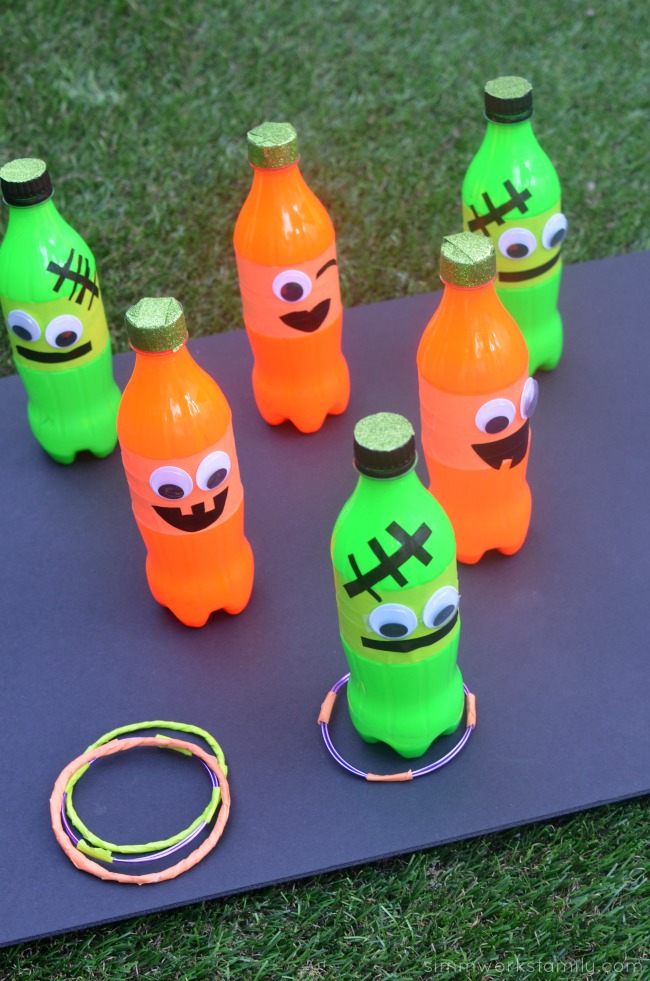 What's your favorite school carnival game?