This shop featuring how to make a glass vase out of a Coke bottle has been compensated by Collective Bias, Inc. and its advertiser. All opinions are mine alone. #MyFavoriteIsAllMine #CollectiveBias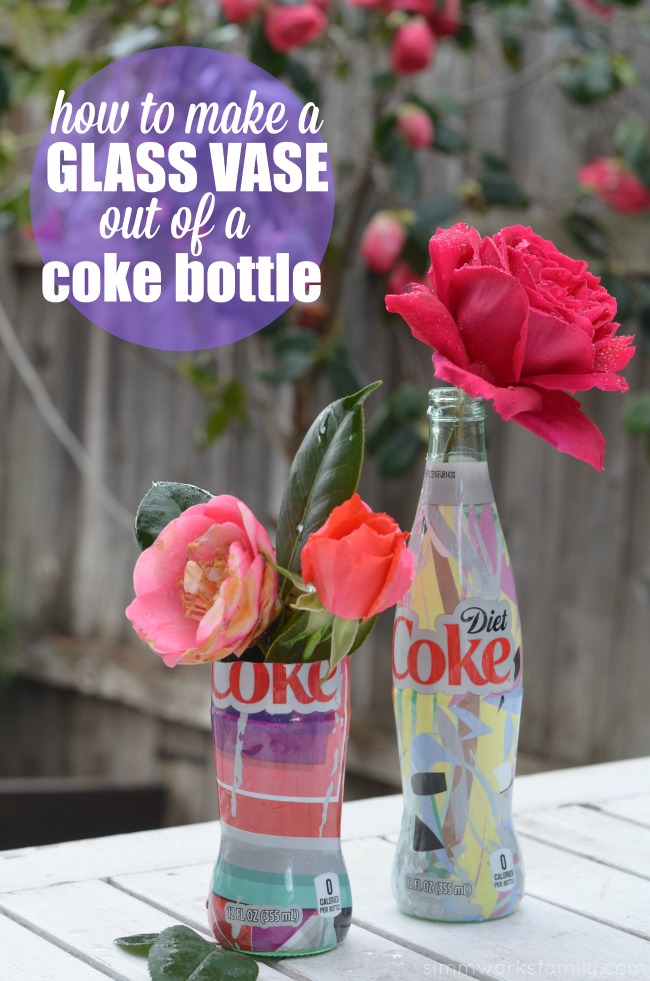 Last year I attended a Mom's Night Out event at an awesome local store that repurposed glass bottles into various pieces. One thing that stood out to me were the various drinking glasses that they made from upcycled glass bottles. Another thing that stood out was the steep price tag. So after a bit of digging around I came across a few different tutorials on how to make my own drinking glasses from glass bottles and while I haven't perfected it yet, I have created an awesome glass vase out of a coke bottle.
On a recent trip to Vons, I found these gorgeous Diet Coke It's Mine bottles while shopping for an event I'm hosting at my home. These new, uniquely packaged bottles showcase Diet Coke in a creative way and no two glass bottles are the same! After perusing the designs on display, I chose a few that complimented each other. Their colors reminded me of the blooming flowers we have in our back yard and the hints of spring all around us.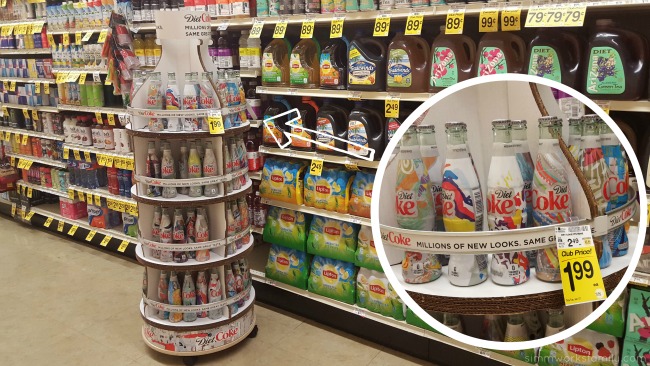 Selfie Your Way To Primetime TV's Biggest Award Show
In addition to being awesome, these bottles could get you into Primetime TV's biggest awards show!
You could win 1 of 10 VIP prize packages for 2 to Los Angeles to see Primetime TV's Biggest Awards show coming up in September! (packages include: hotel, travel gift card, pre-party reception, exclusive gift bag and tickets to the awards show.)
Snap a selfie with your favorite Diet Coke It's Mine branded bottle/can on Twitter OR Instagram with the hashtag #ItsAllMineSweepstakes for a chance to win. You may register between February 3rd, 2016 and April 26th, 2016.  Winners will be selected around April 27, 2016.
Make sure to follow these rules: 
Twitter: Your account settings must be set to "unprotected" and/or "public" in order for your Tweets to be viewable to enter into the sweepstakes.
Instagram: In order for your entry to be valid, your Instagram profile must be public.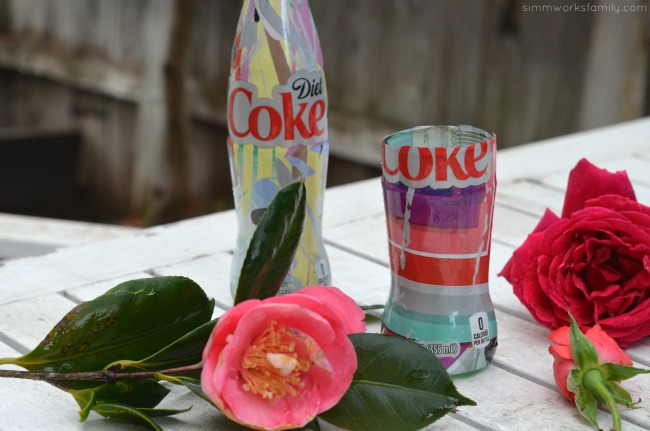 Once back home it was time to start testing out my new project. And after a few failed attempts, I finally created a beautiful glass vase to display the flowers we have in the back yard. I'm hoping my next attempt might even yield the drinking glasses I was hoping to create. Once I do master the skill of creating drinking glasses, I'll be creating a gift basket for our school's Gala along with other Coca Cola goodies (and my favorite Diet Coke It's Mine bottles).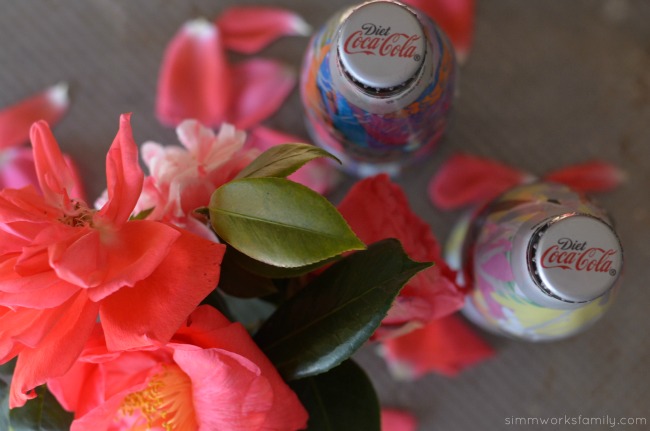 How To Make A Glass Vase Out Of A Coke Bottle
What you'll need: 
Diet Coke bottle
Yarn
Acetone
match or lighter
scissors/straight edge razor
ice bath
sand paper
adhesive roller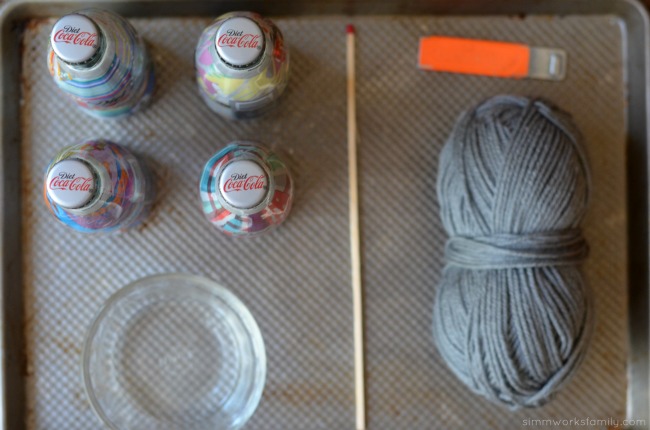 What you do: 
1. Grab a Diet Coke It's Mine bottle and enjoy the deliciousness inside. Once you're done with your beverage, remove the plastic decorative packaging with scissors or a straight edge razor.
2. Wrap the yarn around the bottle 5 times in the spot you want the glass top to be. Tie a knot and cut off the edges.
3. Remove the yarn from the bottle keeping it together in the same shape and soak in acetone for about 20-30 seconds until well soaked.
4. Place the yarn back on the bottle and make sure it lines up where you want it to be.
5. With an ice bath close by*, light the yarn on fire and turn the bottle slowly while the yarn burns until the flame is gone.
6. Submerge the glass into the ice bath.
7. If the glass doesn't break after the first attempt, repeat 1-2 more times until it does making sure the yarn soaks well and the ice bath is super cold.
8. Once the top breaks off, use a sheet of sand paper to sand down the rough edges around the glass. Be aware that it may take a few attempts/bottles to get the method down right.
9. Once the top of the vase is sanded, grab the beautiful It's Mine Diet Coke bottle and wrap it around the vase. Cut it down to the size of the vase and use adhesive to adhere back onto the bottle.
10. Add flowers and enjoy!
* I suggest using a separate container for your ice bath and not your sink due to the chance of broken glass.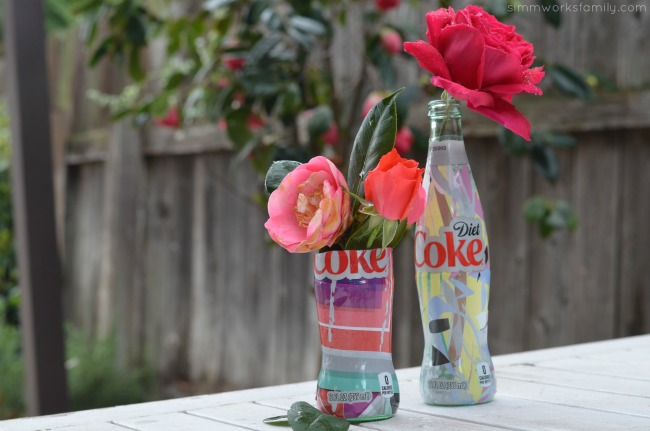 For more information on the sweepstakes and to discover your entry visit http://cbi.as/2edqu.
Find the video tutorial here: