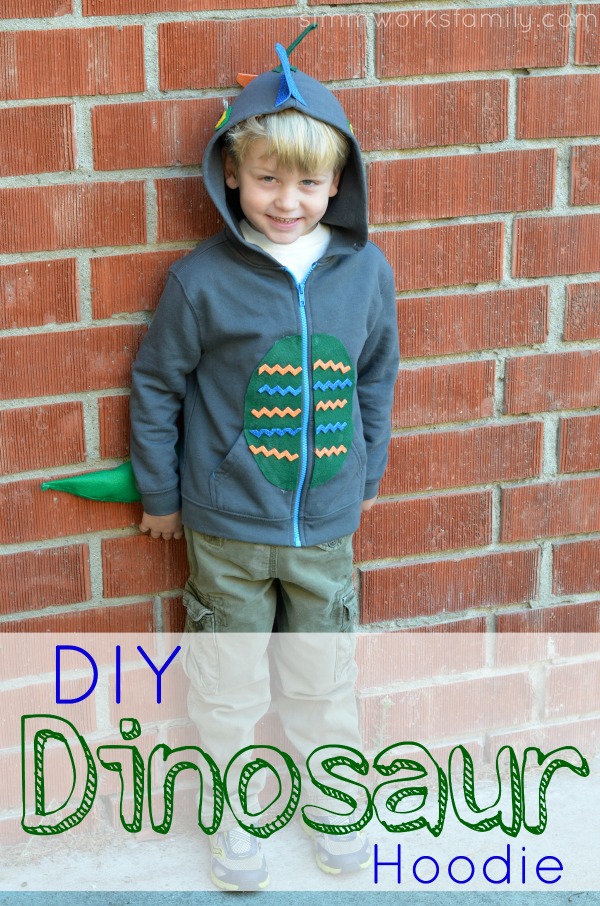 Last Halloween when I was busy figuring out costumes for the kids to wear I got a request from my son for a dinosaur costume. Since I know he doesn't like big, full body costumes I thought that trying my hand at a DIY dinosaur hoodie would be easier for him to wear. Well a few months later and the hoodie is getting great use… as a fabulous addition to our dress up closet! And it'll be the perfect thing to wear to The Good Dinosaur movie when it comes out on November 25th! 
Not only is this hoodie easy to make, it's almost no-sew! With only a small bit of sewing needed (thanks to the wonderful product that is No Sew), even the amateur crafter can pull off this simple costume. All you need are some matching pants and some socks to cover your shoes and you have the perfect DIY costume for Halloween.

DIY Dinosaur Hoodie
What you need:
zip up hoodie jacket
adhesive felt in different colors (for spikes, eyes, and belly)
1 piece regular felt (for tail) + more for stuffing tail
No Sew adhesive for fabric
needle and thread
What you do:
Cut out 8 triangle shapes for spikes.
Cut out a circle in one color felt. Cut that circle in half and adhere to either side of zipper on belly of jacket. Cut out zig zag pattern for decoration for belly in different colors and adhere to half circles.
Cut out eyes using one color for the eye lid, one color for the eyeball, and one color for the pupil.
Take felt for tail and create a cone. Using No Sew adhesive, glue cone in shape so that it stays. Trim away any additional felt.
Stuff tail cone with additional felt and use No Sew to close cone opening.
Using needle and thread, adhere cone tail to bottom back of jacket to secure in place.
Add spikes to the hoodie of the jacket by taking two triangles, removing the adhesive backing, and placing together on the seam of the hoodie.
Make sure about 1/2 an inch is attached to the jacket hoodie with the rest adhering to the other triangle. Use No Sew if additional adhesion is needed. Repeat with other three spikes.

Adhere eyes to side of hood to give the illusion of dino eyes when the jacket is on.

Let No Sew dry completely before letting your child wear the jacket.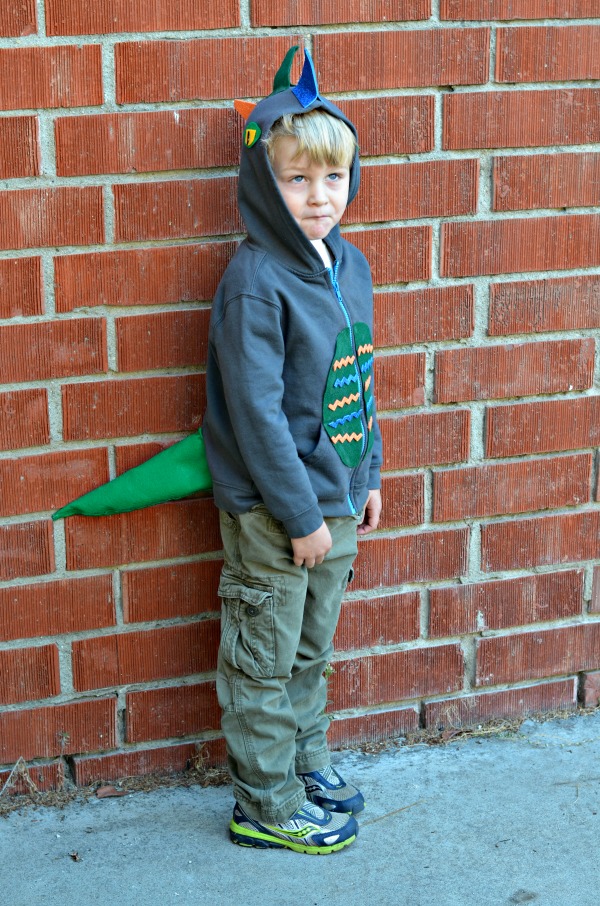 What themed hoodie would you love to create for Halloween?
THE GOOD DINOSAUR opens in theatres everywhere on November 25th!
Like THE GOOD DINOSAUR on Facebook | Follow @THEGOODDINOSAUR on Twitter | Visit the official THE GOOD DINOSAUR website
A little sneak peek at the movie: