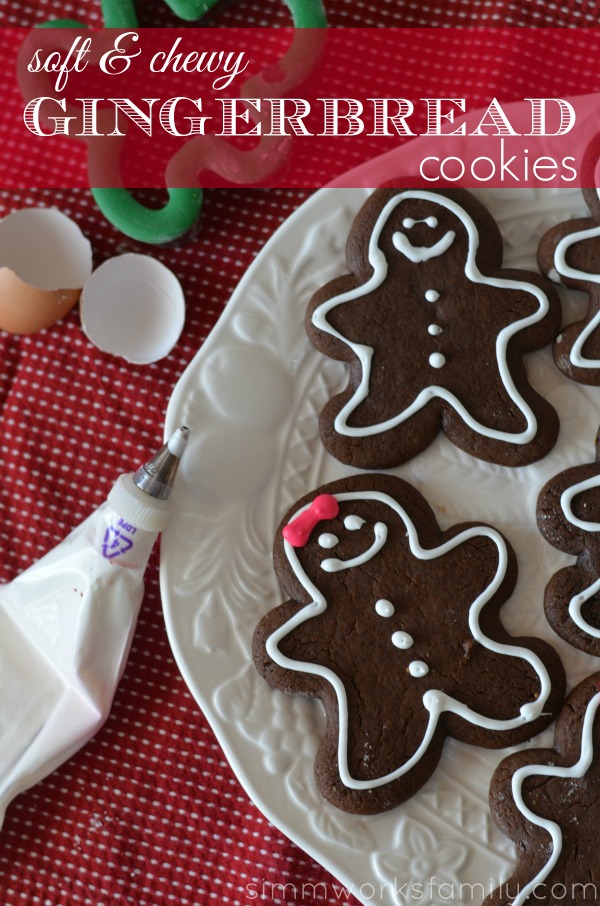 While everyone was slaving away on Thanksgiving making beautiful turkeys, preparing casseroles, and baking bread, my family was baking something else… gingerbread men and women! My husband is slightly obsessed with the holidays and asked the kids if they wanted to make some soft and chewy gingerbread men to take with us to Thanksgiving dinner. You know, to get in the holiday spirit!
After they baked them up they turned the reigns over to me and had me make the royal icing and decorate the men and women. We threw in some turkeys and fall leaves (not pictured) to round out the merging of the holidays but most purists around the dinner table grabbed for the gingerbread men and women.
Now that we've found an awesome recipe for the cookies it's time to start planning what recipe we'll be using for the houses we construct!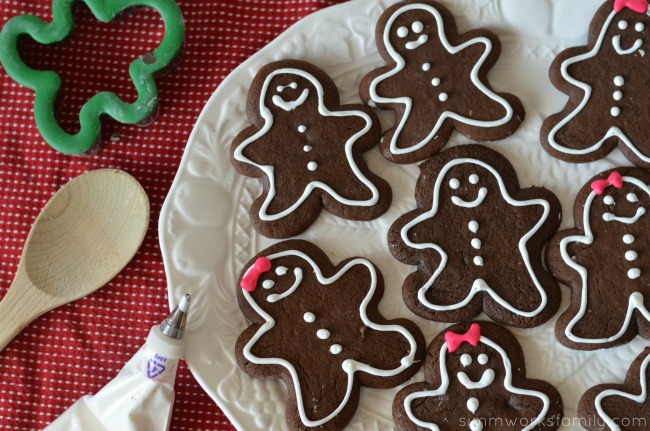 Soft and Chewy Gingerbread Men Cookies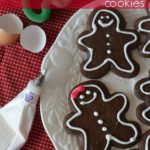 3/4 cup unsalted butter
3/4 cup brown sugar (packed)
3/4 cup molasses
1 teaspoon salt
2 teaspoons cinnamon
2 teaspoons ground roasted ginger
1/4 teaspoon allspice
1 large egg
1 teaspoon baking powder
1/2 teaspoon baking soda
1 cup white whole wheat flour
2 1/2 cups Unbleached All-Purpose Flour
Royal Icing
1/4 cup meringue powder or egg white powder
1/4 teaspoon salt
3 1/2 cups powdered sugar (sifted)
3/4 cup cool water
In a saucepan set over low heat, or in the microwave, melt butter, then stir in the brown sugar, molasses, salt, and spices.
Transfer the mixture to a medium-sized mixing bowl, let it cool to lukewarm, and beat in the egg.
Whisk the baking powder and soda into the flour, and then stir these dry ingredients into the molasses mixture.
Divide the dough in half, and wrap well. Refrigerate for 1 hour or longer.
Preheat your oven to 350 degrees. Get out several baking sheets and line with parchment.
Once the dough has chilled, take one piece of dough out of the refrigerator, and flour a clean work surface, and the dough. Roll it out as thin or thick as you like; for slightly less crisp cookies, roll it out more thickly. We go for 1/4 inch for a soft and chewy gingerbread man.
Place the dough on parchment, and put a sheet of plastic wrap over it as you roll, pulling the plastic to eliminate wrinkles as necessary when rolling; this will keep dough from sticking without the need for additional flour.
Cut out shapes with a cookie cutter, cutting them as close to one another as possible to minimize waste.
Transfer the cookies to un-greased cookie sheets (or, if you've rolled right onto the parchment, remove the dough scraps between the cookies). Bake the cookies just until they're slightly brown around the edges 8 to 12 minutes, or until they feel firm.
Let the cookies cool on the baking sheets for several minutes, or until they're set. Transfer them to a rack to cool completely. Repeat with the remaining dough.
Decorate the cookies with Royal Icing.
For the Royal Icing:
In a stand mixer or large bowl with electric mixer, add dry ingredients. Start the mixer and slowly pour in the cool water.
Mix on low speed at first, increasing to high speed over several minutes. Beat until the icing is fluffy.
Keep the frosting covered with a damp towel and some plastic wrap until you are ready to use it.
Divide the frosting into smaller containers and mix with food coloring for several colors.
What's your favorite holiday cookie?
This recipe originally appeared on this site on December 1st, 2013