Looking for easy meal planning tips and ideas for busy weeknights? We're sharing a few of our favorites + this delicious deconstructed chicken pot pie recipe!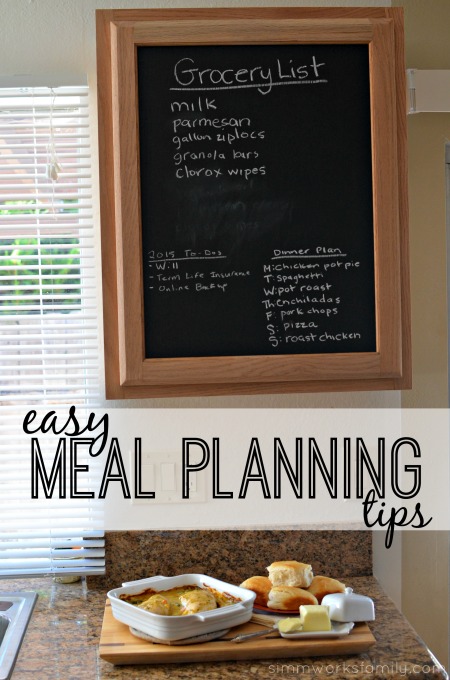 While many people are making resolutions for the New Year, I'm continuing with some resolutions I made last year. One of which is to stick to our monthly budget and reduce the amount we eat out. Being a gazillion weeks pregnant – ok… 38 weeks – means that I've turned to take out quite a bit over the past few months.
This year we're resetting ourselves and bringing out my easy meal planning tips to ensure that we're making the most of our budget AND cooking delicious dishes that the whole family loves. Luckily I have some great help from my well-stocked pantry.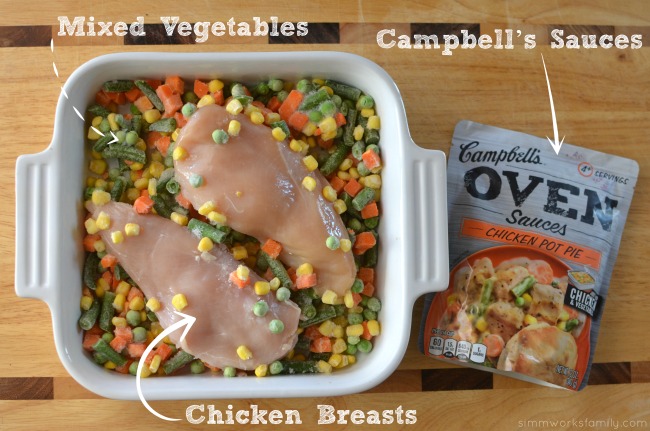 Easy Meal Planning Tips
Try New Recipes – one thing that I love to do when meal planning is find new recipes I haven't tried. This keeps things fresh so I'm not continually making the same go-to dishes I always make. This also helps me stock my pantry with fun ingredients I may not have thought to use regularly. It's also a great way to slowly expand a spice rack.
Choose a day to meal plan and write it out – now this may seem simple and easy but it's really the backbone to a good meal plan. I love to sit down Sunday morning with my husband, the Sunday paper, and any new recipes we're trying out to plan out what we're eating for the next week. By checking out the ads and coupons I can make sure we're eating within budget.
Keep a list of items you run out of handy – We used to have a simple note pad on the fridge that we kept our grocery list on so that come Sunday I could simply grab it and add it to the list of items I was purchasing for the next week's meals. Now we have a super cute chalkboard door on the front of one of our upper cabinets. Find something that works for your family and put it into place!
Keep a well-stocked pantry – Take inventory of the pantry items found in your favorite go-to recipes. Try and make sure you have those items on hand at all times to assure that they'll be there when you need them. We always have a great selection of shelf stable sauces and mixes on hand to go with the frozen veggies and meat we keep in the freezer. This makes for a great go-to when recipes we try out don't go as planned.
Have a little wiggle room – While meal planning every night of the week would be wonderful for our budget, it's just not practical. With things that come up during the week we need a little wiggle room. And that means having a floating day for take out. More than likely that means pizza!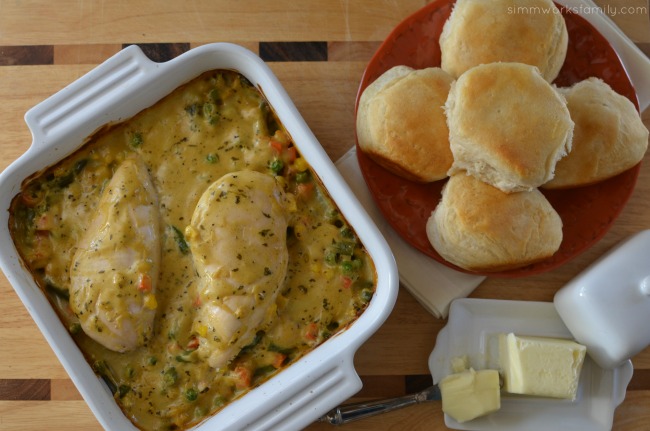 One of my favorite go-to's for a busy week is this deconstructed chicken pot pie using a store-bought chicken pot pie flavored oven sauce packet. Not only is it delicious, I always have chicken breasts and mixed veggies in the freezer so I know I can simply grab everything and whip up a great meal.
And I only need 5 minutes to prep. I can grab all of the ingredients and put them together in the same time it takes for my oven to preheat. Simply add the chicken and veggies to an oven-safe dish and pour the sauce over everything.
Then I bake for 40 minutes. At the same time, I bake up some homemade biscuits to go with my deconstructed pot pie. Another easy shortcut? Refrigerated biscuits! Before I know it dinner is ready to go and I have a happy family.
Do you have any tips to make meal planning easy?
Love these ideas? Read more!
Pin this article for later!
Click the Pin button on the image below to save for later.