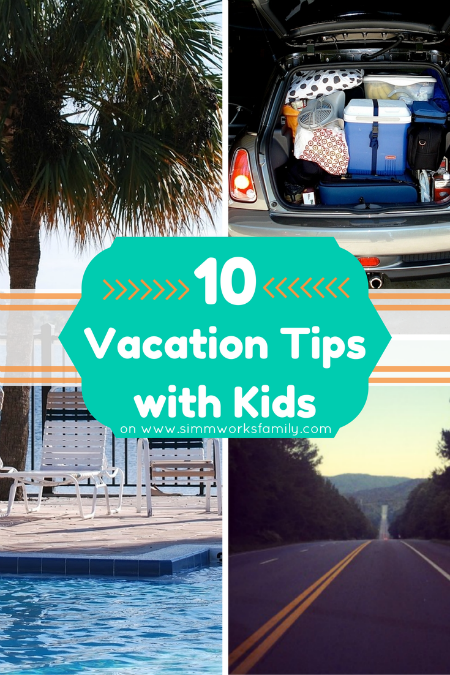 Recently I read on Facebook from a friend that vacations with kids are simply trips, not vacations. Because as a mom, or a parent, there's no relaxing as one would expect on a vacation. And while I see where this friend is coming from, I don't know if I buy it. Maybe that's because the larger vacations we've taken with the kids usually end up being with one set of grandparents coming along as well (which I HIGHLY recommend for those who get along with their parents/in-laws). Or maybe it's because I put myself into the vacation mentality and try to balance rest/relaxation with exploration.
I guess it all depends on the mindset of the parents, right? And the planning. As a family of 5, our next vacation is going to take a bit of planning. Luckily I've found some great tips for vacationing with the kids… and planning the vacations. So starting now means I'll be ahead of the game when our next vacation gets closer, right? Because planning a vacation for a family of four seems a lot easier than planning for the five of us. And I have no idea why! 
Vacation Tips with Kids
1. 7 Tips for Surviving Family Vacations with Teens & Tweens | Shaken Together
2. Staying Sane While Traveling with Kids | Turning the Clock Back
3. Taking a Road Trip to Disney World with Kids | My Mommy World
4. 12 Tips to Traveling with Kids (Without Losing Your Mind) | That Bald Chick
5. How to Stay Happy When Traveling with Toddlers | Smarty Pants Mama
6. Baby Air Travel Essentials | Meet Kristy
7. Surviving Road Trips with Children | More Than A Mom of Three
8. How Do You Potty Train When On-The-Go? ~Sunshine and Sippy Cups
9. Your Ultimate Family Road Trip Resource Guide ~Carrie Elle
10. Tips for Traveling with Children on the Auto Train ~A TIPical Day
Need more help with planning your next vacation? Planning a road trip with the kids? You might find this article helpful!