We're chatting about my favorite after school snack hacks so I don't have to deal with hangry kids thanks to our sponsor, Tree Top.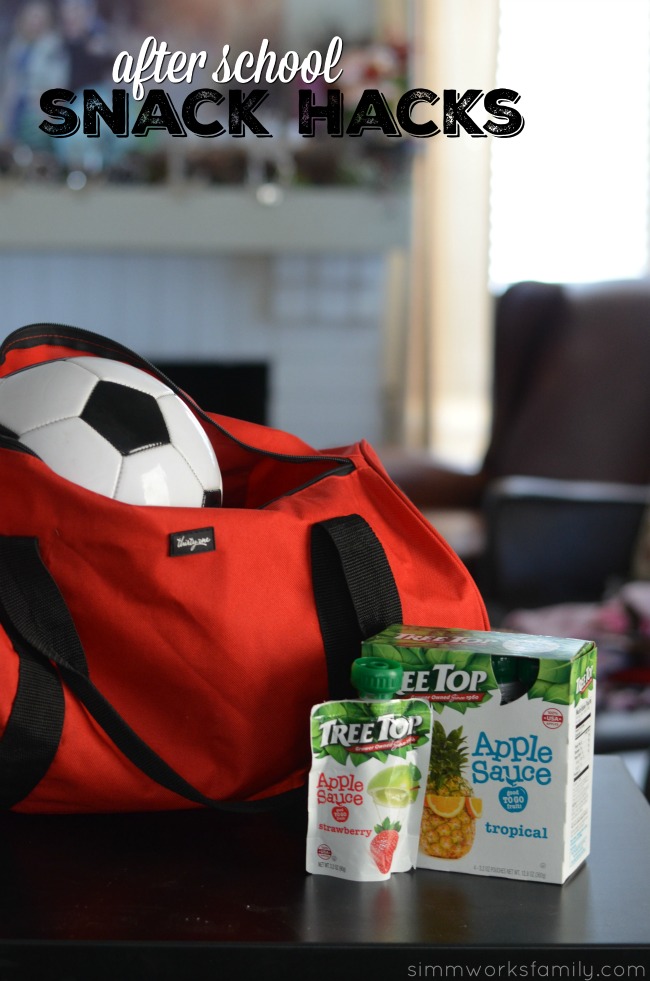 Life is crazy right now. Work, volunteering, kids, life. It's all just overwhelming sometimes. But this year I'm focusing on being more organized. I update my Google calendar with everything going on, even if it's just a quick 5 minute meeting before or after school. And I try to plan ahead and stick with a routine.
We've gotten mornings down to a science. Wake up, brew coffee, make lunches and breakfast while stealing sips, get kids dressed and fed, and nurse the baby while checking email before heading out the door to drop off. I even call out a 5 minute warning so the kids know they need to get their shoes on.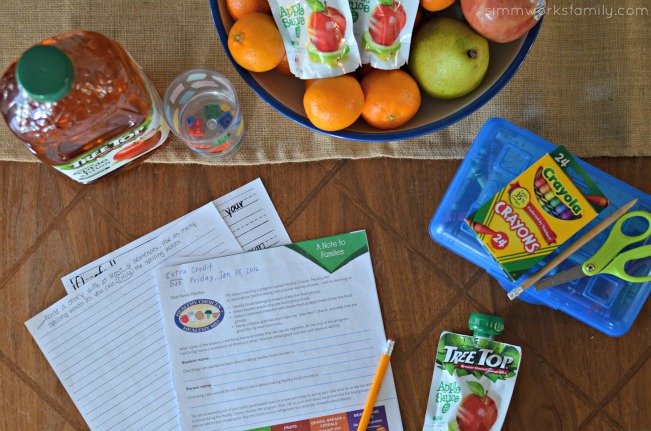 But we're still struggling with afternoons. Between meetings and soccer practice and everything else in between, I try to keep everything written out so that as we're driving to school I can give the kids a heads up on what to expect after they get out of school. Most days they come straight home but others are spent at after school care or they're picked up by a relative.
With all of the craziness that our afternoons bring us, I have to remember to pack snacks for the kids and hide them everywhere. Because if I don't? This is what I have to deal with: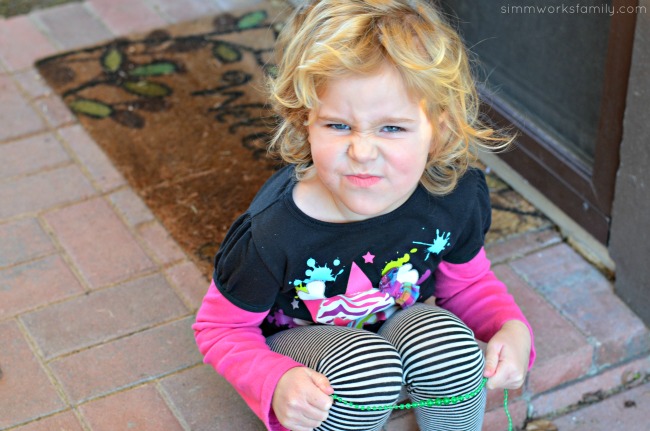 Yup. She's hangry.
Luckily I've experienced enough meltdowns that I can sense when they are going to come on and I can whip out a snack so quickly that all of a sudden that frown turns upside down. Want in on how I do it? Check out my after school snack hacks!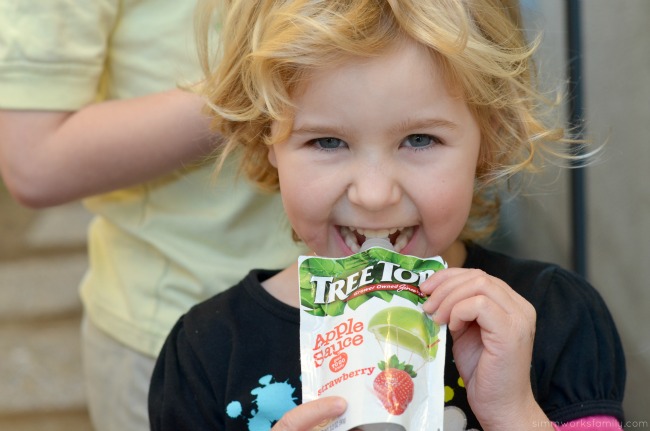 After School Snack Hacks
1. Bowl Of Fruit –
Now I know this sounds like a duh kind of idea but I've found that putting a bowl of fruit out on the table or counter puts the responsibility of eating in my kids hands. They know when they feel hungry that all they have to do is go grab something from the fruit bowl. Plus fruit is portable so I can grab a few pieces before heading over to pick up the kids so they can snack on the drive home.
I keep a variety of fruits on hand to satisfy both of the kids tastes. And if they don't eat it fast enough,  I turn the fruit into muffins! Another awesome snack choice that doubles as a breakfast food.
2. Snack Drawer or Shelf
In the pantry I have a snack shelf filled with great snacks that the kids can grab on their own as soon as they come home from school. This shelf is also used for my go-to lunch items too so I can quickly go in and grab what I need after I finish making sandwiches and grabbing fruit.
One thing I always have on my snack shelf is Tree Top Apple Sauce Pouches. They're mess-free, taste great and are made with pure USA-grown fruit and local ingredients. No spoon? No problem! Pouches are squeezable and fun, making them perfect for on-the-go snacking.
We also have a snack drawer in our fridge. We purchased the fridge we have because it had a secondary refridgerated door that would be easily accesible for our kids. I keep yogurts, cheese, and other snacks that I don't mind the kids eating in there along with some bottled water and juices.
3. Roll Ups
When I know the kids are going to sports practice or I have a meeting after school, I make super quick roll ups out of whatever ingredients I have on hand. Depending on the size, I'll sometimes cut them into wheels or leave them whole.
Here's a few great ideas for flavors to get you started:
PB&J Roll Up – tortilla, peanut butter, jelly | Add some bananas or apples
Ham & Swiss Roll Up – pita, sliced ham, sliced swiss cheese | Add some spinach leaves and a spread of ranch dressing or hummus
Tuna Roll Up – bread, tuna, mayo | Add some diced celery and dill pickles
4. Cheese Platter
Now don't laugh but sometimes I just cut up some cheese and open up a package of crackers and call it a day. We even turn to that as a dinner option on crazy busy nights with the addition of some salame or pepperonis. Cheese platters are very versatile. From delicious brie and gouda with fancy crackers to string cheese and gold fish, the possibilities are endless. And when you're having a bad day, both pair nicely with a glass of wine. For the parents… not the kids.
All of these options can easily be put into a bag and taken with us wherever we go. I have an easy way to keep snacks on hand and the kids don't get hangry. Win win!
Tree Top knows that avoiding those hangry moments require a quick and reliable solution. We want to see how you help your kids overcome those stressful times! Share a photo of your child's "hangry2happy" moment on Facebook, Twitter or Instagram. Make sure to use the #Hangry2Happy hashtag and tag @TreeTopInc in your post, so we can check it out.
You'll be entered to win one of eight survival kit backpacks full of Tree Top apple sauce Pouches, so you'll be ready when your kids reach their limit and desperately need a snack. We've all been there, and Tree Top wants to help you take your kids from hangry to happy! Official sweepstakes rules can be found here:on.fb.me/1kTw5b5
What are your go-to snack hacks to avoid hangry children?
I will be giving away one kids backpack and filled with Tree Top applesauce pouches. Approximate Retail Value of $50.
View Rafflecopter to see the ways in which to enter and show Tree Top your child's Hangry2Happy Moments!
Disclosure: This is a sponsored post written by me on behalf of Tree Top.