This post contains affiliate links.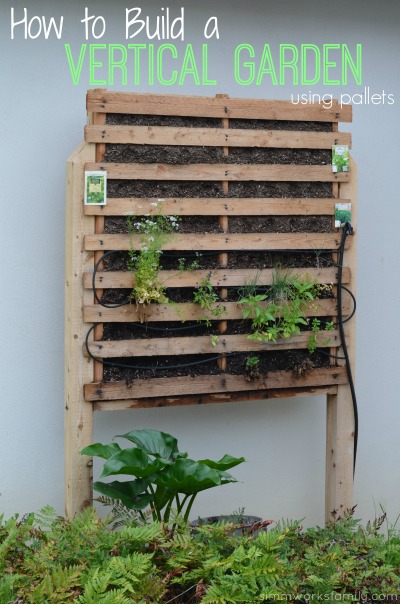 Ever wonder what else you can do with pallets? I mean besides the thousands of other ideas you find all over the interwebs? Well, my husband and I figured out how to build a vertical garden using pallets. And they're quite fun!
Now, I want to tell you right now that we've had some interesting finds when building these. The first? It's really difficult to get dirt to stay IN the pallets once you start watering them. Especially if you don't use a soaker hose line and just spray them with the garden hose.
My son had fun with the muddy clumps that came with that! But once the dirt is settled into the pallets it's actually quite a good way to grow fun things and makes an awesome display for your yard.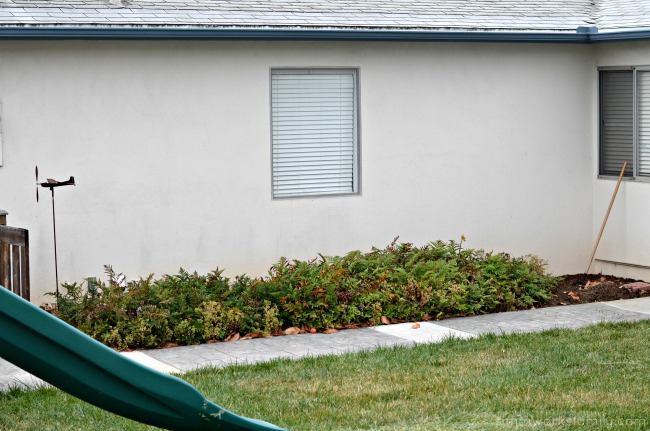 This above was the side of our house in the front yard before we put the pallets in. I hated how empty and plain the space was and wanted to use the vertical garden to spruce it up and bring life to this part of the yard.
I don't think my husband quite understood exactly what I was envisioning in my head but with some team work, a few dirty looks and rolling eyes, and some muddy kids, we got it done.
Oh… and if you're having trouble finding pallets because everyone and their mom is grabbing them up to make things like this, go to Home Depot or whatever other hardware stores you have around and ask for their sod pallets. They're more flimsy/rickety (hence the support added) but are perfect for this type of project!
Here's how!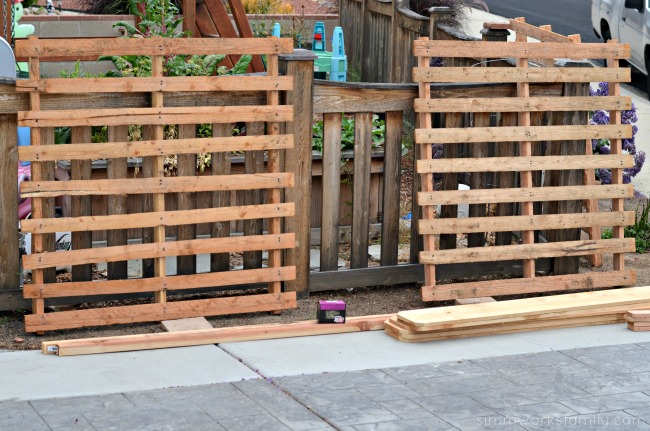 How to Build a Vertical Garden Using Pallets
Supplies:
Wood
wooden pallet
2×2 doug fir
2×4 doug fir
1×8 cedar fence board
2 4×4 cedar posts
Materials
large piece of cardboard
variety of seeds
What you do: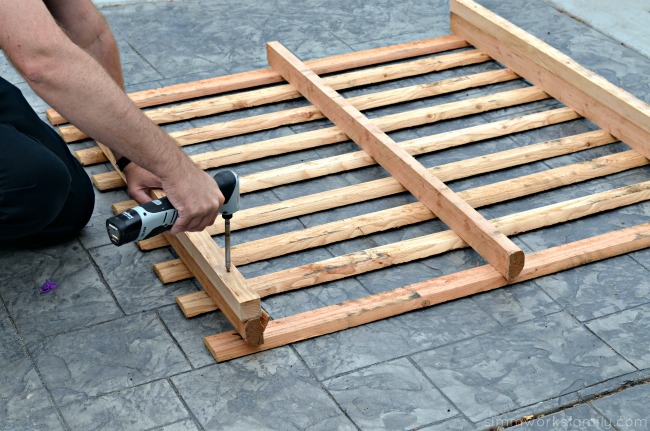 1. Measure length of pallet and cut 2x2s to that length. These will give extra support to the pallet.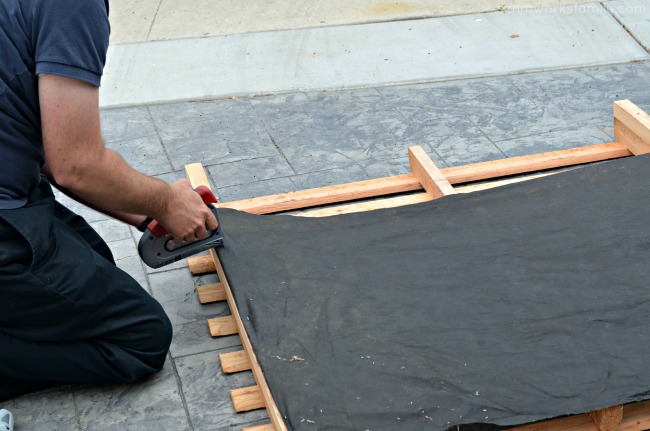 2. Staple weed block fabric to the back of the pallet, pulling taut to make sure it's stretched all the way across. Layer if needed to cover the full back.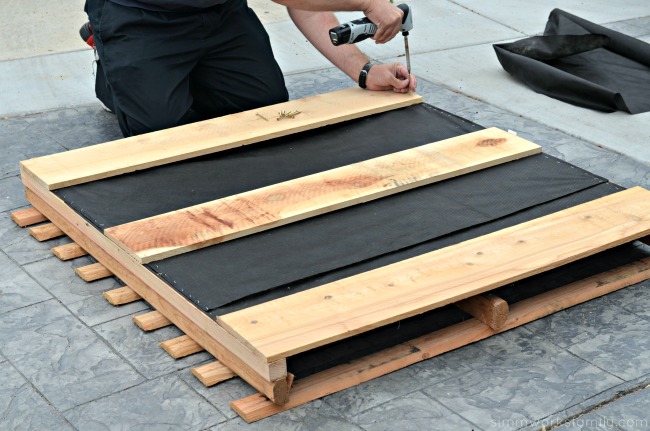 3. Measure the width of the pallet from 2×2 to 2×2 and cut 1×8 fence boards to that length. Screw in place over the weed block fabric.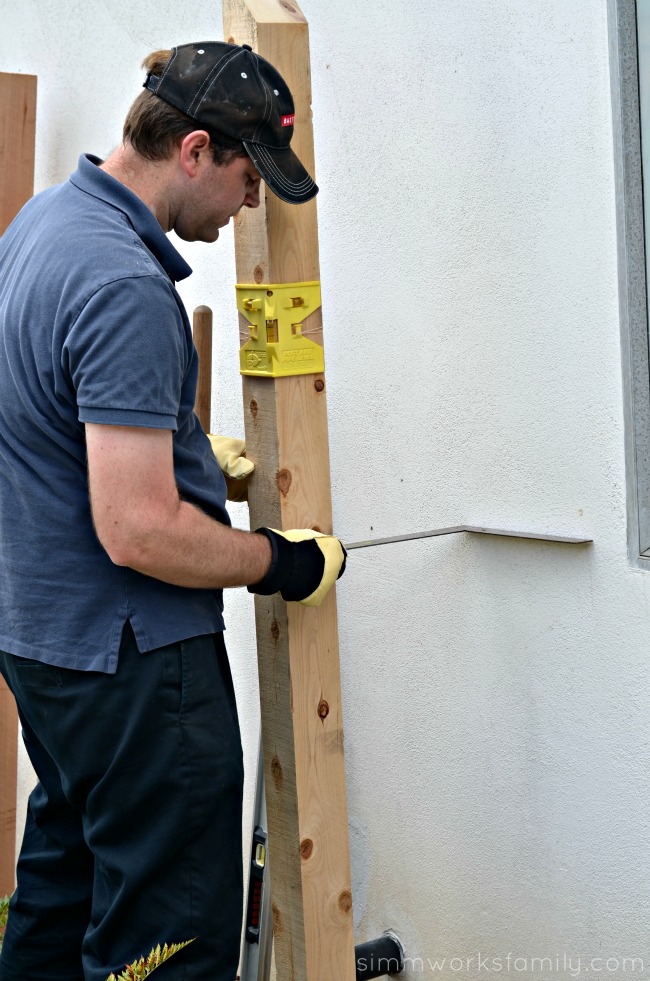 4. Measure the distance you need your posts to be installed on the ground and dig holes for posts. Cut posts to size depending on how far above the ground you want the pallets to be. Make sure to bury them about 1-2′ in the ground to provide a sturdy base.
5. Set posts in the ground by covering with dirt and using a level to determine if you need to move or shift the posts. Measure the back dimensions of the pallet to determine exactly how far apart the posts should be. This will vary with every pallet.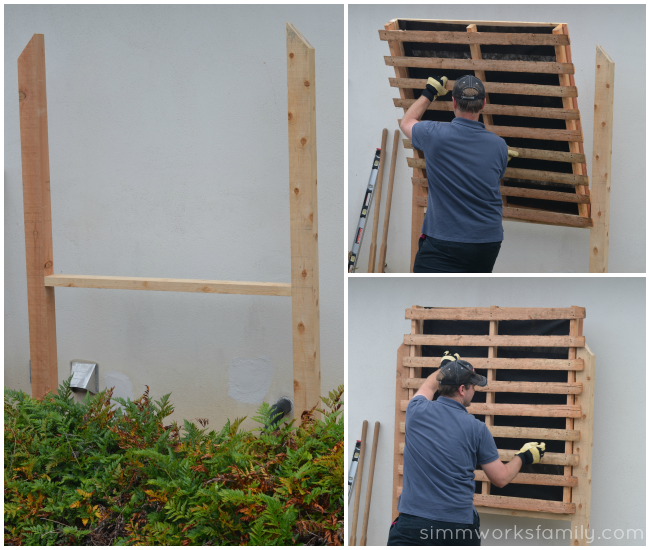 6. Measure where you want the bottom of hte pallet to be and mark off that height on each post with a pencil. Then cut the 2×4 to the width between the posts. This board will act as a frame for the pallet to sit on. Screw the 2×4 into position directly underneath the line you've drawn.
7. Lift pallet into place on the frame and screw to secure.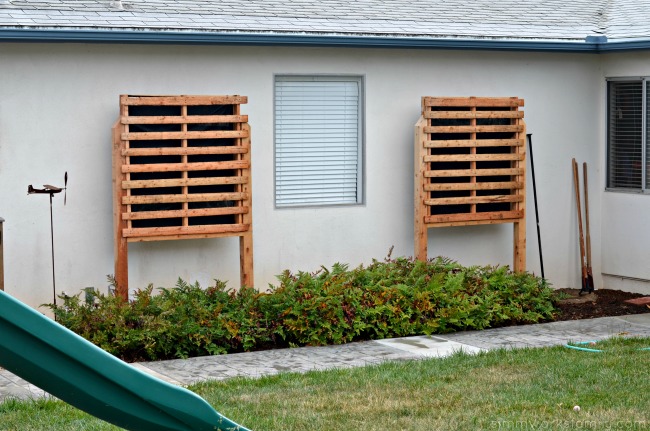 How pretty are they??
Next up is the hard part… this is where we had the most trouble… trying to pack in the soil to make sure it stayed in place and didn't spill all out.
Now you're probably asking why we didn't start our pallet garden on the ground and then lift it into place once the plants were established. Well.. you *could* do that but just think of how heavy those pallet gardens would be. Crazy heavy! So we did it this way.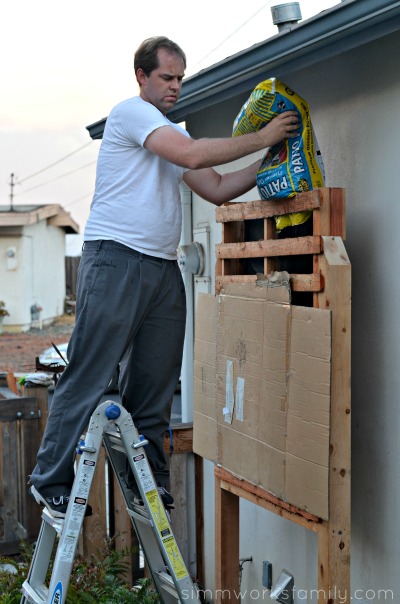 8. Using the cardboard stapled to the front of the pallet, fill the pallet with mulchy garden soil. Pack down each layer as you go to make sure it's secure. There will be some dirt that falls out, simply fill it back again or leave it as is to settle more and fill later.
9. Plant with whatever seeds you think will grow best! We stick to lettuce in one planter and herbs in another with a few strawberries at the bottom. It's pretty fun to step out and grab herbs whenever I need them!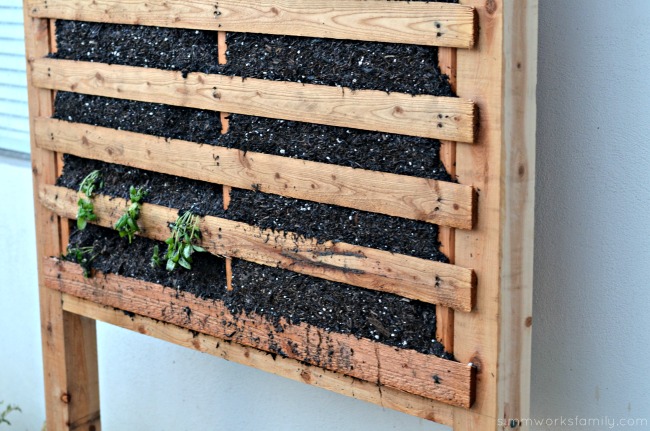 Another problem we ran into was using starter plants we purchased instead of seeds. While in theory this would work great, when you put a plant that's been growing vertically in a horizontal planter into a vertical planter and ask it to grow horizontally it looks like this above… droopy.
It's also quite messy and hard to get the starter plants IN the planter and you spill a TON of dirt everywhere. Our solution? Seeds… start from seed and install an irrigation system with a soaker hose. You can find everything you need for the soaker hose in the irrigation aisle at your local hardware store.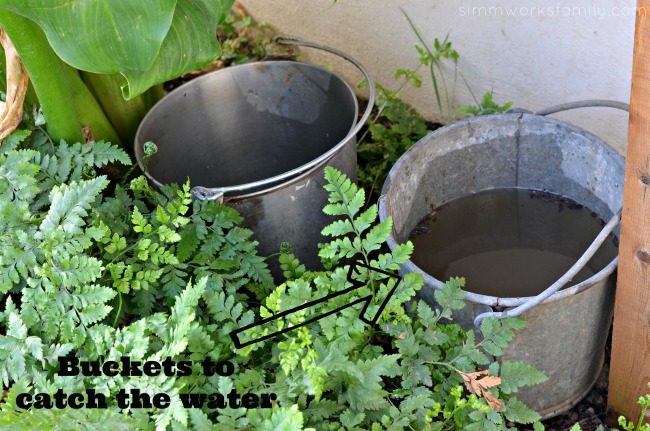 If you're going to use an irrigation system with your garden, know that there will be water that drips down constantly. In order to conserve that water to use on our other plants and in our raised garden beds, we simply put buckets underneath to catch the excess water.
You know what else we found? Bees LOVE to come and drink the water that pools on the last rung of the pallet because they love mineral rich water. That means you're helping the bees with your vertical garden too! Here's a close up of a bee drinking. This is a regular sighting.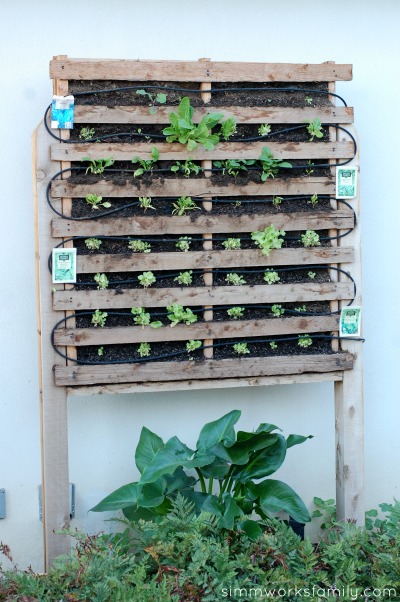 While it's been a crazy process, I absolutely love how the vertical gardens make the side of our house look. I consider them more of a decorative piece in our front yard but love that we also get the benefits of growing our own herbs and lettuce.
And since our pallets are in the shade for most of the day, we had to choose plants that would work well in these conditions. I'm sure there are other things one could grow if their vertical garden were directly in full sunlight.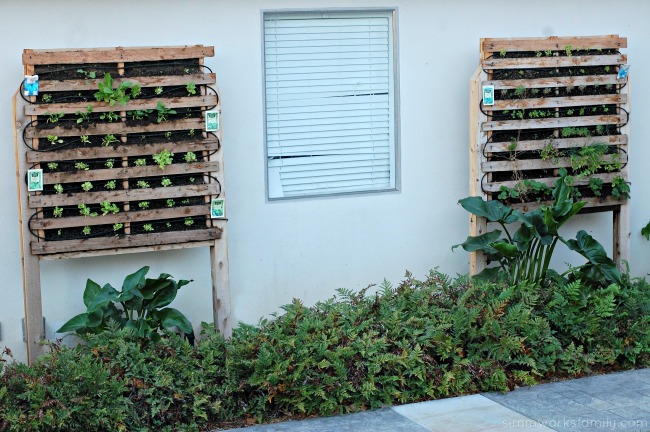 What would you plant in a vertical garden?