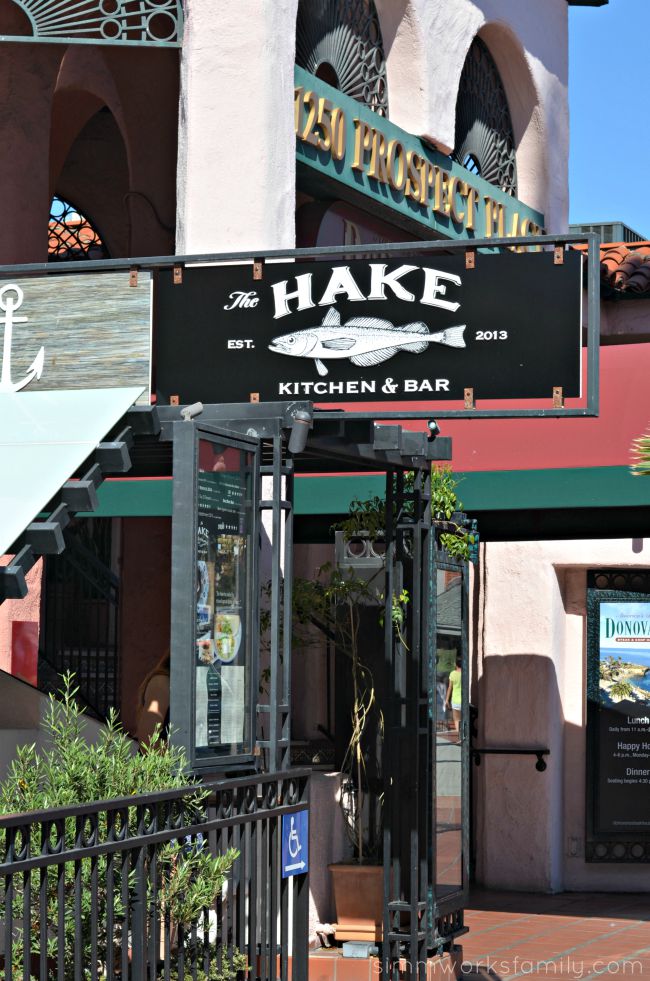 One thing I absolutely love to do is get out and try new restaurants here in San Diego. There are so many options when it comes to quality, delicious restaurants and it seems like new spots pop up every other week. So what I love to do is explore a bit and try new things. The perfect way to do this is to take advantage of San Diego Restaurant Week.
For one week only, September 20th – 27th, San Diego Restaurant Week, presented by Your San Diego County Lexus Dealer, will return to the City with a bang! During San Diego Restaurant Week, participating restaurants will CELEBRATE LOCAL by partnering with local distributors, farmers, vintners, brewers, fishermen and MORE in order to bring local produce and Pacific-caught seafood to your plates. You can choose from over 190 participating restaurants who will be showcasing their top dishes on lunch and dinner prix-fixe menus making your taste buds tingle with choices!
The Hake Kitchen + Bar | Ambiance
My husband and I were invited out to try The Hake Kitchen and Bar to check out their San Diego Restaurant Week menu before it launches next week. Since we hadn't been there before we weren't sure what to expect. But that's what Restaurant Week is there for! Nestled between shops and restaurants off Prospect in La Jolla, The Hake Kitchen is in a prime location. It's the perfect spot to hit up for lunch on the weekends after a morning at the beach, or a great way to end the day for dinner during the week.
Once you walk in, you're greeted with smiling faces a warm, friendly atmosphere.As soon as I saw the sign above, I knew I was in the right place. There's seating inside as well as a few limited tables out on the two patios. There's also a simple curtain divider to make room for small parties on one side of the restaurant. We chose to sit inside near the front patio and the restaurant was more than accomodating when they saw we brought our little one along. High chairs are available. 
The Hake Kitchen + Bar | Menu
The delicious menu with fresh seasonal ingredients will have you wanting to order more than one thing to try. Ordering a few starters for the table to share is suggested. That way you can have a bite of everything! There's also a wide variety of signature cocktails, draft and bottled beers, and mezcal flights – something for everyone. Their most popular signature drink, the One Hot Cucumber, is a fiery drink made with jalapeno tequila, cucumber puree, lime, agave nectar, and finished with a chili rim. Definitely one to try!

The Hake Kitchen + Bar | Food
I made the most of our visit and started us off with the Shaved Rib Eye. Paired with sauteed shishito peppers and onions and served with delicious hot tortillas and fresh guacamole, this definitely hit the spot. The rib eye was tender and flavorful and the peppers and onions were perfectly cooked. I'd suggest asking for a few extra tortillas so you can enjoy more of the goodness!
After we enjoyed our starter, the main courses arrived. Since we were there for lunch, we went for their shrimp roll and tuna steak sandwich. Now I was surprised by my husband's choice of the tuna steak sandwich. Not because he doesn't eat tuna, but because there was also a 10oz hanger steak with chimichurri sauce and truffle fries on the menu and he didn't order that! But his tuna steak sandwich looked absolutely delicious. The shrimp roll was  filled with large shrimp and fresh veggies tossed in a light dill mayo and served in a toasted brioche roll. The first bite was rather awkward as it was pretty large but it was so worth it! Absolutely delicious. I loved how fresh and flavorful it was.
To end the meal we went a little crazy and each of us ordered a dessert. Now I'm a chocolate person. So when I saw the chocolate hazelnut cake on the menu I knew I wanted to try it. But since Joseph's allergic to peanuts, he doesn't really care for any nuts. So he went for the Key Lime Semifreddo. If I had tried the Key Lime Semifreddo, I would have just eaten that. It was SO good! Not at all what I expected. Not that my chocolate hazelnut cake wasn't good, it was! Absolutely delicious. And it would pair perfectly with a nice espresso. But the key lime semifreddo? To die for! I now know why why it's won awards!
San Diego Restaurant Week | September 20th – 27th 2015
To make San Diego dining easier for you ALL YEAR ROUND, San Diego Restaurant Week has launched a new website! The new site has added more extensive search features, a recipes section with local restaurantcontributors, a special offers area that will be updated throughout the year and even a place where you can log your favorites to help you track through the variety of options available for you.  The website will now serve as a tool for San Diego foodies 365 days a year for finding specials, deals and promotions at San Diego restaurants!
Dinner will be served as a three-course, prix-fixe menu for just $20, $30, $40 or $50 per person and lunch will be served as a two-course prix-fixe menu for only $10, $15 or $20 per person. This is meal-stealing, people! Saturday will once again be included as well as an additional Sunday, giving you that extra date night or chance to impress the boss!
What restaurant are you trying during San Diego Restaurant Week?