One of my favorite all time lunch (or dinner) option is a grilled cheese sandwich with a bowl of creamy tomato soup. My favorite menu item on Nordstrom Cafe's menu is, of course, the grilled cheese & tomato soup and it's my kids favorite too (the sandwich, not the soup).
So when I heard that national Grilled Cheese day was coming up this week I knew I had to share my favorite way to prepare grilled cheese at home. Yup… I'm sharing the ultimate grilled cheese sandwich recipe with you!
Now the components of a grilled cheese are simple, a spread on teh outer layers of bread to brown, some yummy cheese and a pair of bread slices to hold the cheese in.
You can change up the type of cheese and type of bread to reflect what you love the most but I always go with at least one cheese that'll melt well. And I usually use two different types of cheese.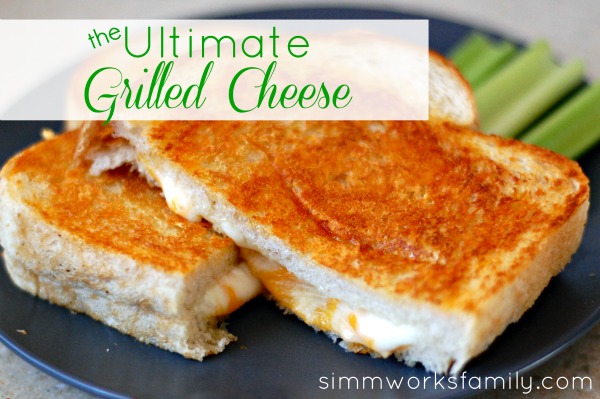 Here are some great cheeses to consider:
American
Cheddar
Gruyere
Havarti
Brie
Swiss
Manchego
Monterey Jack
Now that you have some ideas for what to put inside those two slices of bread, here's how I prepare my ultimate grilled cheese sandwich.
The Ultimate Grilled Cheese Sandwich
What you'll need:
2 slices of bread, I used white french bread
2 different types of cheese, I used cheddar and havarti
butter or mayo
grated parmesan cheese
What you do:
1. Pre-heat griddle pan on medium-low heat.
2. Spread butter or mayo on one side of each of the bread slices. Sprinkle with a generous amount of parmesan.
3. Add one slice of bread, cheese side down, to the pan. Add the cheese and the other slice of bread, cheese side up.
4. Cook until golden brown and cheese is slightly melty. Putting a pan lid on top of the sandwich might help speed up the melting process while it cooks.
5. Flip sandwich over and continue to cook until the other side is golden brown.
6. Serve warm with your favorite soup, or a nice squirt of ketchup, and enjoy!
How do you like your grilled cheese?