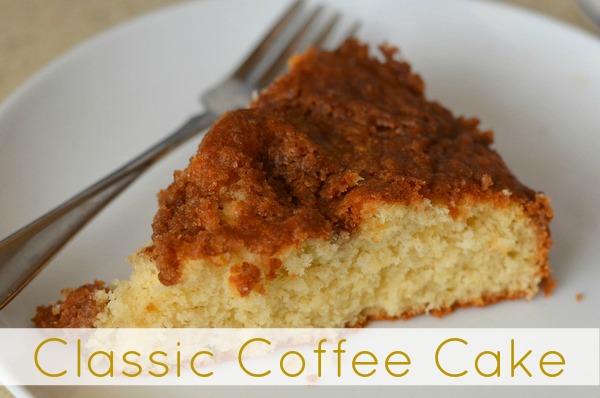 Classic Coffee Cake Recipe
Sometimes I just have a hankering for something sweet. But not too sweet. This classic coffee cake is the perfect solution! And it's wonderful for any time of the day.
I love pairing it with my new International Delight Light Iced Coffee in the afternoon for a tasty treat. I've also subbed the vanilla light iced coffee in the recipe! But it also tastes wonderful in the morning with a nice hot cup of coffee or tea. The best part? It takes very little time to make.
If you need a great dish to bring in for a potluck, to surprise a friend, or to simply have on hand as a quick breakfast option, I highly suggest trying this classic coffee cake recipe!
Classic Coffee Cake Recipe
Ingredients
1 cup sifted all-purpose flour (sift before measuring)
1/2 cup sifted whole wheat flour
2 1/2 teaspoons baking powder
1/2 teaspoon salt
1 egg, beaten
3/4 cup sugar
1/3 cup melted butter
1/2 cup milk or International Delight Vanilla Light Iced Coffee
1 teaspoon vanilla extract
For the Topping:
1/2 cup brown sugar
1/4 cup sifted all-purpose flour (sift before measuring)
1/4 cup butter, room temperature
1 teaspoon cinnamon
1/2 teaspoon nutmeg
Instructions
In small mixing bowl, combine topping ingredients. Blend with fork until crumbly. Set aside.
Sift sifted flour with baking powder and salt into a bowl. In a medium bowl, beat together beaten egg and 3/4 cup sugar and 1/3 cup melted butter. Add milk and vanilla. Stir in flour mixture and mix well.
Pour batter into a greased and floured 8-inch square or 9-inch layer-cake pan. Sprinkle topping crumb mixture evenly over batter.
Bake at 375° for 25 to 30 minutes, or until cake tests done. Partially cool in pan on wire rack. Cut coffee cake into squares or wedges while still warm.