This is a sponsored post written by me on behalf of Barilla, but opinions are my own.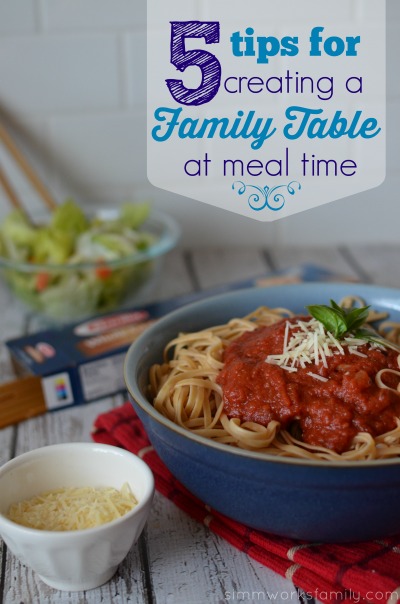 When my son was a toddler I thought he was the pickiest eater. Then I started to realize that he wasn't picky, he was just a kid. So I started to focus more on creating a family table at meal time and truly allowing him (and now my daughter) to experience food differently.
With the changes we've put in place I not only have kids who eat dinner, even if it's just one part of dinner, we also now have a place to sit and talk about our day as a family. Mealtime now sometimes leads to playtime afterwards when the conversation doesn't stop and the kids request either a game or movie night after we eat.
By eating at home, around a table, we've come to realize the importance of meal time and creating a family table.
Feeding America is the nation's largest organization dedicated to fighting domestic hunger through a network of food banks, and Barilla supports that goal.
Although many families make time to eat together, mealtime is more disjointed than ever. Seventy-six percent of people say dinner is the most important way to connect the family. Yet one in four families say they feel like disconnected individuals living under one roof.
Sitting down for family dinners 5 out of 7 nights during the week is important for me but it's not just sitting down as a family. My family uses time around the dinner table to connect, learn and grow.
Sharing the table with my family during mealtimes is an important and meaningful part of how our family connects. It's a time for my husband – who works away from the home – to interact with my kids and hear about their days. It's also a time where we can discuss family events, upcoming holidays, and every day chit cat.

5 Tips for Creating a Family Table at Meal Time
1. Don't just start at the table; begin in the kitchen – My kids help me prepare dinner most nights. Whether it's helping throw ingredients in a pot, chopping up vegetables, or setting the table, I try and get the kids involved in the process of making meals to allow for more opportunities to talk and grow.
2. Eat family style – instead of having plates already loaded and ready to go, serve each meal family style and let your kids choose what they put on their plates. You'll find that this may spark conversation about the food their eating, where it came from, and many other questions (especially if you have a inquisitive 3 year old).
3. Begin the discussion – start your meal off with some way to open up discussion. Whether it be sharing the best part about your day, what you're looking forward to the next day, or simply what you're thankful for, you can start up great conversations by asking simple questions during mealtime.
4. No one leaves until everyone is finished – I've found my kids trying to race off away from the table after a meal because they were finished. But we've now instated a rule that no one leaves the dinner table unless everyone is done eating. We've been able to keep the conversation going and really have time to connect after the kids are done eating by doing this.
5. Continue the family time – After dinner we try and keep the kids away from asking to turn on the TV. So we get them involved in helping clean up after meal time and then play games, take family walks, and play together. Sometimes we do enjoy dinner and a movie with the kids on the weekends, but most weeknights we turn the tube off.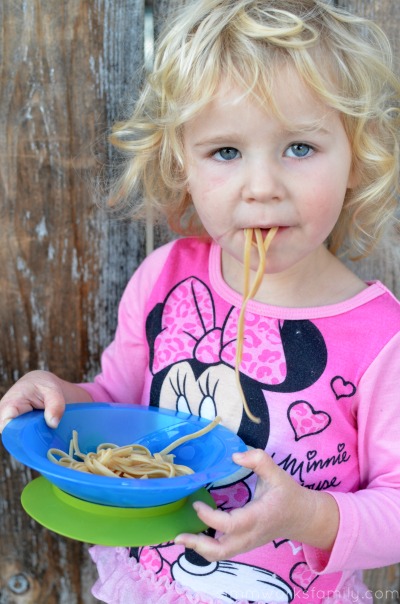 Share what happens when you connect with your family with #ShareTheTable. For every post using #ShareTheTable, Barilla will help provide the monetary equivalent of ten meals ($1.11) to Feeding America, up to one million meals.
One dollar helps provide 9 meals secured by Feeding America on behalf of local member food banks. Valid through 4/30/14. For mealtime inspiration visit SharetheTable.com – view the video and learn how you can start sharing the table.

How do you create a family table?
Share your story using #ShareTheTable and help raise money for Feeding America.
Disclaimer: This is a sponsored post written by me on behalf of Barilla. For every post using #ShareTheTable from now until 4/30/14, Barilla will donate a monetary equivalent of ten meals ($1.11) to Feeding America®, up to 1 million meals. Barilla will donate a maximum of $110,000.  One dollar helps provide 9 meals secured by Feeding America® on behalf of local member food banks.