This creamy avocado pasta with lemon and garlic is ready in less than 30 minutes with the help of our sponsor, Barilla, available at Walmart.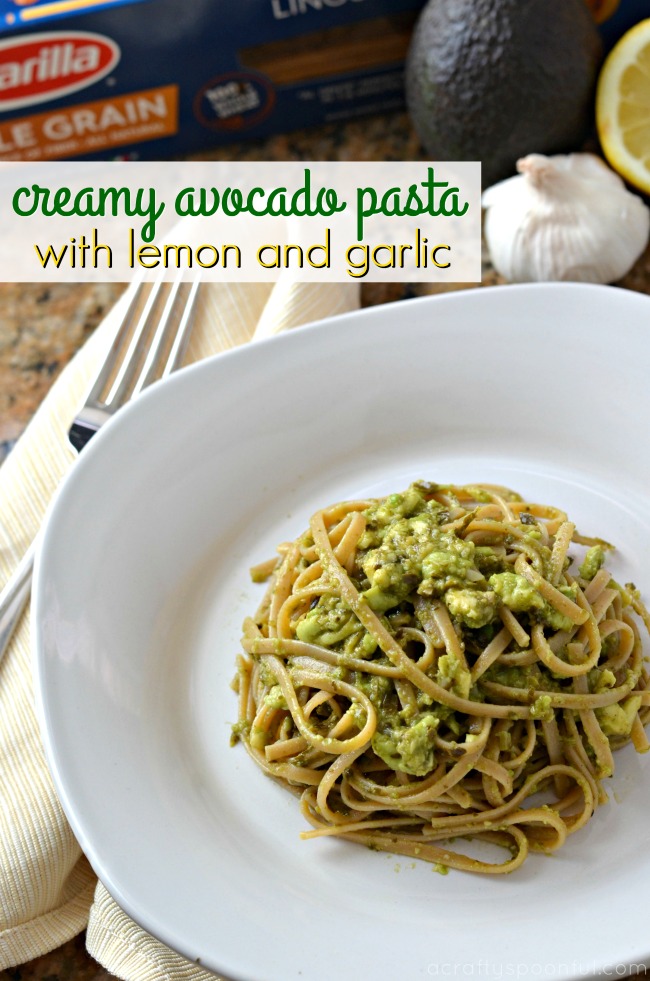 You know when you've been so busy the whole weekend and then realize you completely forgot to come up with a game plan for dinner on Monday night? This is the meal I make when that happens. And wouldn't you know? it happens more often than not.
Luckily avocados are in season right now and we can go pick a few off our neighbor's tree (after asking of course) to use when we need them. Our lemon tree is doing quite well too so pairing the two flavors together make for a pretty delicious meal pairing.
One thing I love about this meal is that it uses ingredients I either always have on hand or have readily available with little effort. We try and stock our pantry with must-have items like Barilla Whole Grain pasta and sauces. Not only are they great for meals in a pinch, but I also know that my family is getting a meal that meets their nutritional needs.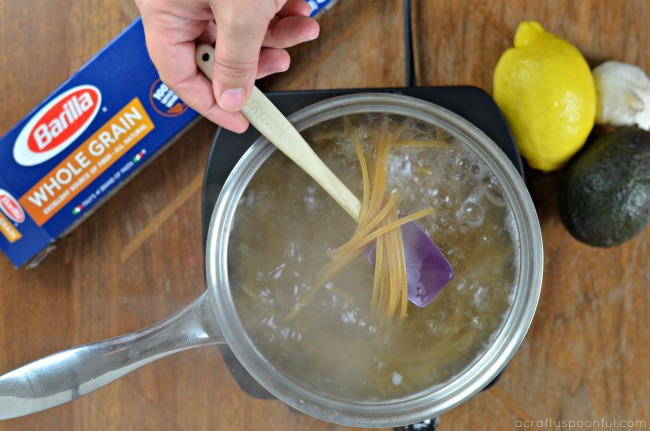 Barilla Whole Grain pasta is a great source of fiber and is made with 100% whole wheat. My family is getting 56g of whole grain in each serving of pasta. It also pairs perfectly with lean proteins like salmon or chicken but can hold it's own as a full meal as well, just like this recipe.
Normally we make creamy avocado pasta and pair it with salmon when we have it on hand, but if we don't, we can forgo the lean protein and just eat this dish as a full meal. I've also been known to throw some shrimp into the dish as an alternative option. The creaminess of the avocado adds to the delicacy of the seafood. And who doesn't love the flavor of garlic and lemon with salmon and shrimp?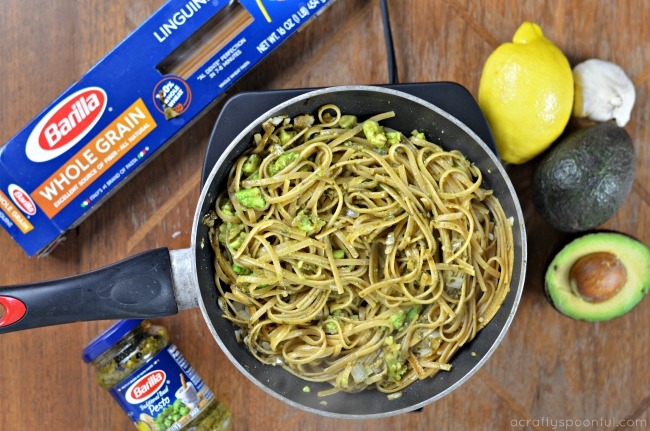 Creamy Avocado Pasta with Lemon and Garlic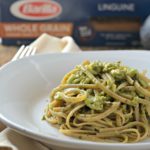 6 ounces Barilla Whole Grain Linguini
4 tablespoons olive oil (divided in half)
1/4 cup onion (diced)
2 cloves garlic (minced)
2 tablespoons Barilla pesto
1/2 avocado (diced & mashed)
salt to taste
Saute onions and garlic in 2 tablespoons of olive oil. Set aside.
Saute onions and garlic in 2 tablespoons of olive oil. Set aside.
Cook Barilla Whole Grain Linguini according to package directions. Drain and add to a heated pan with 2 tablespoons olive oil.
Add sauteed onions and garlic and Barilla pesto to pasta and cook 1-2 minutes.
Add mashed avocado and stir to combine. Remove from heat and serve.
Serving size: 1/2 cup of pasta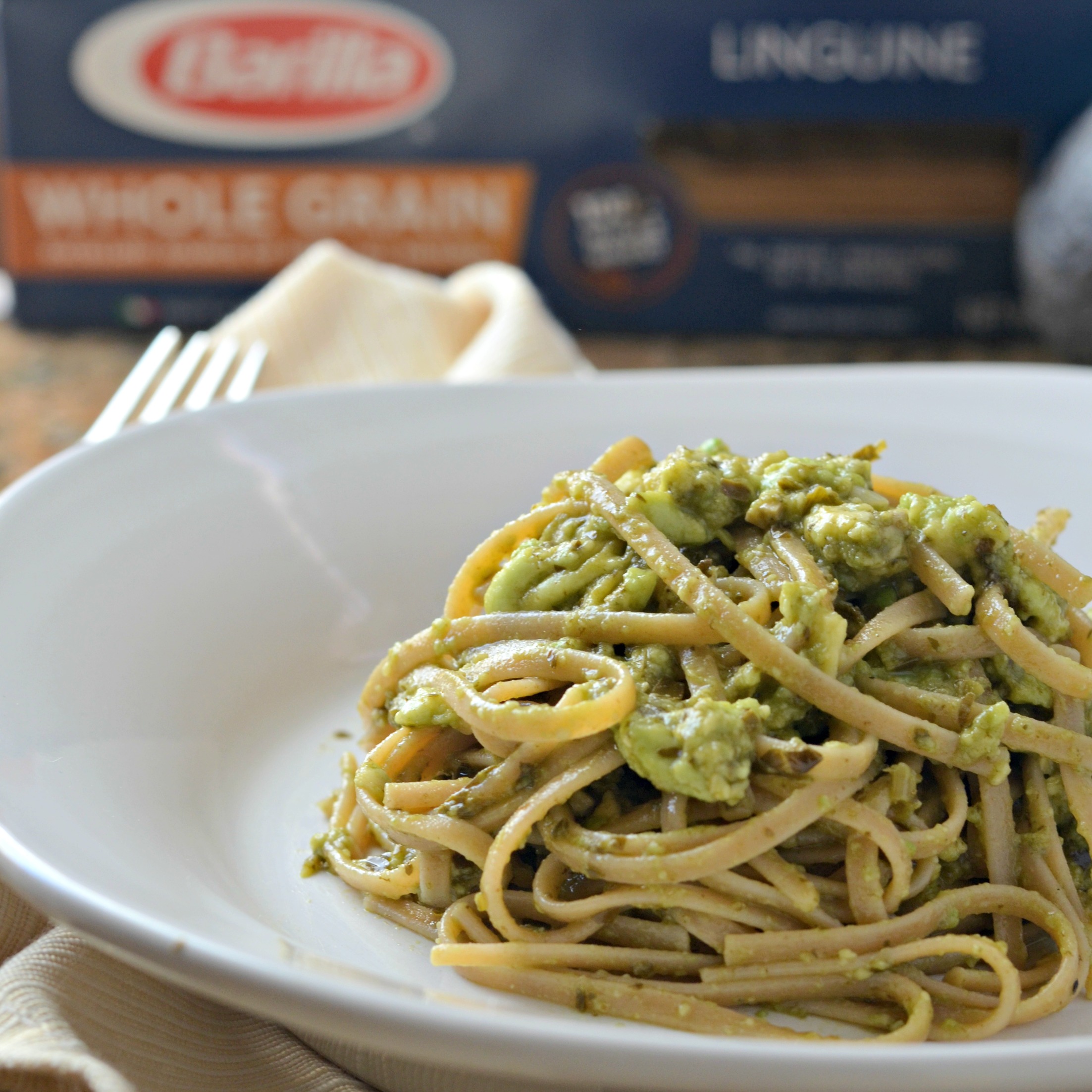 What's your favorite springtime flavor to pair with pasta?
Looking to save a little more than time on this quick and easy dinner? Grab a coupon from Ibotta to use at Walmart when you're stocking up on your favorite Barilla pasta and sauces!
Find more great recipes to enjoy with your Barilla pasta and sauces by following this Pinterest board for simple, delicious pasta dishes inspired by Barilla.
Love this recipe? Check out a few more:
Pin this article for later!
Click the Pin button on the image below to save for later.