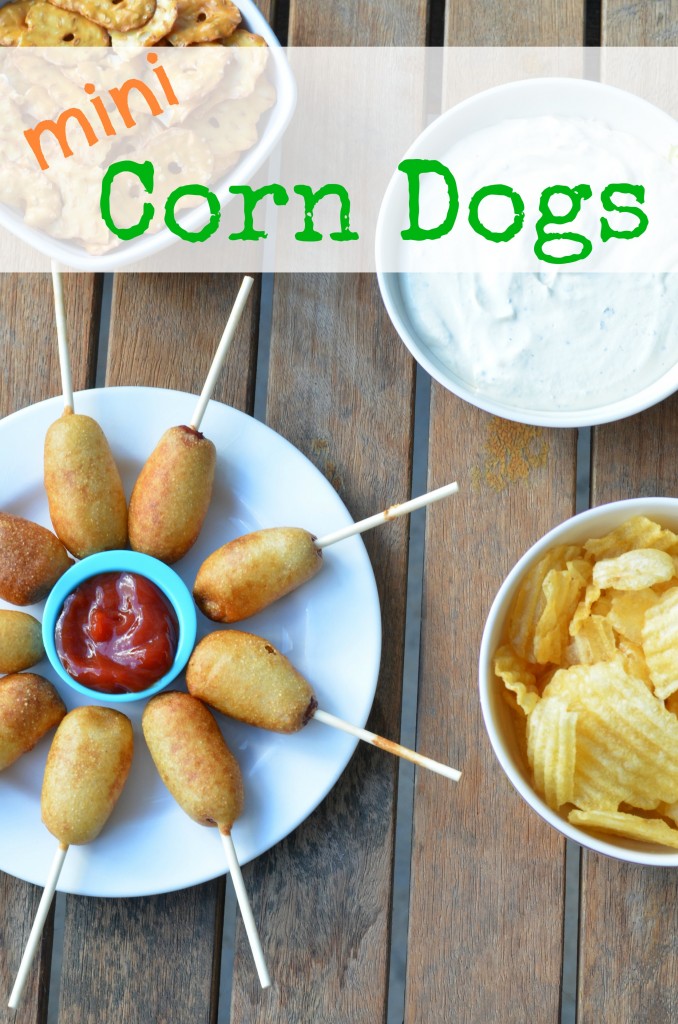 Mini Corn Dogs
With Super Bowl Sunday coming up the only thing on my mind is football appetizers! I'm all about celebrating the super bowl. As long as I don't have to watch the game and get to enjoy my family and delicious food.
That's right. While I root and cheer on whatever teams are playing, I'm usually cheering on both sides. Or I pick randomly between the two teams. I'm just not passionate about football. But I am passionate about food. And these mini corn dogs are sure to be a hit at your next party.
The best part? They're the perfect size for little ones. Now my kids take 1-2 bites out of their hot dog or corn dog and call it a day. All that waste! With these they can finish one in a bite or two and eat more if they're still hungry. Plus, since I used the Hillshire Farm Turkey Lit'l Smokeys they're lower in fat without sacrificing the taste.
So if you're looking to please a crowd and serve something tasty you should definitely try making some mini corn dogs.
Ingredients
Hillshire Farm Turkey Lit'l Smokies
lollipop sticks
3/4 cup flour
1/2 cup corn meal
1/8 cup sugar
1 teaspoon baking powder
1/4 teaspoon salt
1/2 cup 1% milk
1/8 cup vegetable oil (plus more for cooking)
1 egg white
Instructions
Heat oil in a deep skillet until it reaches 350 degrees.
Take Turkey Lit'l Smokeys and insert the lollipop sticks in until about 3/4 of the way through. Do this for all of them (or as many as you want to make). Place on a plate and set aside.
Mix dry ingredients together. Then add the milk, egg white and oil. Whisk together until smooth. If the batter is a bit too thick, splash a bit more milk into the mix.
Once your oil has reached 350 degrees it's time to get dipping!
Taking the lollipop stick, dip the lit'l smokeys into the batter twisting back and fourth to cover the whole thing. Shake off any excess. Gently place the battered dog into the hot oil and cook for a few seconds on each side until golden brown.
Set on a plate lined with a paper towel or cloth napkin and let excess grease drip off. Repeat with the rest of the dogs. Serve warm with ketchup and mustard and enjoy!
Notes
If making large batches, preheat the oven to 200 degrees and store cooked mini corn dogs on an oven-save dish until ready to serve.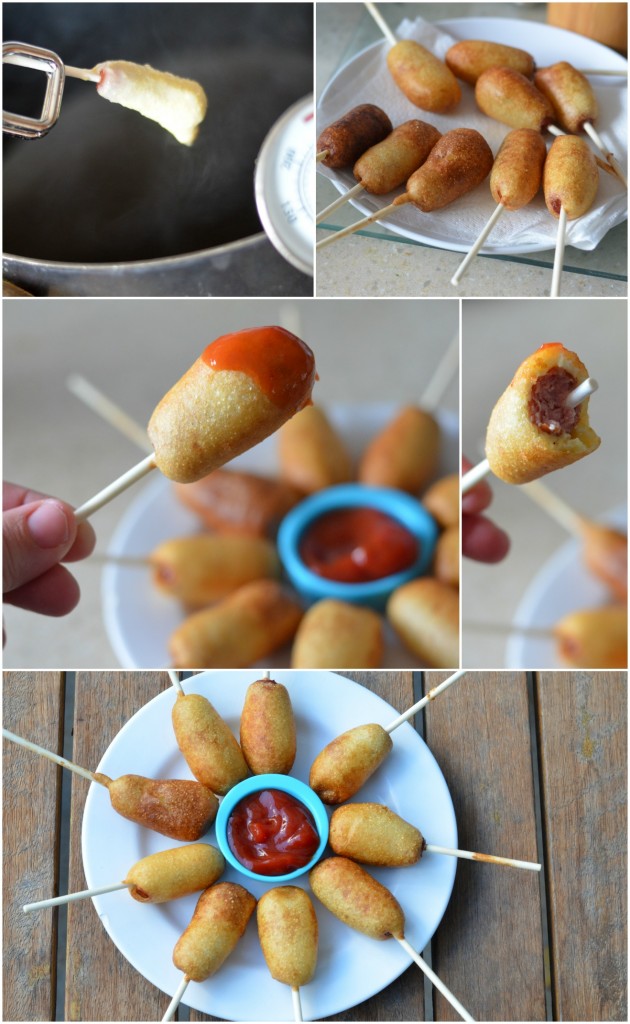 For more recipe ideas on how to spruce up your Hillshire Farm Lit'l Smokies check out the Hillshire Farm recipes located on their website. You can also find Hillshire Farm on Facebook and follow them on twitter at @HillshireFarm.