From 'Name that Disney Baby' to 'Find the Hidden Mickeys,' this post will share fun games you can play at your next Disney-themed baby shower! Plus, all the printables you need!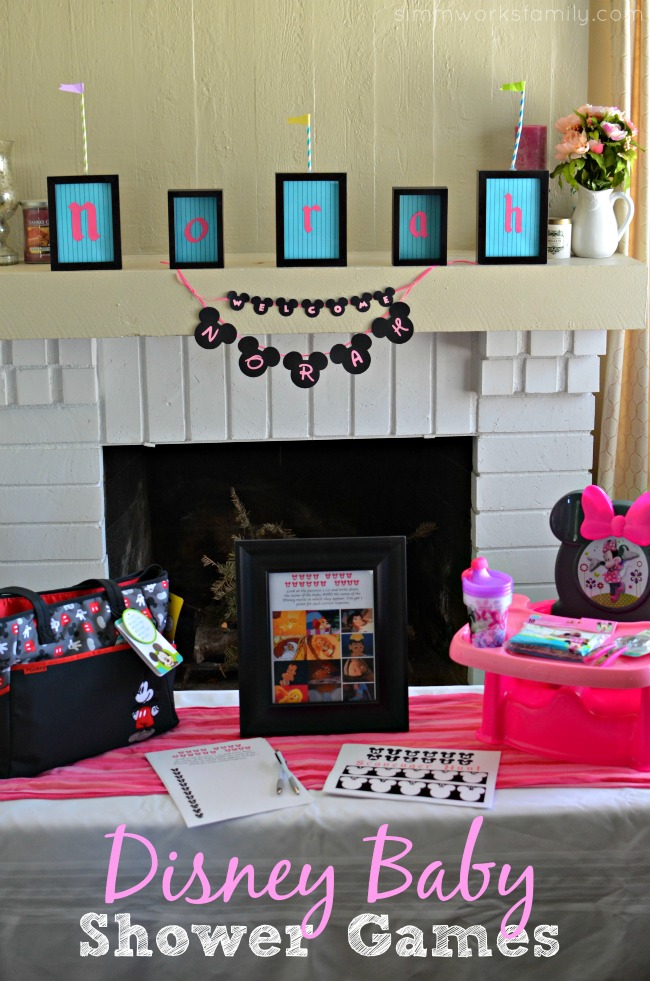 This is a sponsored post.
Our family is all about Disney. Movies, theme parks, and, of course, baby showers! With the addition of our newest little one came a fun celebration with family and friends. My good friend Kari of Keep It Simple Mama hosted a fun Disney themed baby shower and included some amazing baby shower games for all of us to play.
None of this 'guess what's in the diaper' or 'who can keep their legs crossed' games. Not that there's anything wrong with those. She chose some fun, creative, and interactive games for our guests to enjoy while at the shower.
In addition to the fun baby games she also created some unique and simple decor. By cutting out Mickeys with her Silhouette machine and overlaying some text on top, she was able to create an adorable welcome sign for baby Norah. Strung together with some ribbon and it was ready to hang.
She also created a fun focal piece for the mantel by grabbing some different sized frames, layering scrap paper, and adding flags to the top of the frames (they're hot glued paper straws!) for some Disney-inspired artwork. Those frames can be repurposed in baby's room for fun wall art!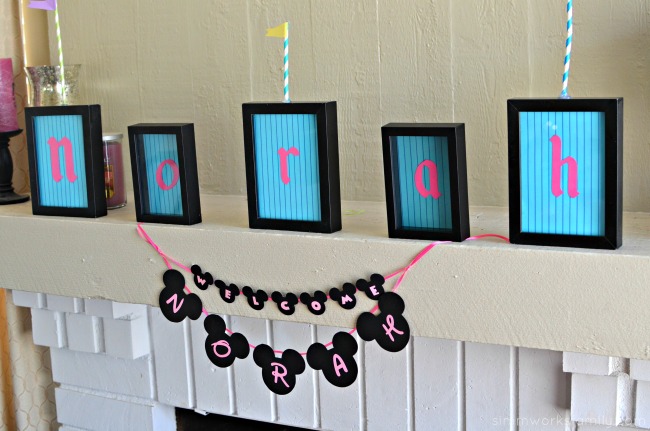 Disney Baby Shower Games
And now for the fun part! The games. Here's a list of the games we played at the party (and some printables for you to use at yours):
Name That Disney Baby – we had to name the Disney baby photos AND the movies the Disney babies were in. Not as easy as you'd think! You can find the answer sheet here.
Find The Hidden Mickeys – disbursed throughout the house were cute little Hidden Mickeys for all to find. Simply print out two sheets and cut one set out to hide around the house.
Guess What's In The Bag – head on over to Walmart and pick up some Disney Baby gear and accessories for a fun guessing game to figure out what essentials for baby are hidden in the diaper bag
Memory Tray Game – who remembers the tray game where you have a bunch of baby items and only have 30 seconds to glance and remember what's on the tray? Do the same thing with Disney Baby products found at Walmart for a fun spin on a classic!
What's In A Name? – using the letters of baby's name, think of Disney inspired words to fill in. For example, the N in Norah is for Neverland and the O is for Olaf.
Each of the games were different from one another and some got the guests up and talking to each other to create ice breakers. Since we were at an event that brought different sides of the family together (mom's side and dad's side) as well as my friends, it was great to see the interaction between my guests.
Plus a few of the games then turned into a gift for the baby (the Memory Tray game and the 'What's in the diaper bag' game). Finding decorations and games that can double as gifts is always something I look for when planning a baby shower or any party for that matter!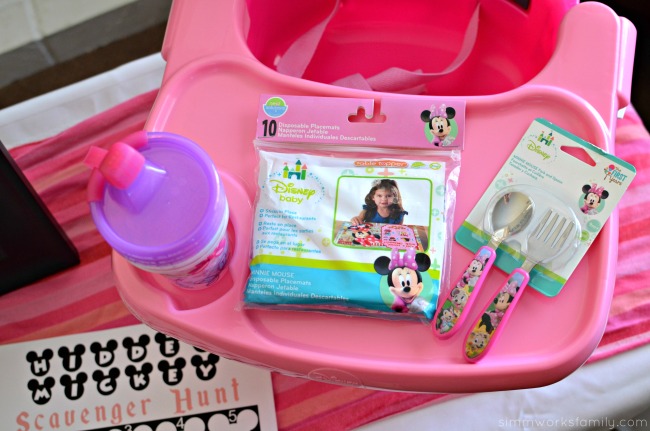 What's your favorite baby shower game?
Love this post? Here are some more great ideas:
Pin this article for later!
Click the Pin button on the image below to save for later.