Finding an alternative to comfort foods has never been easier. I'm getting creative with making my favorite dishes with help from our sponsor Foster Farms and their Sauté Ready chicken like this Spaghetti Squash Chicken Lasagna recipe.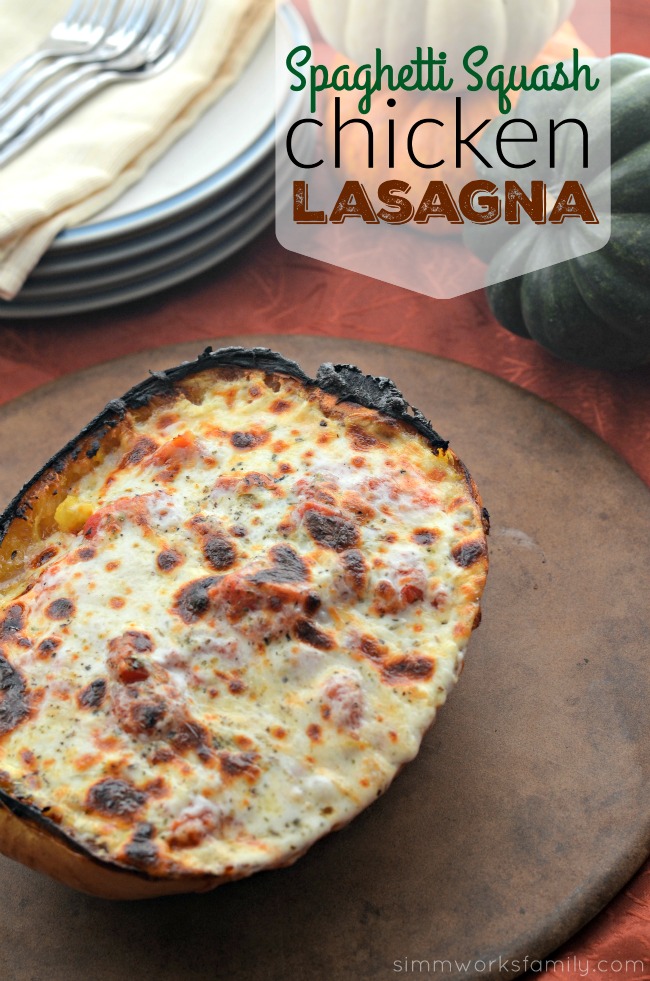 For months I've felt trapped in my post partum body. While I knew having a third baby would change me yet again, I didn't realize how much harder I'd have to work after my c-section to get my body back. And when I was finally ready to tackle my weight once Norah turned 6 months old, I got hit with a gallbladder attack and my interest in starting a LCHF (Low Carb High Fat) way of eating was curbed. High fat isn't good when your gallbladder is full of stones. I'd much rather wait it out than feel the wrath of another gallbladder attack.
However I did finally have it removed and felt amazing afterwards. After having my gallbladder removed I was finally able to hop on board and start eating healthier. While I was twiddling my thumbs waiting until my surgery, I read everything I could about keto friendly diets and why butter and cream are actually good for me. During my pregnancy I didn't care much for sweets. In fact, they made me feel sick. After I had Norah, that didn't go away. Anytime I ate sweets or carbs I would feel gross and sluggish. So when I finished reading this book, I was able to change my way of thinking and have laid off the carbs and increased my fat intake. Boy does my body prefer this way of eating!
I stay focused and on plan with the help of planning. I keep a simple list of foods that I call my "go-to" menu stocked up in the pantry, fridge, and freezer to stick with a keto friendly diet. And with Foster Farms Sauté Ready Chicken in my freezer I can make a delicious dinner that's on plan while still appeasing my family. They're the perfect high-protein (21g protein/serving) option to keep on hand for quick, healthy mid-week meals. Plus the chicken is 100% natural and cooks in about 10 minutes with no thawing required. Talk about a time saver! And it takes the guesswork out of dinner – it's homemade made easy.
But when cravings hit and all I want is comfort food, I don't mind taking a little more time to create a delicious dish. And this Spaghetti Squash Chicken Lasagna sure does hit the spot! All of the flavors of my favorite chicken lasagna with a considerable decrease in carbs. Plus, it's something the kids would actually try. Like one bite. Hey! It's better then them turning their noses up, telling me that it's gross, and then demanding that dad go take them to get chicken nuggets. Yes… that has happened. And yes, dad did give in.
What I love about this recipe is that it really isn't that difficult. It just has a few extra steps. But if you aren't watching your carbs you could totally use jarred marinara to make it easier. It's protein packed, delicious, and full of cheesy goodness. Exactly what I was hoping for when I started cooking. And since I only use 1/2 of the spaghetti squash in this dish, I have more for other recipes throughout the week.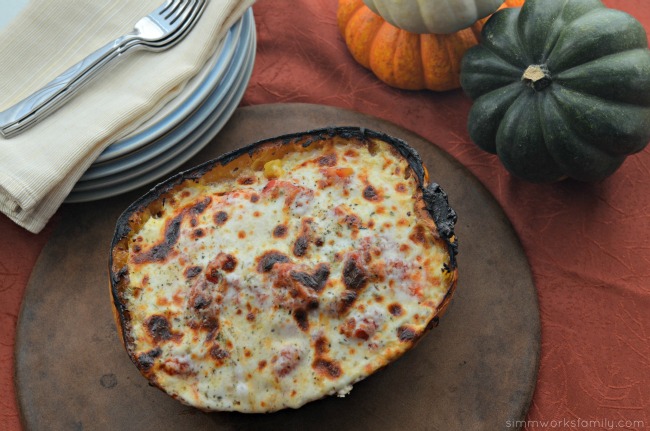 Spaghetti Squash Chicken Lasagna
1 spaghetti squash
1 tablespoon butter
salt and pepper
1 15 ounce can of Italian diced tomatoes
1/2 cup whole milk ricotta cheese
1/2 cup cottage cheese
1 cup whole milk mozzarella
1/2 tablespoon Italian seasoning plus more for sprinkling
6 ounces Foster Farms Sauté Ready Garlic Herb Marinated chicken
Preheat oven to 400 degrees. Line a baking sheet with foil. Grab your spaghetti squash, a cutting board, a large knife and your muscles (depending on the squash). Cut your squash in half lengthwise. Remove the seeds (toss or save a few to plant in the garden next year). Put the squash on the foil flesh side down. Bake for 40-50 minutes or until squash is cooked.
While squash is cooking, take 1/2 of the tomatoes and blend until pureed. Set aside. Mix together the ricotta and cottage cheese with the Italian seasoning. Grate the mozzarella.
Once the squash is done, remove from oven and turn around. Reduce heat to 375 degrees. Grab one half of the squash and, while using a fork, scrape out the "noodles" into a bowl. Mix in butter and salt and pepper into the squash.
Add back in 1/2 of the squash. Cover with 1/2 the ricotta/cottage cheese mixture and sprinkle with 1/3 cup of mozzarella. Pour some of the tomato sauce over the cheese and sprinkle with diced tomatoes. Add the chicken. Repeat and cover with remaining mozarella. Sprinkle with Iralian seasoning and bake for 20 minutes.
Serves 4 | Nutritional Info: 309 calories, 8 Net Carbs, 9g Carbs, 19g Fat, 25g Protein, 1g Fiber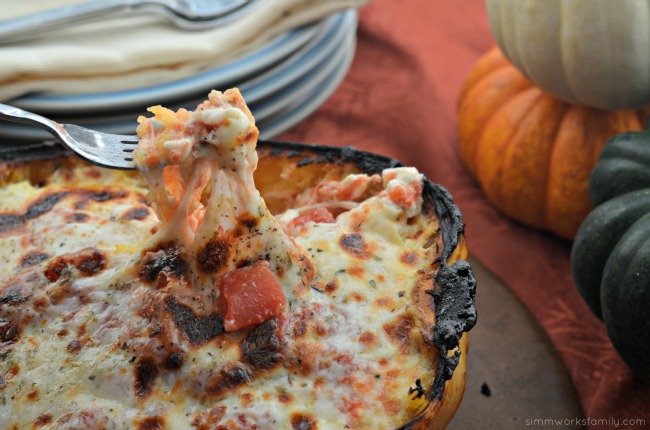 Looking to save a little on dinner? Simply download and print the coupon you can find here to get $1 off any 1 ONE (1) package of Foster Farms Sauté Ready, or share the coupon with a friend (via Facebook, Twitter or email) for get $2 off any ONE (1) package of Foster Farms Sauté Ready.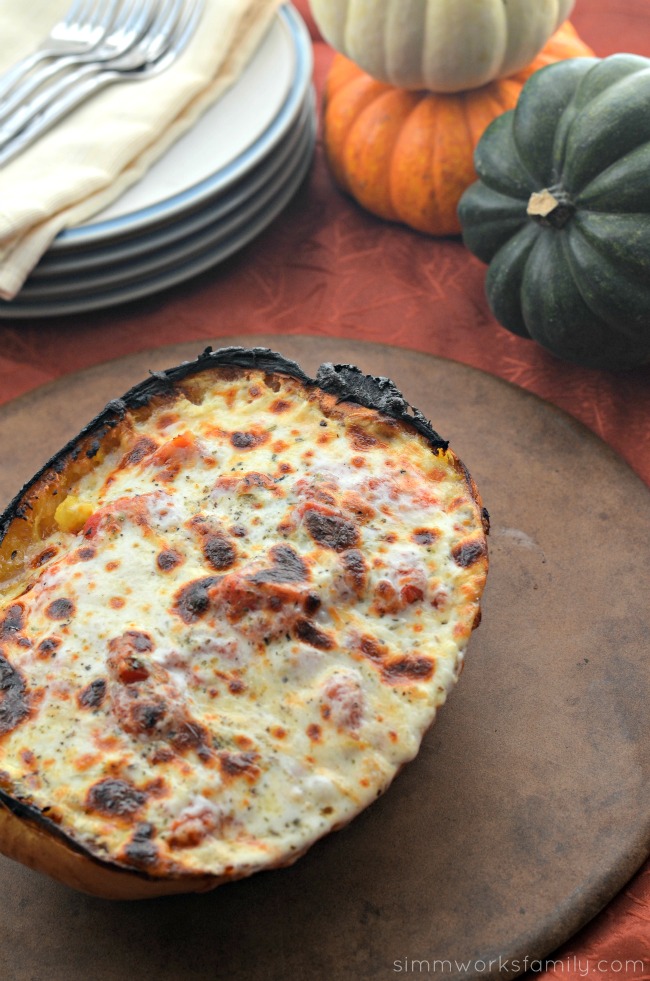 What's your comfort food?
This is a sponsored post written by me on behalf of Foster Forms.