This is a sponsored post written by me on behalf of the happy egg co.. All opinions are 100% mine.
Looking for the perfect winter meal to warm you up and make you feel better when you're sick? This low carb egg drop soup is keto friendly and makes you feel better with tons of wholesome goodness all in one bowl.
We're a huge egg loving family. From scrambled eggs with bacon in the morning to delectable baked goods made with eggs, we love eggs. So much so that two years ago for my birthday, the kids and my husband got me 2 egg-laying chickens for our backyard. And having chickens has been SO much fun. But also a lot of work. And when winter rolls around, the egg laying slows down and even stops. Right now we're left with no eggs and that is no bueno for this family. So we depend on the next best thing!
When our two aren't laying, we pick up a carton or two of the happy egg co. eggs.The happy egg co.takes the consumer confusion out of the egg aisle – their delicious, brown-shelled eggs are produced by free to roam hens raised on family run free range farms. For this brand, raising their hens humanely isn't simply a marketing tactic or a misleading mantra. The happy egg co. offers both Free Range on Pasture and Organic Free Range on Pasture eggs.
So when I fell sick last week and needed something to soothe me but still stick to my low carb high fat diet, I decided to make my version of egg drop soup. Using the ingredients I had at home, including the happy egg co. eggs, I came up with a recipe that was full of flavor without being too much when you're sick.
The happy egg co. eggs have such a wonderful bright, golden yolk, don't you think? I added a few not-so-typical ingredients to our version. The radish cooked in the broth tasted almost like potatoes and the parsley gave it an earthy flavor. Chives for the onion flavor I love so much and a little pinch of cumin added some smokiness to the bowl. Overall I will be trying this again and again when I need to warm up. It may be my new go-to instead of chicken soup.
Low Carb Egg Drop Soup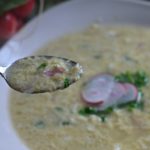 1 cup chicken broth
1 radish (julienned)
1 teaspoon cumin
1 happy egg co. egg (whisked)
1 tablespoon fresh parsley
1 tablespoon fresh chives
salt and pepper to taste
Heat broth in a small saucepan and bring to a boil. Add radish and cumin and whisk to combine. Let cook 1 minute then add egg and whisk into pan for 30 seconds. Add parsley, chives, and salt and pepper and cook one more minute. Serve and enjoy!
Serving 1 | 81 cal 2g carbs 5g fat 7g protein
Suggestion: Add 1 tablespoon of butter if you're short on fat macros for the day!