When you're juggling work, kids, and life, it's nice to have a dessert you can make with little to no effort to enjoy at the end of the day. This Instant Pot Mexican Rice Pudding is the perfect dessert to do just that! And it hits all of the right spots.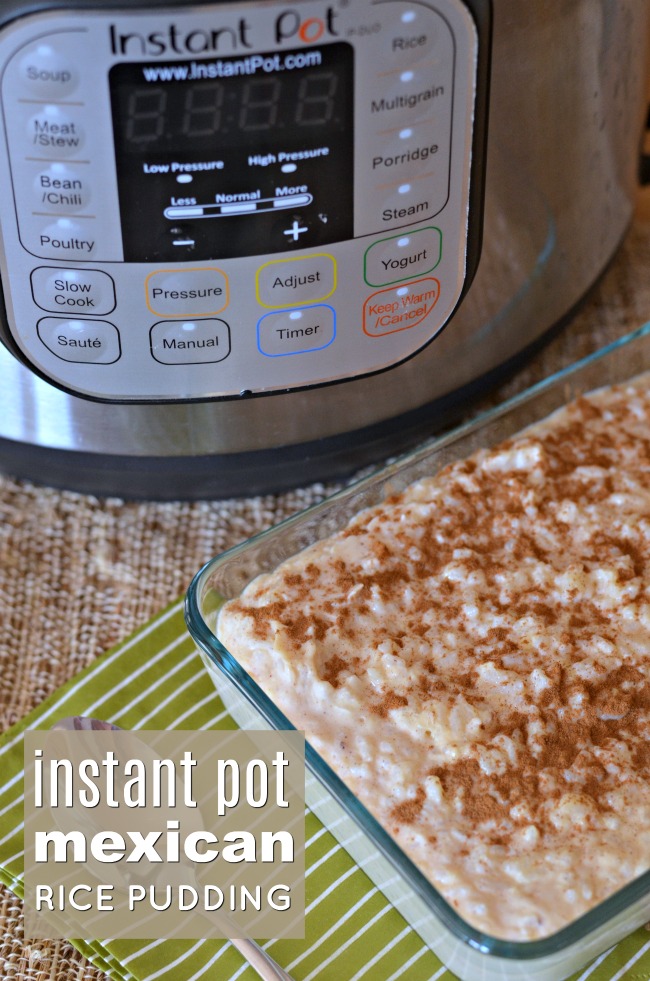 Our lazy summer has turned into quite a busy one. I can't even remember the last time I've been able to test out recipes to share here so when I had a craving for rice pudding, I knew I had to try it out in the Instant Pot to see if I could re-create one of my favorite desserts. With the help of the instant pot doing all of the work, I've gotten fairly close to replicating my favorite Arroz con Leche. This is the perfect dessert to dish out after a long day of juggling work and the kids when I want something no one else will steal bites of.
One thing I love is that this recipe makes enough for 2 of my 3-cup Pyrex glass dishes. That way I can stack them in the fridge and take out 1/3 of a dish to enjoy. Because when I need a little comfort I don't want to think about portions.
You could try switching out the half and half with all milk but I feel the half and half adds a bit more creaminess to the dish. Also, if you have a ceramic pot insert for your Instant Pot you can reduce the amount of rice that may stick to the bottom of the pot. I've also found that there may be some spittle when releasing the pressure. That's OK! Just put a dish towel over the top of your Instant Pot when you depressurize.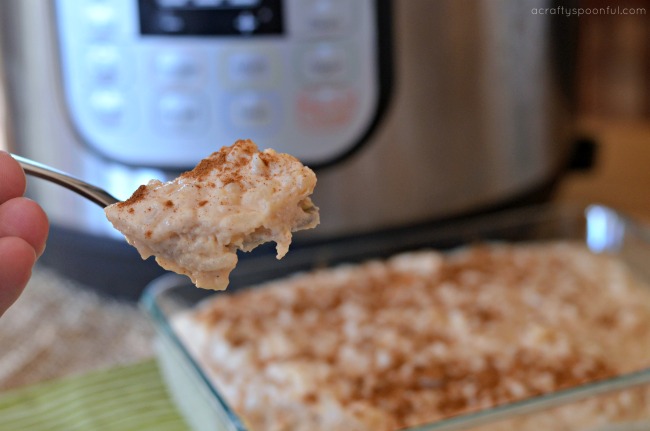 Instant Pot Mexican Rice Pudding (Arroz con Leche)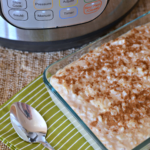 1 cup half and half
1 cup milk
1¼ cups water
1 cup long-grain white rice
1 can sweetened condensed milk
⅛ cup sugar
⅛ teaspoon salt
1 teaspoon vanilla extract
2 teaspoons cinnamon
Rinse rice well using a mesh colander.

Add half and half, milk, sugar, water, and salt to Instant Pot

Add rice to liquid mixture and stir

Place lid on Instant Post, seal lid, and close vent.

Press the Porridge button. The rice will take 20 minutes to cook on this setting.

When the timer beeps, allow the pressure to release slowly for 10 minutes.

After 10 minutes, press the Cancel button and open vent to release pressure.

When depressurized, open lid.

Add Sweetened Condensed milk and vanilla.

Sprinkle with cinnamon and stir until well mixed, adding a splash of half and half if needed for creamy consistency.

Store in individual glass containers and top with a sprinkle of cinnamon.

Refrigerate and serve or enjoy hot!
Love this recipe? Read more!
Pin this article for later!
Click the Pin button on the image below to save for later.