These chicken parmesan bites are the perfect toddler-approved meal for busy weeknights! They come together in less than 30 minutes and pair perfectly with spaghetti and marinara sauce and vegetables.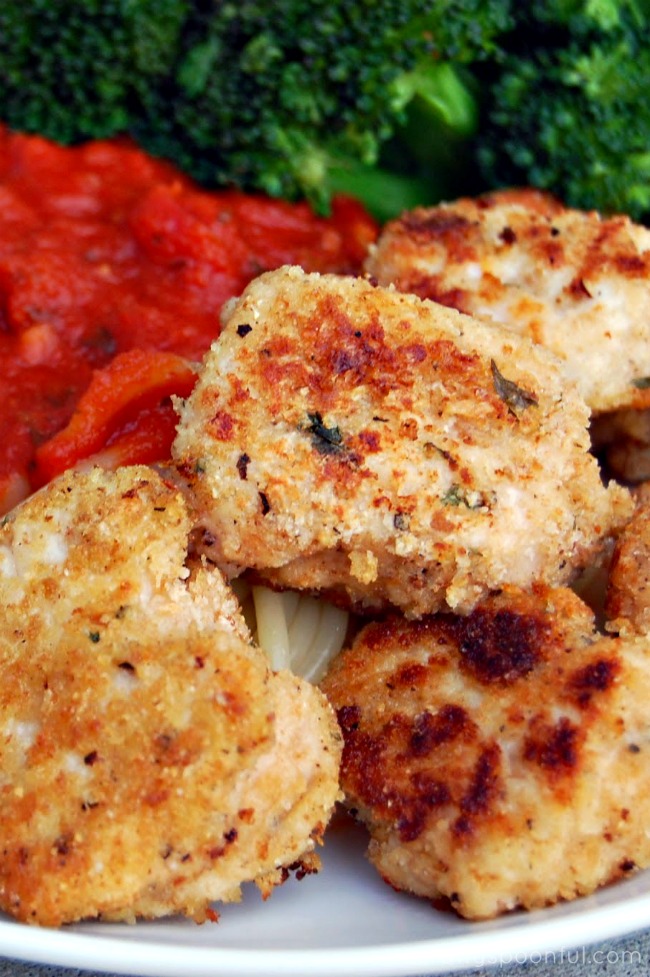 I have been trying to come up with healthy, fun dinners that my preschooler would be more interested in. Lately, all the kids want are carbs and sweets so turning a typical chicken dish into more kid-friendly meals is my goal. I'm pretty sure I've succeeded in that goal with the help of some inspiration from Lady and The Tramp.
A craving for chicken parmesan hit when we were watching Lady enjoy a big bowl of pasta with Tramp and it hit me! Why not turn chicken parmesan into chicken parmesan bites!? Put a side of noodles and sauce on the plate and I had a meal that all of the kids would enjoy. Including the preschooler. Right? Right!
So the next night as we were watching Lady and the Tramp again for the 3rd time since receiving it to review, I plated up these delicious chicken parmesan bites for the kids to enjoy with a side of spaghetti noodles topped with marinara sauce and a scoop of broccoli florets. I placed the plates of dinner in front of the kids and they went to town! And the best part? I used only 2 chicken breasts to feed the whole family dinner. Isn't that awesome? And budget friendly! Plus the kids will love helping put this meal together.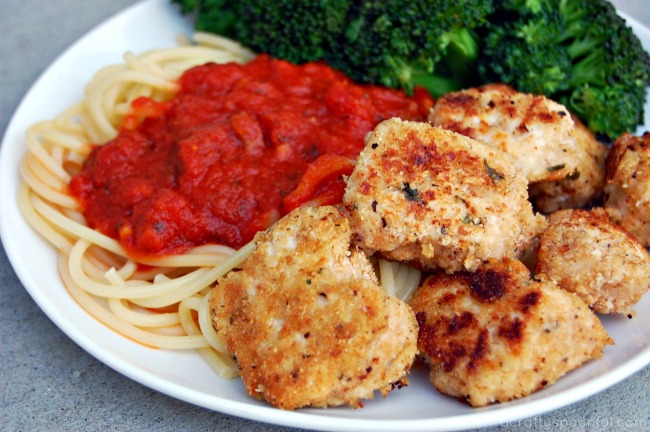 Chicken Parmesan Bites
2 chicken breasts, cut into 1″ pieces
4 tablespoons 1% milk
1/2 cup all-purpose flour
1 egg white
1 cup Italian-Style Breadcrumbs
1/2 cup freshly grated Parmesan cheese
2 tablespoons olive oil
2 teaspoons table salt
1 teaspoon black pepper
Place chicken breast pieces in a bowl and cover with milk. Let soak for a few minutes while prepping the other ingredients. Place 1/2 cup of flour into a gallon size zippered plastic bags. Measure out 1 cup of breadcrumbs and place into a container with salt and pepper. Grate 1/2 cup parmesan cheese into the same container, stir to combine and set aside. Place egg white in a small bowl.
Take chicken and place in bag with flour. Shake vigorously until the chicken is well coated. Put coated chicken in the bowl with egg white and stir to coat chicken. Place bread crumb mixture in the bag you just used for flour. Put chicken back in the bag and shake again coating the chicken with breadcrumbs.
Heat oil in a skillet on medium-high heat. Add coated chicken to the pan and cook until golden brown, about 15 minutes. When chicken is cooked thoroughly remove from pan and serve with spaghetti and marinara sauce. Add some steamed veggies or a nice salad to make this a complete meal.
How are you getting your little one involved in different foods?

Make sure to pick up your own copy of The Walt Disney Signature Collection Lady and The Tramp now available on Blu-ray and enjoy your own pasta experiences with the family!
For some fun activities to do with the kids, click on the button below: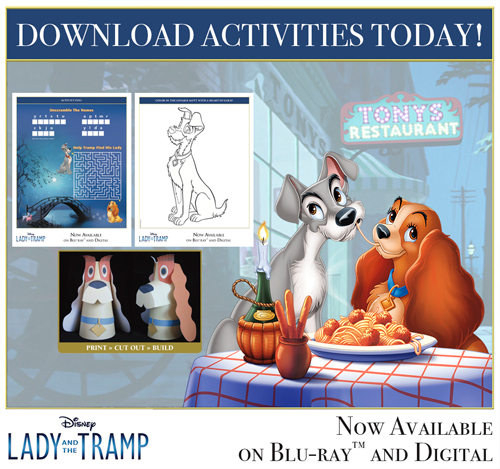 Love this recipe? Try these other toddler-friendly meals, tips, and ideas!
Pin this article for later!
Click the Pin button on the image below to save for later.