This is a sponsored post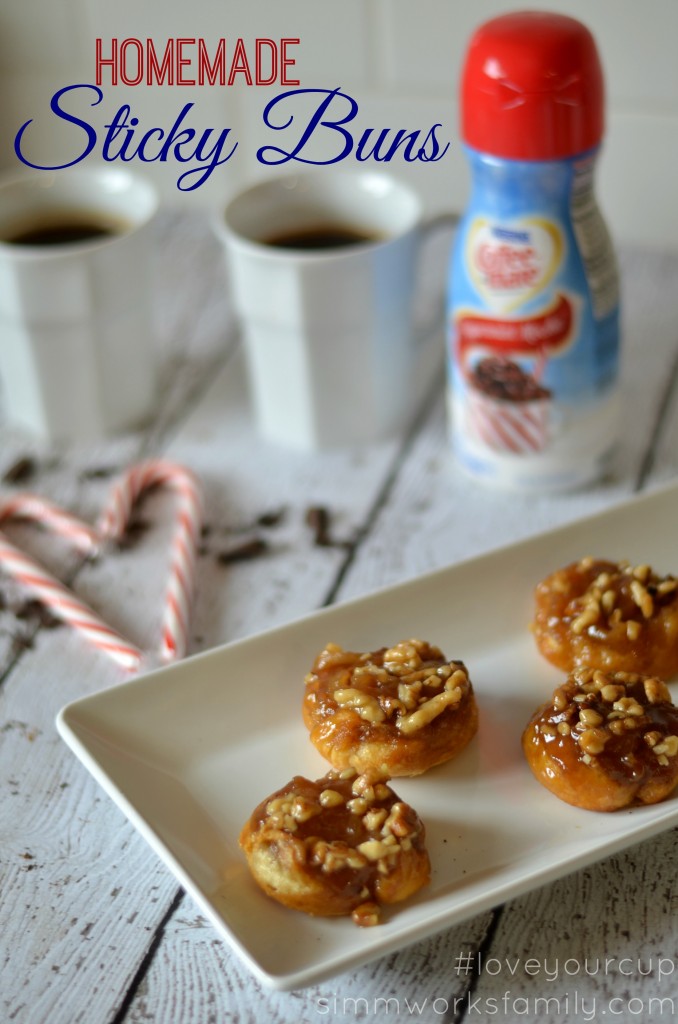 One thing I absolutely love about my friends is that I can call them up at a moments notice and invite them over for an impromptu play date. If my youngest is driving me up the wall because she's "bored" while her brother is at school I can simply hit up my friends and tell them to bring their kiddos over for a fun morning.
And, of course, that's the perfect time for us mamas to reconnect and enjoy each other's company while sipping on coffee and treats. Because caffeine is a must at play dates.
With the holidays fast approaching I also always try and use these play dates to my advantage by testing out fun recipes with my friends to see if they make the cut for the holiday baking frenzy to come. This past week I had a few friends over for some homemade sticky buns I made using my favorite flavored creamer, peppermint mocha. It's great in coffee but also makes a great addition to baked goods.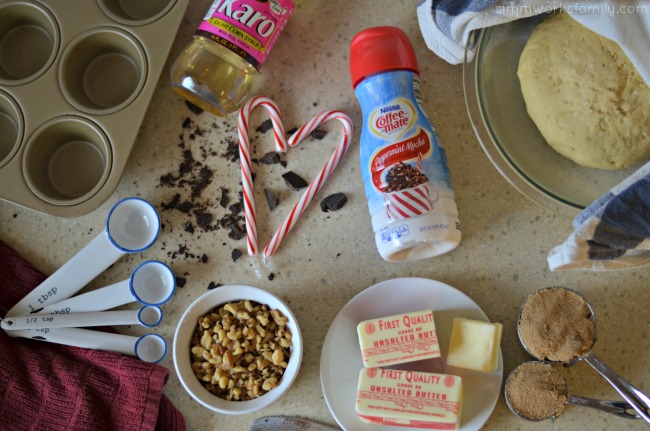 There's something magical about sharing a meal with friends. Being able to sit down together, take in a few laughs, and really enjoy each others company.
Over the past few years of running my playgroup I've come to know these ladies quite well. So much so that I feel comfortable enough with them, and them with me, that we allow our kids to enjoy playing in the playroom or living room while we catch up. No need to hover or follow our kids every step.
It does help that the kids know our home well and know where their favorite toys to play with are. And my daughter so looks forward to these mornings filled with fun and laughter.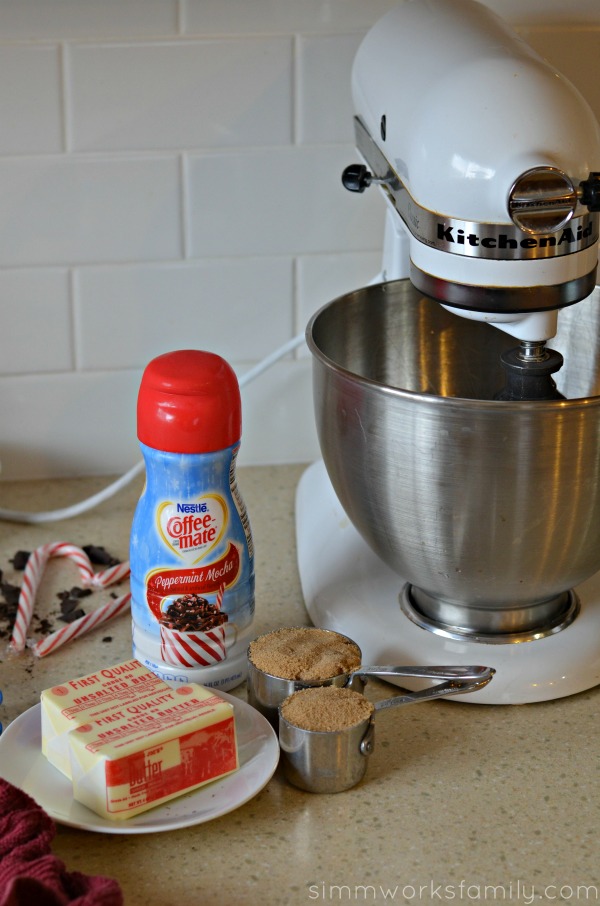 On a recent trip to Walmart I picked up some Peppermint Mocha creamer to replace the Pumpkin Spice creamer I had just run out of. Tis the season for delicious coffee and I need my creamer!
I figured that the creamer would not only taste good in my coffee but in the sticky buns I was making as well. And I was right! These sticky buns were so delicious. They definitely hit the spot and were a huge hit with the moms and kids.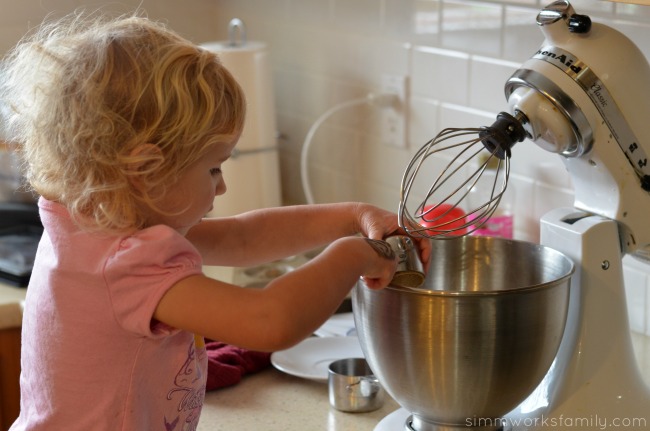 Sticky Buns
3/4 cup plus 4 tablespoons unsalted butter (room temperature, plus more for muffin tins)
1 3/4 cup packed light-brown sugar
1 1/2 cups chopped pecans
1/4 teaspoon salt
3 tablespoons light corn syrup
3 tablespoons Peppermint Mocha creamer
1 3/4 pounds Martha Stewart's Yeast Dough (room temperature – or – 2 tubes crescent rolls, rolled out and pinch seams together)
Generously grease 2 24-cup muffin tins with butter or spray. Divide yeast dough into 2 equal balls. Set aside.
In the bowl of an electric mixer fitted with a paddle attachment, cream 3/4 cup butter together with 3/4 cup brown sugar and the salt on medium speed. Beat until light and fluffy, about 2 to 3 minutes. Add corn syrup and creamer. Mix until well combined.
Divide butter-brown sugar mixture evenly between prepared cups, about 2 tablespoons per cup. Sprinkle a tablespoon of pecans into each cup.
Grab one of the dough balls. Turn dough out onto a lightly floured work surface and roll into an 18-by-10-inch rectangle. Brush dough with 2 tablespoons butter and liberally sprinkle with remaining brown sugar and chopped pecans.
Beginning with the long side facing you, tightly roll dough away from you into a round log; pinch the edge of the dough to seal it. Cut the dough crosswise into 1 inch pieces.
Place each cross-sectional piece into prepared muffin cup and lightly cover with plastic wrap. Repeat with second dough ball Place muffin tins in warm place until buns double in size, about 45 to 60 minutes.
Preheat oven to 350 degrees.
Once dough has doubled in size, remove plastic wrap and place on middle rack. Bake until tops are dark brown, about 35 to 40 minutes.
Remove from oven and immediately invert to cooling rack set over a baking sheet. Let cool slightly before serving.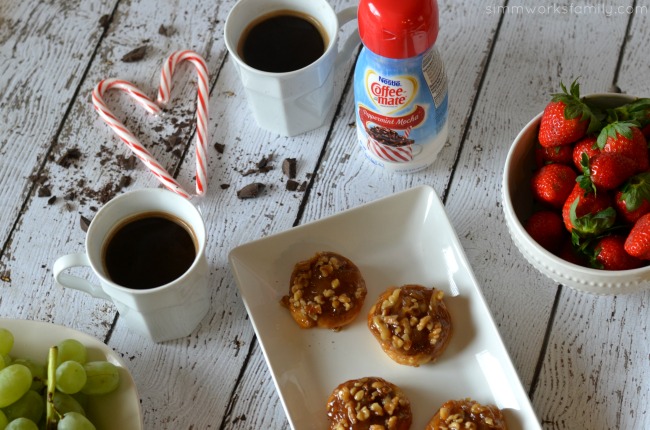 One thing I can always count on with these ladies is a good time. And they'll eat pretty much anything. Even when I had to sub crescent roll dough for yeast dough in this recipe because my yeast dough was still too cold to work with!
The recipe still turned out absolutely delicious and tasted great with a nice cup of coffee. With some peppermint mocha creamer, of course.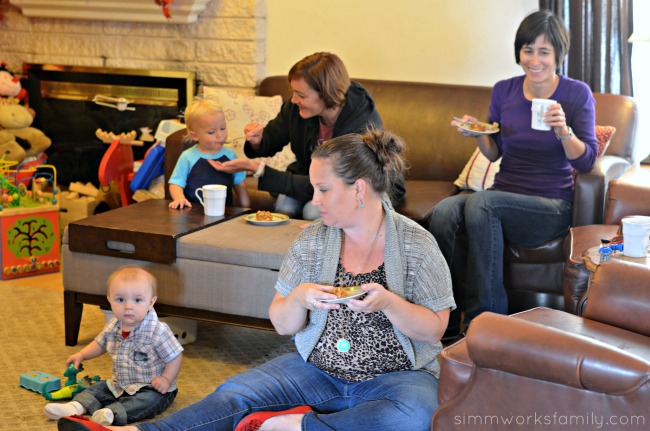 How do you enjoy time with friends?