I am a member of the Collective Bias® Social Fabric® Community. This #AmericasTeas shop featuring a vanilla chai banana bread recipe has been compensated as part of a social shopper amplification for #CollectiveBias and its advertiser.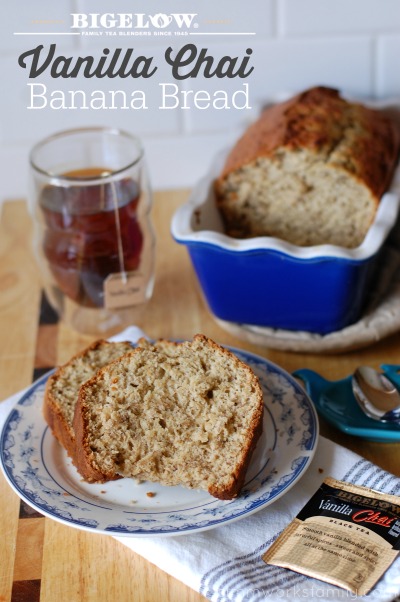 When the kids are asleep and the house is all quiet I feel like I finally have a little mommy time-out to relax, reset, and take a little time for myself after working and caring for the kids all day. Whether that time is spent sipping a cup of Bigelow vanilla chai tea or (if my husband is home) a walk around the neighborhood, I find essential to take advantage of this downtime.
Naptime has become my time over the past few years and I take full advantage of it. I take this time to prep dinner, get some laundry in, catch up on work, or make some goodies to enjoy after naptime. And sometimes? I even get to read. Do you know how long it's been since I've actually finished a book? It's been a while.
As I recognize this opportunity for my own mommy time-out during naptime, I've been leaning more towards spending this time for myself instead of the endless list of chores and work that'll be there after naptime.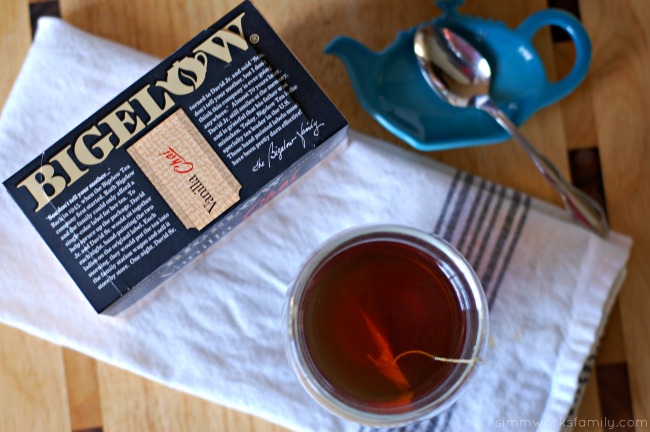 Tea has been an integral part of my life since I was very young. I have very fond memories of my nanny – my dad's mom – fixing up some English tea for us when we stayed with her as we grew up. She always made sure to put a bit more cream and sugar in it just for us. It was our special treat.
From the warmth, to the familiar taste, to the amazing aroma that instantly relaxes my whole body, a cup of tea is more than just that. It's a way to take some time for myself and reconnect in a peaceful moment.
And with Bigelow tea, an American based company with 3 generations of experience, I know that I'm enjoying a quality tea that's known for it's freshness. I feel as if I'm truly treating myself with every cup.
So it only makes sense that when I want to relax and enjoy some time to myself, I reach for a box of Bigelow tea and start brewing.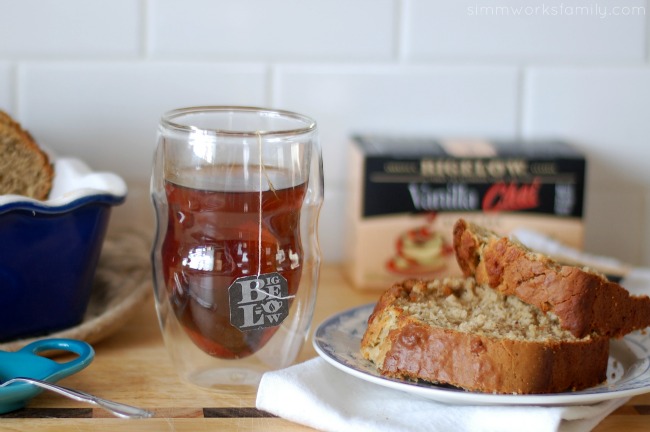 Yesterday I decided to bake a little treat for myself to enjoy with a cup of tea during naptime. I had some overripe bananas and knew the kids wouldn't touch them because of the black bruising on the peels and thought they'd pair perfectly with my favorite Vanilla Chai tea flavors.
Check out my adventure in the kitchen – including how to make this bread – here in this video:
After finding my banana bread recipe hidden away in a book I was able to combine a few ideas and baked up this delicious Vanilla Chai Banana Bread while the kids were at preschool. When it was time to pick them up I pulled it out of the oven and let it cool as I went to get them. Come naptime it was cool enough to enjoy with a hot cup of Bigelow vanilla chai tea and a good book.
Now lets hope they don't wake up early so I can at least get just that much closer to finishing a book!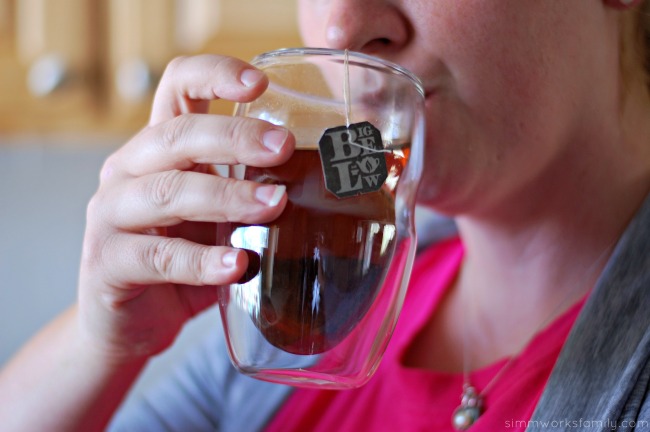 Vanilla Chai Banana Bread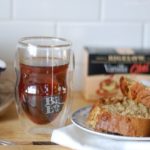 2 mashed ripe banana
1/3 cup fat free greek yogurt
5 tablespoons butter (softened)
1 teaspoon vanilla extract
2 eggs
1/2 cup granulated sugar
1/2 cup packed brown sugar
2 1/4 cups all-purpose flour
3/4 teaspoon baking soda
1/2 teaspoon salt
1-2 Bigelow Vanilla Chai tea bag (s)
Preheat oven to 350 degrees.
Add banana to stand mixer and beat until mashed. Add yogurt, butter, vanilla extract and eggs to stand mixer bowl and beat on medium speed just until blended. Add sugars and beat on medium just until blended.
In a separate bowl whisk flour, baking soda, salt, and contents of tea bag together. Add to banana mixture 1/2 cup at a time and beat just until blended.
Grease a 9 x 5-inch loaf pan with butter. Pour batter into pan and bake at 350° for 60-65 minutes or until a wooden pick inserted in center comes out clean. Cool 10 minutes in pan on wire rack. Remove from pan and cool completely before serving.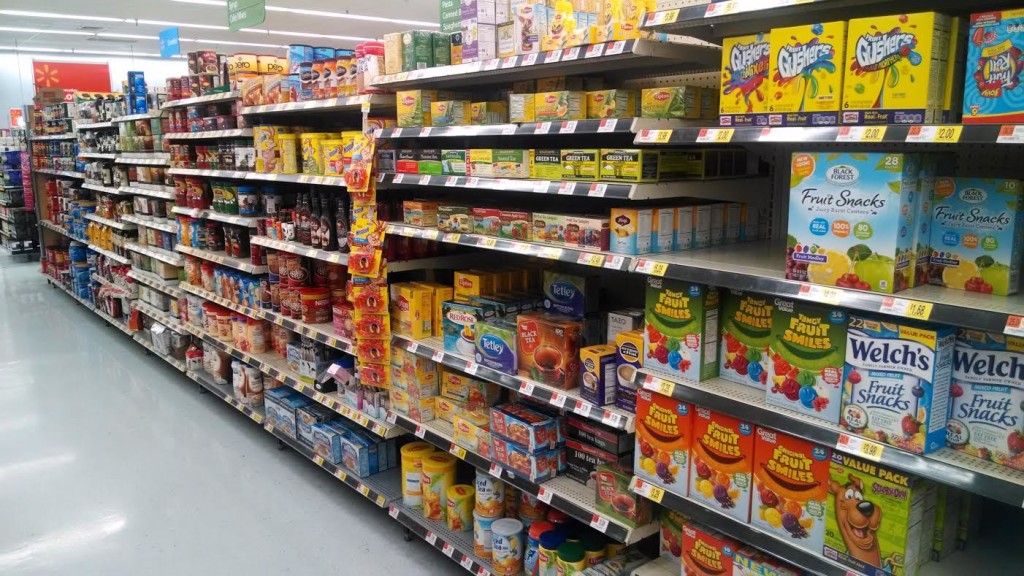 I'm always able to find my favorite Bigelow tea flavors in the tea and coffee aisle at Walmart. Front and center at eye level, I can get a glimpse of every flavor each store sells.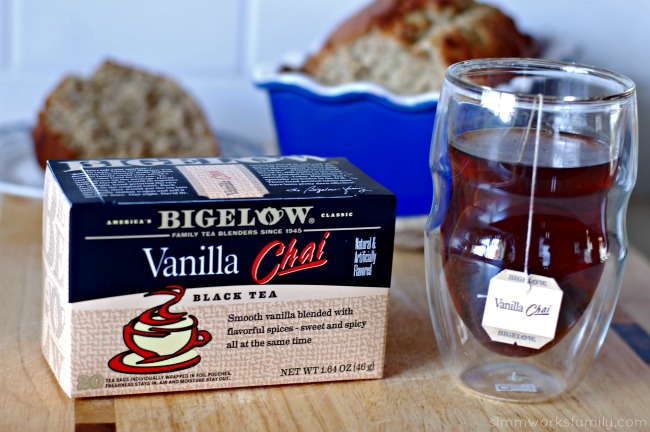 How do you spend your Mommy Time-Outs?
For more great ways to incorporate some Mommy Time-Outs in your life (as well as other great Bigelow Tea ideas) check out these awesome pins!