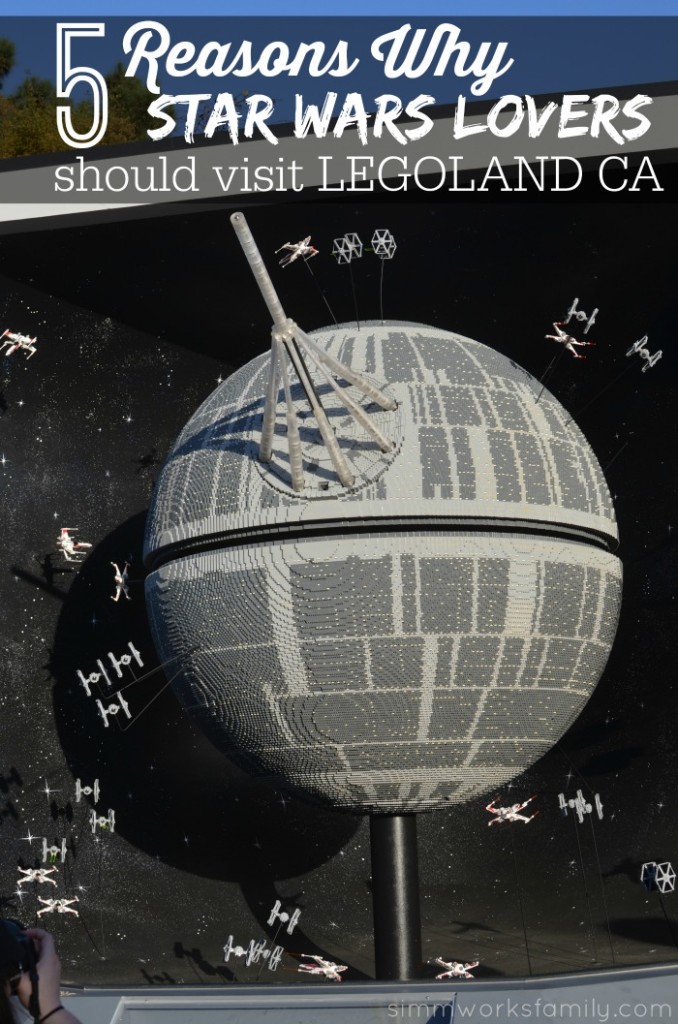 We are a family of Star Wars lovers. Whether it's watching the original trilogy, catching an episode of Clone Wars on Disney XD, or building LEGO® Star Wars™ sets, the Star Wars vibe is definitely found in our home.
So when we were asked to come attend the unveiling of the new Miniland Death Star Replica Exhibit at Legoland California, we couldn't say no. We were already familiar with the awesomeness of the other interactive displays in Miniland from our trip last year for our son's birthday celebration and couldn't wait to experience these new scenes.
If you're a Star Wars lover then you will not be disappointed. Visiting for Comic Con in a few months?? Head north for a day trip to Legoland before you go home! Here's why…
5 Reasons Why Star Wars Lovers Should Visit Legoland California
1. BRAND NEW Miniland Death Star Replica Exhibit – One of the main reasons we headed over to Legoland CA this past weekend was to check out the new, amazing Death Star Replica in Miniland. Casting a shadow over LEGO Star Wars™ Miniland, the Death Star spans 8-feet wide, 13-feet high and weighs more than 1900 pounds. Featuring a planet-destroying super laser, the massive LEGO model is made out of more than 500,000 LEGO bricks.
2. Trench Run Replica – An amazingly detailed piece, the display of the famous trench run scene where Luke Skywalker maneuvered his X-wing fighter through the combat zone to destroy the Death Star. Adjacent to the LEGO Death Star, guests are invited to use their imaginations to construct their own LEGO starships at building stations while X-Wings, TIE Fighters and Y-Wings circle overhead.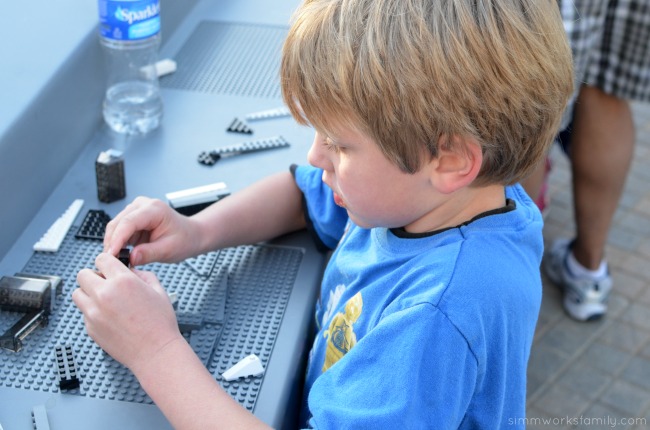 3. Other Interactive Displays – Travel to a galaxy far, far away with the LEGO Star Wars™ Miniland model display area. In addition to the Death Star and Trench Run scenes, you'll experience model displays of scenes from the six live-action Star Wars movies and one from the animated series, Star Wars: The Clone Wars, plus interactive features and life-size LEGO models.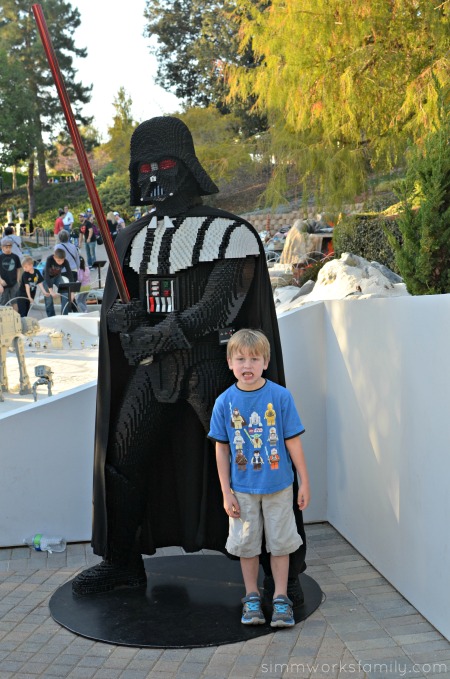 4. Full Size Vader, Chewy, and R2D2 – Have you ever wanted to pose with Darth Vader? Or maybe your favorite furry friend, Chewy? Well heading over to Miniland's Star Wars exhibits means running into your favorite Star Wars characters re-created in LEGO!
5. Star Wars Days – LEGO® Star Wars™ Days returns to LEGOLAND California every year and is an event not to be missed by Star Wars fans. Attendees come face to face with their favorite Star Wars™ characters including the infamous… LEGO® Darth Vader (yes the Minifigure.) With galactic family build challenges and LEGO Star Wars Building Competitions there's fun for the whole family. You can even put your Jedi™ knowledge to a test in a round of Jedi Trivia, or blend in with your fellow Padawans in the Star Wars costume contest.
To see more from our fun day at LEGOLAND CA, check out our instagram feed! And check out the #LEGOLANDDeathStar hashtag on both Instagram and Twitter for more Death Star awesomeness.
What Star Wars character would you love to see in LEGO®?
Planning a trip to Legoland CA soon? Check out our highlights:

For more Legoland CA fun, check out these great posts:
The LEGO Movie 4D at Legoland CA
LEGOLAND California Holiday Snow Days
Legoland Heartlake City
Top 5 Things to Do at Legoland California When You're 5