These Apple Carrot Walnut Muffins are the perfect quick and easy breakfast recipe to let the kids help make!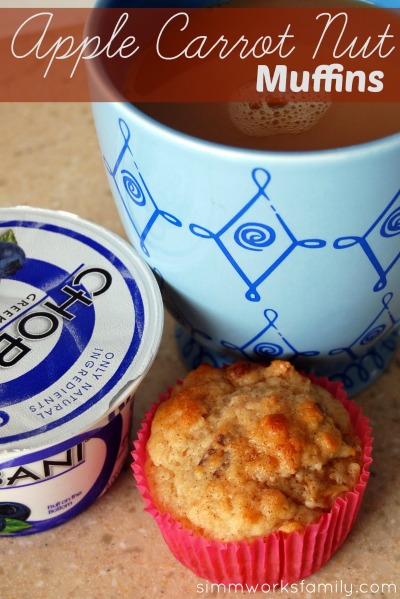 I hosted a playgroup playdate at my house yesterday morning and didn't really have much planned in the form of snacks. I had the usual toddler fair of goldfish, snap pea crisps, and pretzels but nothing of substance for the mamas. So I asked Ethan what he wanted. And like your typical kid, he asked for cupcakes. So I made the next best thing.
I grabbed one of my recipe books and started flipping. And fell upon a recipe that I had all of the ingredients for (sans a few substitutions). And the results were pretty darn yummy. I'll definitely be making these muffins for future get-togethers.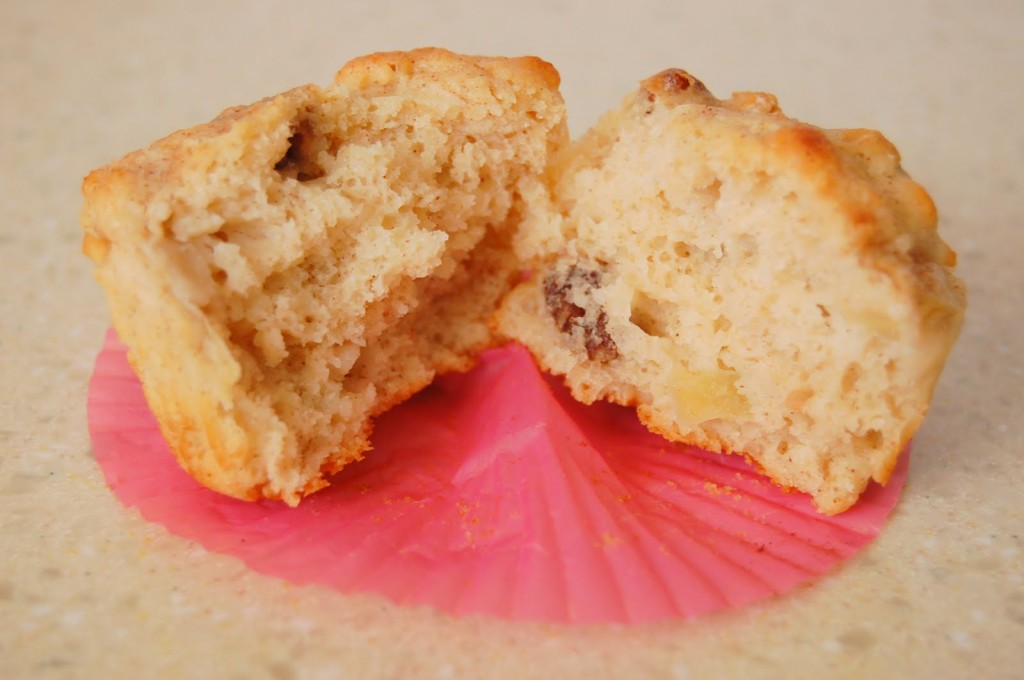 Apple Carrot Walnut Muffins
12 servings | 3 WW+ Points*
1 cup all-purpose flour
1/3 cup brown sugar
1 teaspoon baking powder
1/4 teaspoon baking soda
1/4 teaspoon table salt
1 egg
1 cup greek fat-free yogurt
2 teaspoons vanilla extract
1/4 cup butter
1 small apple (, shredded)
1/2 cup shredded carrots
1/2 cup pecans (, chopped)
1 teaspoon cinnamon
1/2 teaspoon nutmeg
1 tablespoon sugar
1 teaspoon ground cinnamon
Preheat oven to 400 degrees. Grease a muffin tin or prep with cupcake liners.
In a large bowl whisk flours, sugar, baking powder, baking soda, spices, and salt together until well mixed. In a separate large bowl whisk the egg. Add yogurt, vanilla, and butter. Stir until combined.
Add liquid ingredients to dry ingredients and mix just until incorporated together. Do not over mix. Batter will be thick and dough-like. Fold in apples, carrots, and nuts.
Use an ice cream scoop or spoon to fill muffin tins 2/3rds of the way full. Mix 1 tablespoon sugar with 1 teaspoon cinnamon. Top each muffin with sugar blend. Bake for 15-18 minutes or until golden brown.
*by omitting the nuts you can reduce this recipe to 2 WW+ points each
What is your all time favorite muffin flavor?
Love this recipe? Check out these great ones too!
Pin this article for later!
Click the Pin button on the image below to save for later.