Check out these perfect Easter Egg Hunt Ideas for toddlers when you're planning an egg hunt for your playgroup. We've been planning playgroup egg hunts for years and have nearly perfected the art of the perfect playgroup egg hunt! And we're sharing all of our tips today!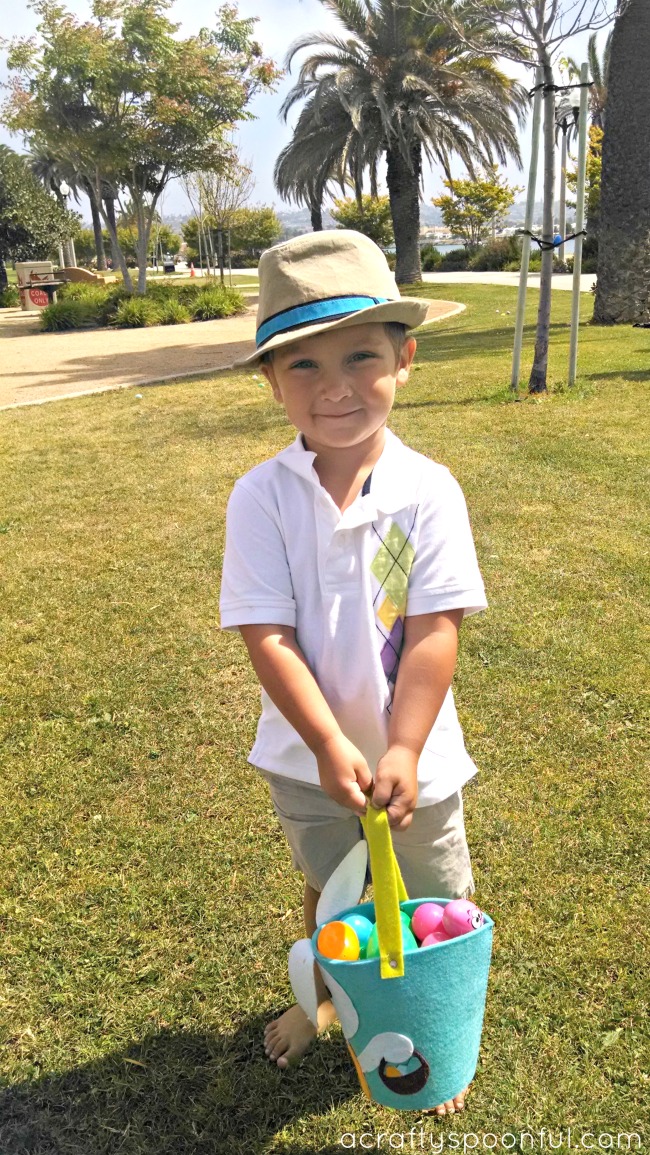 I am not sure if you know this about me but I actually ran a playgroup of moms and kids for about 5+ years. I jumped in when my good friend moved out of the area and needed someone to take over her playgroup. Because I had such a great experience when my youngest was an infant and had built true friendships, it was a win-win situation for me. Sadly, with work and life (and our kids going to school) we no longer have playdates regularly but we still get to see each other on occasion.
From this experience, I have a lot of knowledge of all things playdate. And planning the perfect playdate becomes an art form after a while. That includes holiday-based playdates. With Easter right around the corner, I thought it'd be the perfect time for me to share how to plan the perfect Easter egg hunt for toddlers and preschoolers. These ideas are great when paired with an active local playgroup in your area or a good group of friends and kids.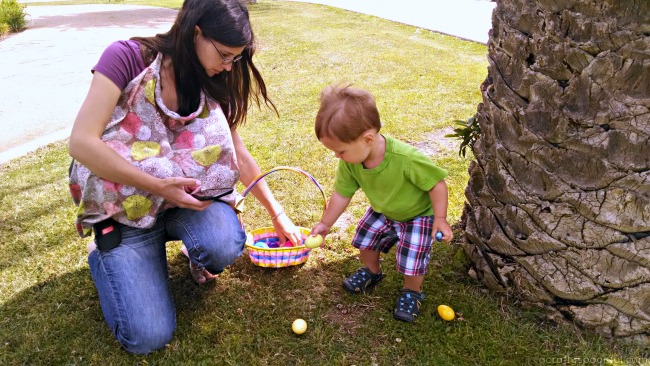 Easter Egg Hunt Ideas for Toddlers
In a playgroup setting, it can be really fun to gather friends for a classic Easter egg hunt. Especially for toddlers and preschoolers. Not only is it smaller than, say, a community gathering, there's also more control over the overall experience for your little one. We're sharing some of our top tips for planning and executing a seamless Easter egg hunt for toddlers.
Planning the Perfect Easter Egg Hunt
1. Choosing the right location – The perfect location for an Easter egg hunt is just as important as the planning of the hunt itself. You want to consider the age group you're planning for and the level of difficulty they'll need to make the event fun. Here are a few things to consider:
Is the event space easily accessible for parents? Does it have close parking for parents of multiple children or parents of infants?
Does the event space have a large amount of grass to run around on?
Are there taller hiding areas for older kids in your group? Are there areas other than the ground you can hide eggs in or around?
Are there restrooms close to the event space? It may not sound like a big deal but for potty training toddlers, having access to a bathroom is ideal.
2. Getting the invite out – Planning an event, like an Easter egg hunt, can be very easy if you use services available to you. When I ran my playgroup, I used Meetup.com to faciliate the playdate scheduling and RSVPs. But you can use something as simple as SignUp.com or even evite to set up your event. When you are creating your invitation, make sure to be very clear on a few things:
Ask each parent to bring at least 10 filled plastic eggs per child they're bringing. That way each child will collect the number of eggs their parent brought (no one is left out!).
Be clear on any specifications of what can and cannot go in the plastic eggs. If you know a child with an allergy will be attending, look for non-food options to stuff your eggs with. Some great ideas for this would be stickers, age-appropriate toys like finger puppets, erasers, sticky hands, and age-appropriate jewelry.
If you are enjoying snacks before or after the hunt, ask each parent to contribute a dish to the event. And just like with the eggs, consider allergies when preparing dishes for the group.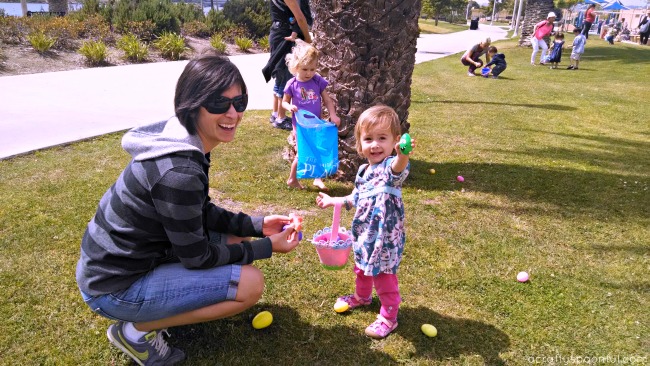 3. Setting up the event – As the host, try to arrive at your event about 30 minutes prior to the event starting. That way you can scout out where the best spots for hiding eggs are and can secure a bench or area for your playgroup to create a home base.
It's helpful to bring a trash bag or two just in case the area doesn't have accessible trash cans. That way you can take out anything you brought in with you.
If you're serving food, don't forget the wipes!
Create a station at your home base for parents to dump in the pre-filled eggs they brought with them so that once everyone arrives, you can hide the eggs while the kids are enjoying their time playing together or sharing a snack.
4. Starting the egg hunt – Once all of the parents have arrived, it's time to get the egg hunt started!
Enlist one or two parents to help you start hiding the eggs while the kids are distracted.
Once all of the eggs are hidden, come back to the kids and make sure each has a basket or bag to collect their eggs.
Instruct the kids to only collect the number of eggs they brought with them. Once they are done collecting that number, have them come back to home base for some fun revealing what's in their eggs.
Since each child is collecting the same number of eggs that they've brought, you don't need to worry about starting one age group before the next. The toddlers can take their time collecting eggs (or picking dandelions like my kids do) while the older kids race ahead.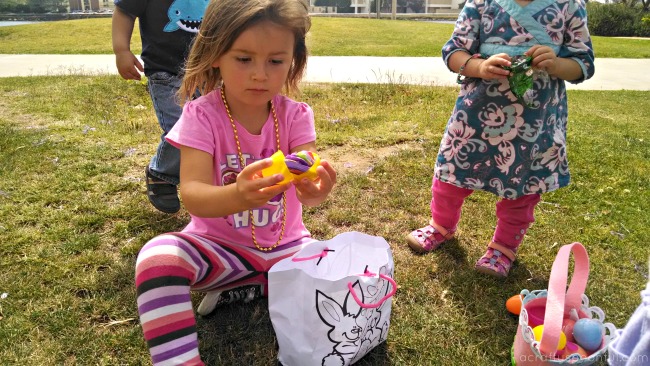 Easter Egg Hunt Snack Ideas
If you're looking for ways to spice up your Easter egg hunt, here are few cute recipes and snack ideas to serve at your Easter egg hunt: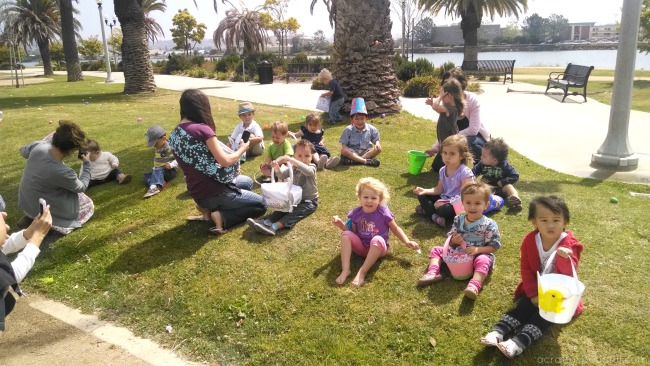 Want more Easter fun? Here are some posts we think you'll enjoy!
Inexpensive Easter Basket Ideas for Kids
3 Ways To Dye Easter Eggs with Toddlers and Preschoolers
Pin this article for later!
Click the Pin button on the image below to save for later.