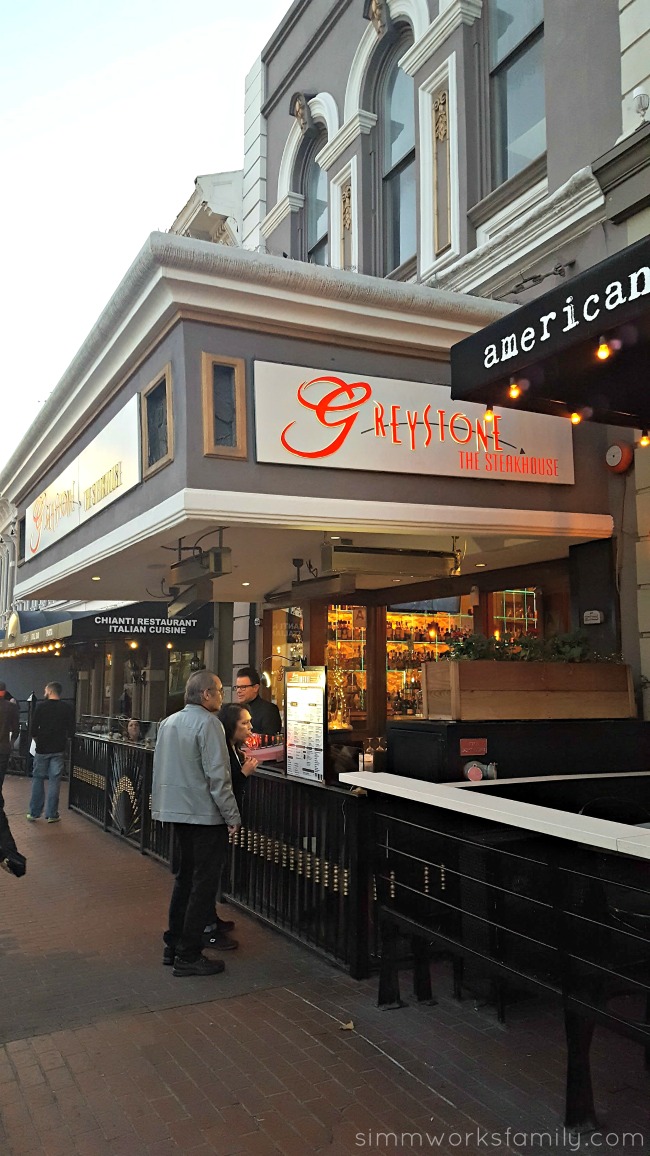 One of the best things about date night in San Diego, besides the weather, is the plethora of dinner options downtown after we head out of the theater. This past weekend our season tickets to Broadway SD took us to see Rent. It was my first time and I loved it. Why hadn't I seen it before? I have friends who've seen it over 5 times (at various theaters)! After the musical, we were invited to try out the delicious sounding Restaurant Week menu at Greystone Steakhouse on 5th Avenue. Neither my husband or I had ever been there but the menu online was quite intriguing. Certified waygu beef straight from the source? Delicious surf and turf options? Yes please!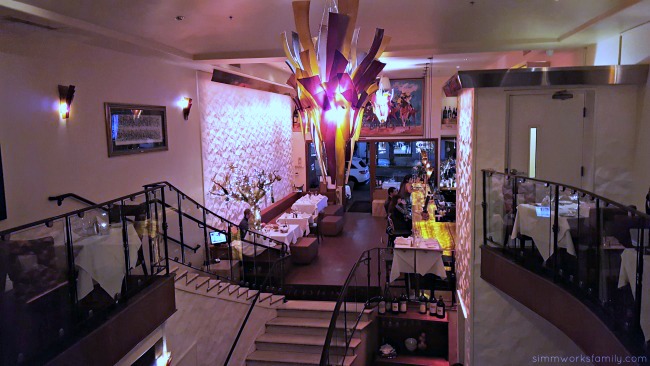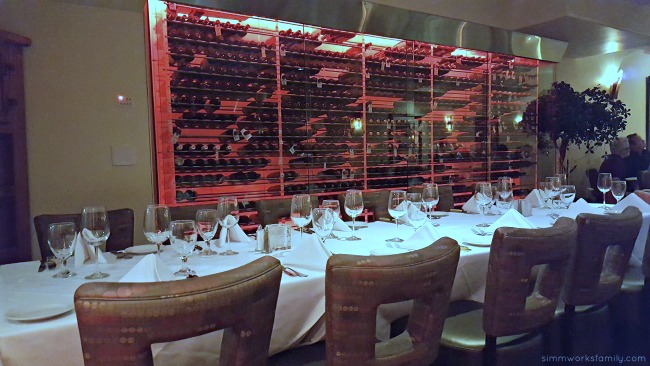 Greystone Steakhouse | San Diego Gaslamp
We were able to walk to the restaurant from the civic theater in less than 10 minutes. The perfect distance to take in the city but not feel out of breath getting from one place to another. And once we walked up we were greeted by a host at their outdoor patio. We walked in and went through the bar and up to an intimate seating area. There was another seating area downstairs from where we were that mirrored the same layout.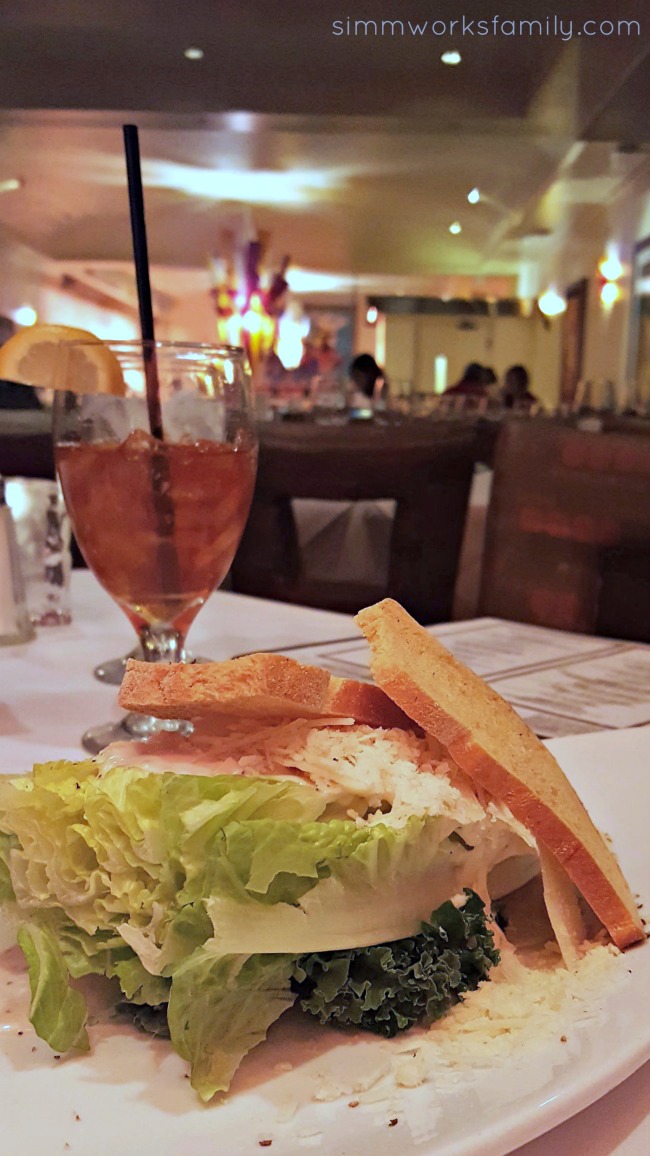 Greystone Steakhouse | The Food
To start we ordered the kale cesar salad. It was the perfect ratio of lettuce to cheese to dressing and the crunch of the romaine fit in perfectly with the earthiness of the kale. Shortly after enjoying our salads we were asked if we'd like to try a few of their other options. The wildboar sausage and big eye tuna tartar were brought out for us to sample. I could not get enough of either however my husband preferred the wildboar sausage. Sweet and savory all on one plate! But to be fair, he's not much of a raw fish person.
Then our entrees came out. My husband is a huge steak fan and ordered the petite filet where I wanted to try something a little different. Now I know chicken may not sound different but I hadn't ordered a chicken dish in so long. And the smoked butter-basted chicken breast with leeks, artichokes, and mushrooms sounded too good not to try. I was also pleasantly surprised to find saffron cauliflower mash. Since I'm following a low carb diet, this meal was right up my alley! And for those who are gluten free, almost the entire menu is gluten free as well! There are also select dishes that are dairy free also. What a great find, right? Another delicious side that was brought out for us to try were the bacon fig brussel sprouts. I thought they were a bit too sweet for my taste but my husband enjoyed one or two alongside is mashed potatoes.
When dessert came, my husband couldn't decide between the chocolate lava cake (they flambe it!) or the lemoncello sponge cake so our kind waiter talked him into getting both. The tableside flambe really was a treat! And the lemoncello cake came with a shot of lemoncello. I know a few people who would LOVE this dessert. Since I'm not eating sweets right now, we had plenty left over for the kids to help dig into. And boy did they like that.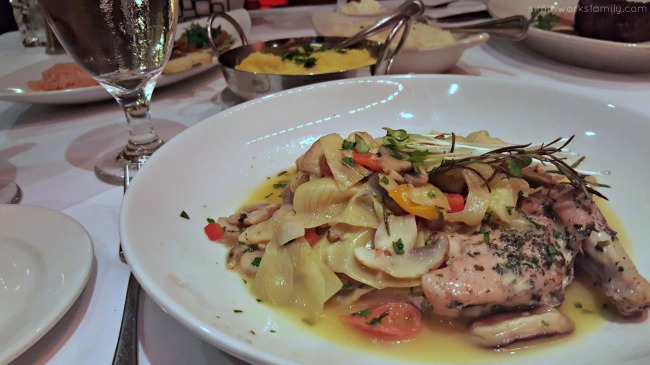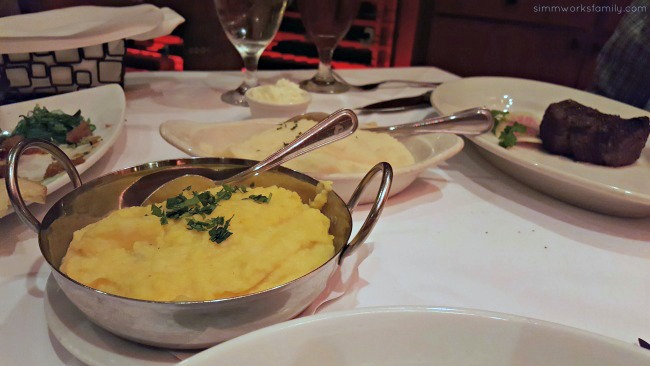 Greystone Steakhouse | Restaurant Week Highlights
For San Diego Restaurant Week, Greystone Steakhouse offers 3 different selections for dinner options with them. a $40 person menu, a $50 person menu, and a $60 person menu. You can find all of the selections offered in each menu here.
And as I mentioned previously, this restaurant is perfect for those who are gluten free or dairy free and have such a large array of options to fit any dietary needs. The saffron cauliflower mash was amazing and paired perfectly with my chicken (or my husband's filet). And the food was so full of layered flavor. Definitely a treat for date night!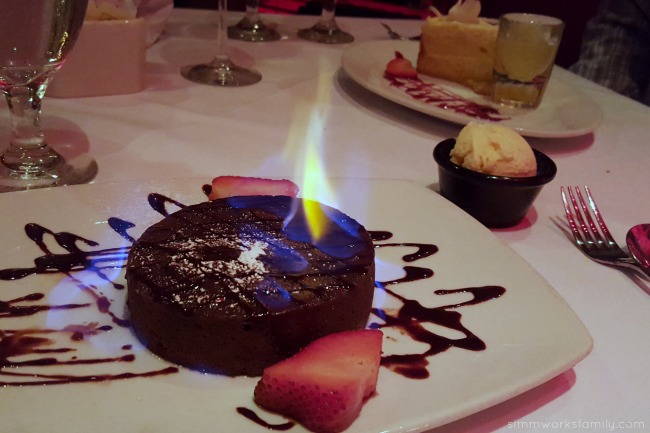 San Diego Restaurant Week | January 15th – 22nd 2017
The 13th Annual San Diego Restaurant Week returns Sunday, January 15th through Sunday, January 22nd for an edible extravaganza to ring in the New Year! With over 180 participating restaurants offering prix-fixe menu options throughout San Diego County, you're sure to find the perfect place to satisfy any craving. San Diego Restaurant Week is proud to announce a very delicious partnership for January 2017 as many of the San Diego Restaurant Week restaurants team up with local Girl Scouts to celebrate the arrival of Girl Scouting in San Diego 100 years ago, as well as the 100th anniversary of delectable, scrumptious, delicious Girl Scout Cookies! To celebrate, chefs are getting creative with America's favorite cookies to dish out special offerings for SDRW diners.
Over 180 participating restaurants will offer three-course prix-fixe dinner menus for $20, $30, $40 or $50 per person and/or two-course prix-fixe lunch menus for $10, $15 or $20 per person. The participating restaurants span across the county from the South Bay to East County and to the borders of Oceanside and Fallbrook to the North.
Satisfy your cookie cravings early by dining out at participating restaurants offering sweet and savory menu items before Girl Scout Cookie Season begins! Enjoy dishes featuring Thin Mints, Do-si-dos, Trefoils, Samoas, Tagalongs, and Savannah Smiles used in recipes that are sure to surprise you. Naturally, you can expect decadent desserts featuring these beloved cookies – but our restaurants are taking Girl Scout cookies to the next level with dishes like Samoas Crusted Fried Shrimp, Do-si-dos Peanut Thai Chicken, salads featuring toasted Trefoil croutons, and more!
Now is your time to dine with over 150,000 fellow diners to celebrate San Diego's thriving culinary scene. Tickets are not necessary for this delectable week of discounted dining, but reservations are recommended! Visit SanDiegoRestaurantWeek.com for more information, including a list of participating restaurants, or to make your reservations in advance!
What restaurant are you looking forward to trying?
Here are a few we've tried in the past: