This awesome 10 Minute Dinners recipe and post is sponsored by Success® Rice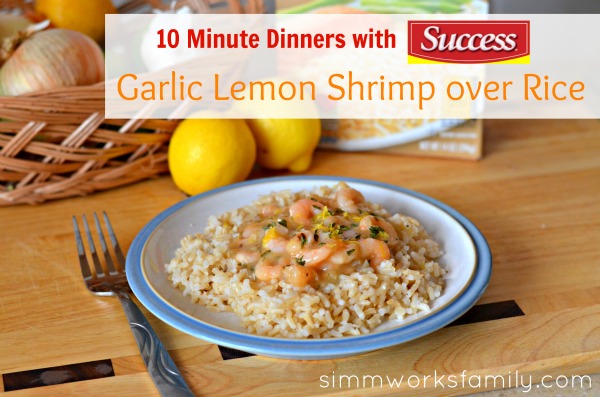 While I love to cook and get enjoyment out of feeding my family delicious meals there are some nights when I just don't want to spend a lot of time in the kitchen. So I've come up with a few 10 minute meals to turn to on those nights I'm just too tired to cook a lot.
Luckily I don't have to compromise flavor or nutrition when I make these 10 minute meals. I just use simple pantry staples like Success® Rice and whatever else I might have on hand to create different variations of similar dishes.
Last night we were in need of a 10 minute meal and I turned to my freezer and pantry. And that's where Garlic Lemon Shrimp over Rice was created.
I pulled out the Success® Rice I had purchased on my last trip to the grocery store, some onions, garlic, lemons, cooking sherry, cornstarch and frozen shrimp, and got to making dinner. 10 minutes later dinner was served!