Today we're sharing our tips on creating the perfect Thanksgiving tablescape. Insight for this post was provided by GE Café™ Series.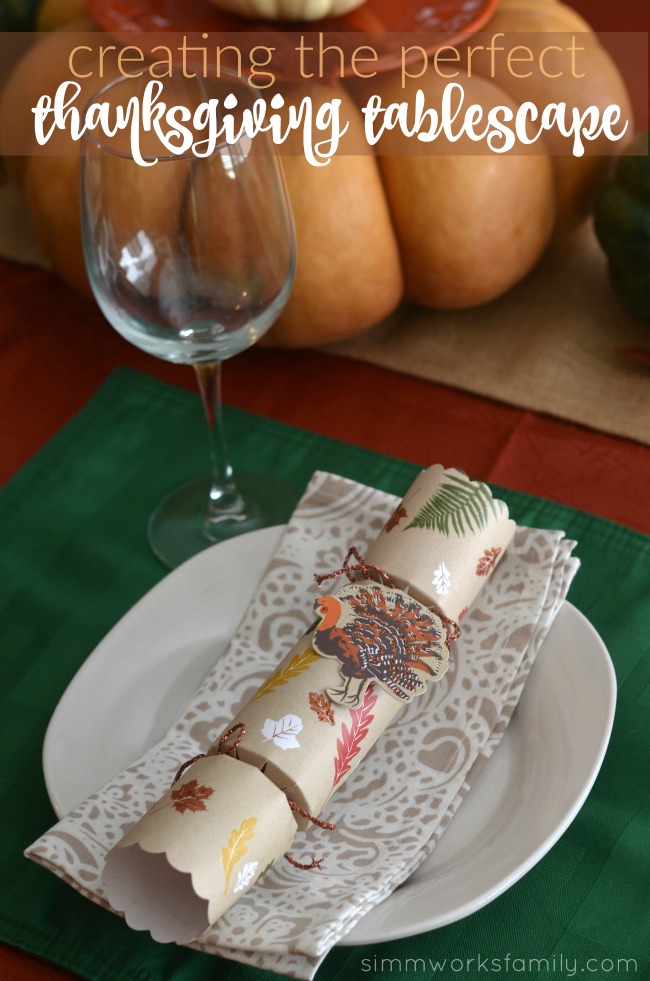 With Thanksgiving around the corner, I'm starting to plan out our Thanksgiving table. I love being able to create a festive tablescape for the holidays even if we don't host Thanksgiving at our home. It keeps things fun for dinnertime. Why leave all the fun to my mother-in-law, right? And why not keep the house festive all month long? Plus if we get unexpected guests we can entertain easily without worrying about decor.
I haven't talked much about our new home but one of the things that frustrates me is the fact that we don't have enough room in our home, nor do we have an adequate kitchen, to host a holiday meal… yet. Luckily we have plans to remodel our kitchen and dining room so that we have the space, and appliances, to accomodate entertaining along with our every day meals.
So for now I focus on what I can control – the decor and festive tablescapes!
Last year we went with a simple centerpiece to decorate the table so this year we've continued with the simple approach. By using pumpkins and squash we picked up at the pumpkin patch right before Halloween, I was able to repurpose a few of our fall decor into a nice tablescape that was festive and coordinated with everything else I had.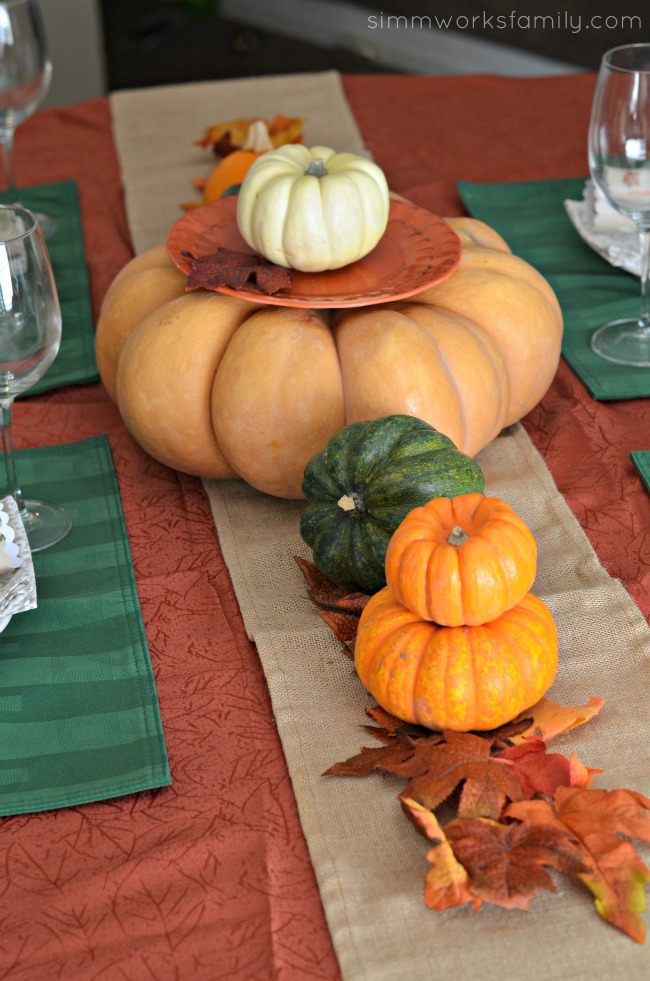 Keep The Center Simple
Since we typically keep a buffet of food in the kitchen, the center of the table is for decorative pieces to keep things festive. By utilizing some gourds and squash and placing them along with some leaves on top of a burlap runner, I can create the look of Fall without too many pieces. I was able to utilize the orange leaf print table cloth that I use for Halloween again for our Thanksgiving tablescape. I've also used a cinderella pumpkin here to serve not only as a centerpiece, but as a place to put the pie for dessert at the end of the meal.
When you want to keep conversation flowing, keep the centerpiece low. That allows guests to converse across the table. If there are a few taller pieces, make sure they're seperated out so there are spaces between to make eye contact. Also, if you're using candles, make sure they're unscented. There's nothing that'll ruin a dinner more than a scented candle when you're trying to eat food.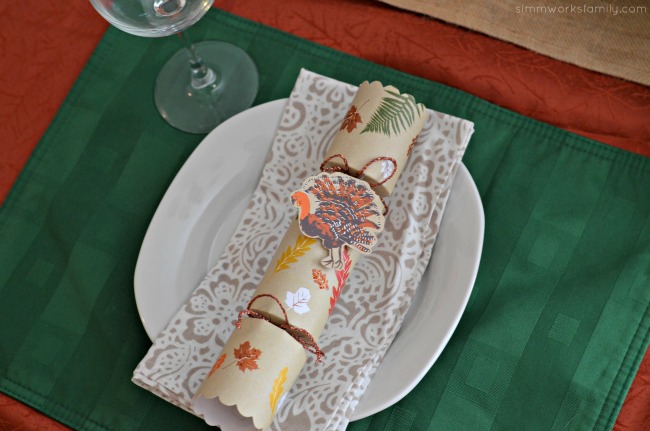 Have Fun With Place Settings
I love creating fun place settings for my guests to enjoy. This year we found some party poppers from our most recent trip to one of our favorite cooking sho that had a festive turkey theme. These are great conversation starters when guests sit down because they want to open them and discuss what they got inside. Sure they're normally at the kiddy table but why can't the adults have fun too? I've also created fun place cards and napkin rings to keep the table fun and entertaining for everyone.
While I do keep our plates and silverware near the food at the buffet, I leave a bowl for the guests to take to the buffet with them for their salads so they have room on their plate for other foods. Don't you hate when you put the salad on your place first and it takes up a ton of room? No? Just me? I also like to leave a napkin at each place setting. I'm always that person who gets to the table after getting her food, sits down, and has to get back up to grab a napkin because I forgot it or didn't have any hands free.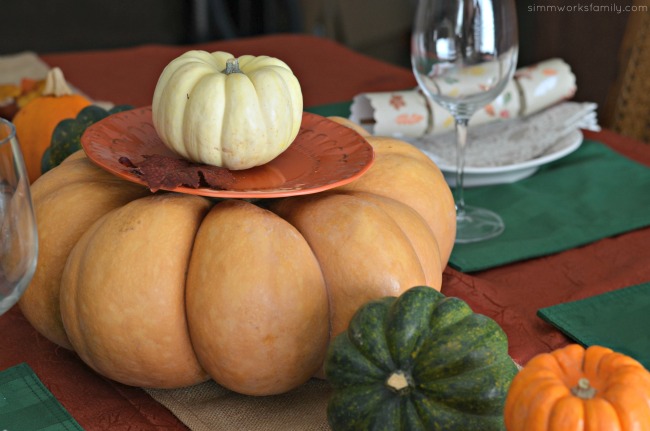 Keep Versatile Pieces
It's a great idea to have some key pieces from your tablescape to utilize from one holiday to the next. Consider investing in some timeless colors or colors that work with various seasons. Green can work for the fall and winter seasons depending on what you pair it with. Orange works for Halloween and Thanksgiving. And red can work from Christmas to Valentines Day to patriotic hoidays. I also keep a few basic colors of place mats as well on hand to switch it up. Cream, green, and blue are in my current rotation.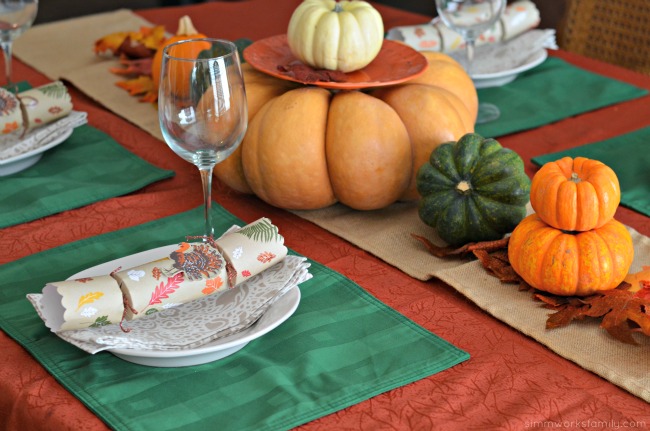 Now that I've taken care of our tablescape, I can focus on testing out a few of our favorite recipes to contribute to our holiday meals. And next year I'm hoping that I'll be preparing a holiday meal in our new kitchen. With the research I've done on appliances, I'm starting to narrow down exactly what I want. And first things first, out with the electric stove and in with a gas stove!
Since I love to cook, I am aiming to purchase appliances that will last a while and keep up with my passion in the kitchen. I also have to keep in mind my husband's love of baking. Luckily I can "Take Food Further" through the power of GE Café™ appliances. These appliances bring the expertise of the restaurant, home, during holiday timing.
With the GE Café™ Series I'll be able to get the details designed to help the meals I make become masterpieces. From slow roasts to quick sears, from soups to sauces, the advanced cooking technology and intuitive design of our ranges can take every meal further. And boy do I need that! With each burner specialized for precise boiling, simmering and searing I won't have to put up with the frustration that I feel with our current kitchen.
How do you simplify the holidays?
Disclosure: Insight for this post was provided by GE Café™ Series.