This is a sponsored conversation written by me on behalf of Sam's Club. The opinions and text are all mine.
Ahhh… turkey day is nearly upon us and, if you're like me, you're about to lose your mind due to the long list of things you need to get done before the big day. Not to mention Christmas right around the corner! Well, in an effort to ease my mind and give myself a bit of time to prep I decided to head out to Sam's Club® and search for great tips and tricks for planning the perfect Thanksgiving party.
Holiday entertaining can be the ultimate challenge.  But with affordable, gourmet selections from Sam's Club®, you'll be party planning like a pro for the best holiday season ever.  Get started at FoodNetwork.com/party, your one-stop source for great tips, recipes and behind the-scenes videos with Sam's Club® Members.
You can also get tips directly from the pros! Check out Chef Robert Irvine, host of Food Network's Restaurant: Impossible Ambush as he ambushes an unsuspecting Sam's Club member to help solve problems and party plan like a pro.  In this video, Robert provides his ideas for the perfect center plate protein to make sure your next dinner party is a smash!
In addition to great food from Sam's Club, I've also asked bloggers what their favorite ways to help save them time (and sometimes money!) when hosting or attending a Thanksgiving party. If you're like me and need a game plan to keep your mind at ease, read along to find out all of the great tips I discovered.

1. Create a checklist
One of the easiest ways for me to stay on track with big meals or events is to have a checklist. A place I can put everything I need to do and have the satisfaction of checking off each little box as I go along. Luckily, Tonya Staab wrote a Thanksgiving checklist featured on Blissfully Domestic that should help each of us prep and plan for this Thanksgiving.
2. Prep ahead
One of the easiest things to do when prepping for Thanksgiving is to do things in advance. Rachael Nash Wunderlich of Adventures in Wunderland suggests to make pies and put together casseroles the day before, then on thanksgiving day you just rotate the casseroles in to bake and all you really have to worry about is the turkey and potatoes.
Need help on those potatoes? Check out these mashed potato tips from Dish over Dinner. Or do what I do and make a twice baked potato casserole (recipe coming soon!) that you can prep in advance.
Prepping doesn't stop with food. Consider setting up the buffet with dishes and decor while placing post its and labels to indicate where dishes should go on the big day. Put out anything you can in advance so you aren't rushing to put things together on the day of the party. We also set the table a few days before too.
3. Keep drinks and dessert simple
One of the easiest ways to reduce stress is to keep it simple. Delegate some items so that you aren't burdened with many different dishes. One tip Joann Wooley of Sign4Baby thinks helps a lot is to have your guests be in charge of dessert and beverages.
Now if you really love to bake and that's your thing then consider delegating out some side dishes instead. Consider this chocolate espresso pecan pie from Baby Birds Farm for your main dessert and then have guests bring other pies to add to the mix. That way you can spend more time on other aspects of the meal.
And drinks can be kept super easy. Ask guests to bring their favorite bottle of wine and then for the kids make this easy crock pot apple caramel cider featured on Catching Up With Kate.
4. Remember food allergies
Its important to remember that not all guests can eat everything on the table. Try to accommodate guests food allergies says Melonie Gallegos. It may be a small change you make to  a recipe or simply preparing a dish without one ingredient but your guests will sure appreciate it!
Know of a guest who's gluten or dairy free? Try this delicious pumpkin pie I made with coconut milk. Cook it up in a dairy-free, gluten-free crust and you have an allergy friendly dessert!

5. Make sure to think of the leftovers
No one wants to miss out on the delicious left overs so consider buying 2 turkeys if you are hosting a big family gathering suggests Joann Wooley. Or plan to make a double batch of that favorite casserole everyone loves. And make sure to pick up plenty of goodie bags and dishes from Sam's Club so you can send leftovers home with your guest. The one thing I always regret each year is not taking enough leftovers home!
7. Don't Overcook the Bird!
Now I've only cooked two turkeys in my life. One with a brine, the other without. And the only thing I was concerned about was dry turkey. So I did a bit of research and found that cooking the turkey with it's breast down for half of the cooking time allows the bird to cook evenly without overcooking the white meat. By flipping it back over 1/2 way through I can still get that gorgeous golden brown crisp skin everyone loves.
8. Keep it Simple
I had to laugh when a fellow blogger suggested to simply purchase everything already made. Heather Delaney Reese of It's A Lovely Life mentioned that her best Thanksgiving ever was the year they bought everything at Sam's Club (and split the cost with friends). Sam's Club has a truly impressive array of holiday foods from the entire meal-in-a-frozen-box to just the sides (fresh or frozen) to just the ingredients for a homemade feast. Now I'm all about home cooking 99% of the time but when it comes to these giant meals for parties keeping it simple just makes it easier on everyone.
9. Entertain your Guests
There really can be too many cooks in the kitchen when it comes to prepping Thanksgiving parties. So make sure you have something for your guests to do (or eat) while you're finishing up.
Make sure there's a ball game on for the guys and the black Friday ads out for those who shop early. Some bloggers may have mentioned getting into arguments with their mother-in-law. Jillian Warner of Mommy Testers tip is one we should keep at heart – keep your mother-in-law out of the kitchen! Or simply give her all of the salad fixings and set her at the table to get to work.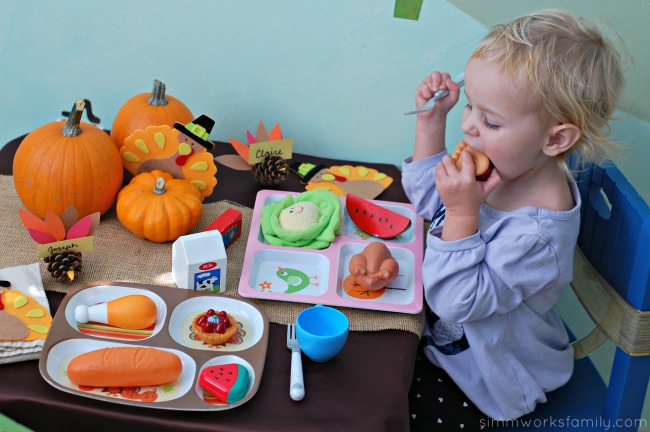 10. Enjoy yourself!
With all of the prep and work that goes into a Thanksgiving meal, remember to enjoy yourself and the time you have with your family. Don't sweat it if something goes wrong. Because you're with people who you care about and just want to have a good time. Plus… if dinner is a huge disaster there's always dessert!
How do you keep Thanksgiving stress-free?
Don't forget to enter the "Holiday Party Planning" sweepstakes running from 10/22 – 12/31/15 and make the holidays just a little brighter! The Grand Prize winner will receive a $500 gift card and 1 year Plus membership ($100 value). 5 1st Place winners will receive a 1 year Prime membership ($100 value). 5 2nd Place winners will receive a Wolfgang Puck 10 piece Stainless Steel Mixing Bowl Set ($29.99 value). And 10 3rd Place winners will receive a Kitchen Aid 3pc Chef Knife Set ($15.98 value). 
NO PURCHASE NECESSARY.  Open to legal residents of the 50 United States and D.C., 21 years or older.  Ends 12/31/15.  To enter and for complete details and odds, visitwww.foodnetwork.com/party. 
This is a sponsored conversation written by me on behalf of Sam's Club. The opinions and text are all mine.