This shop has been compensated by Collective Bias, Inc. and its advertiser. All opinions are mine alone. #DIYHolidayWithSCJ #CollectiveBias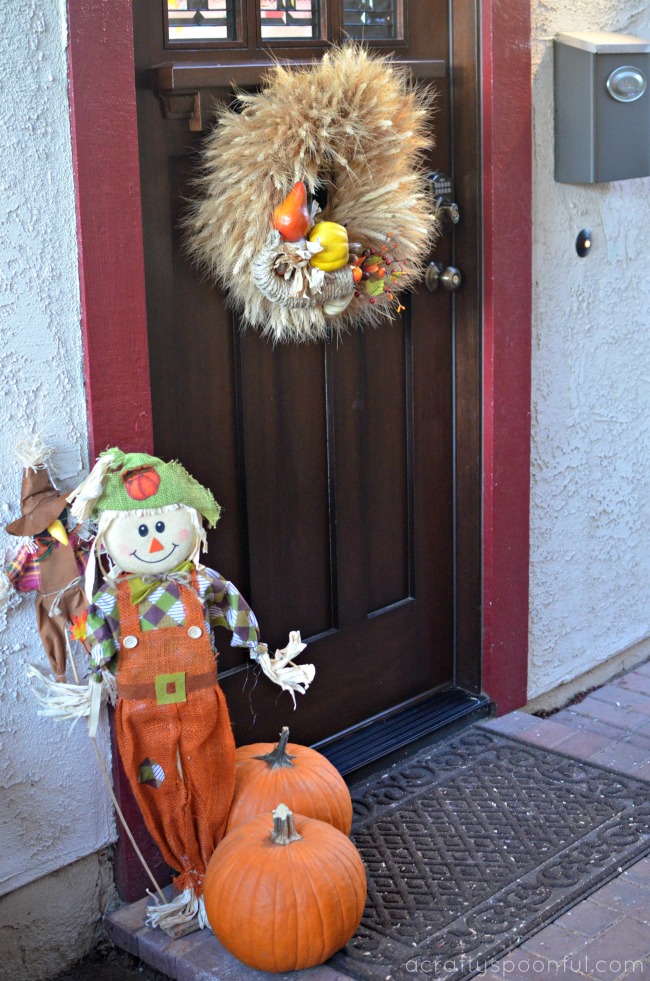 With Thanksgiving right around the corner, we're making sure our home is in tip-top shape for guests. As the holidays get nearer, you never know who might stop by at any given moment. And the first thing they see when coming up to our home is our front door. So we're sprucing things up with these easy DIY Thanksgiving door decorations and a simple DIY Cornucopia Wreath.
When we first moved into our new home, the one thing that stuck out like a sore thumb was the ugly solid brown door that stood in the doorway of our home. I didn't care for it much and it always bugged me that it didn't show off the awesomeness that is our home. So when my husband found a door in the exact style we were looking for on clearance at Home Depot, we picked it up right away and he installed it. Instead of leaving the trim around the door brown, we brightened things up with a deep red color to really make the door pop.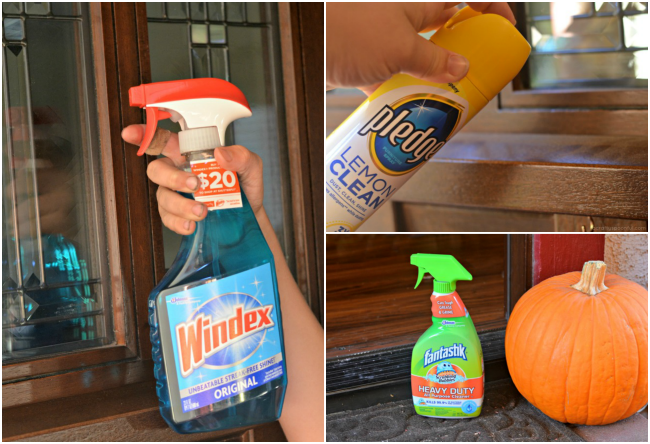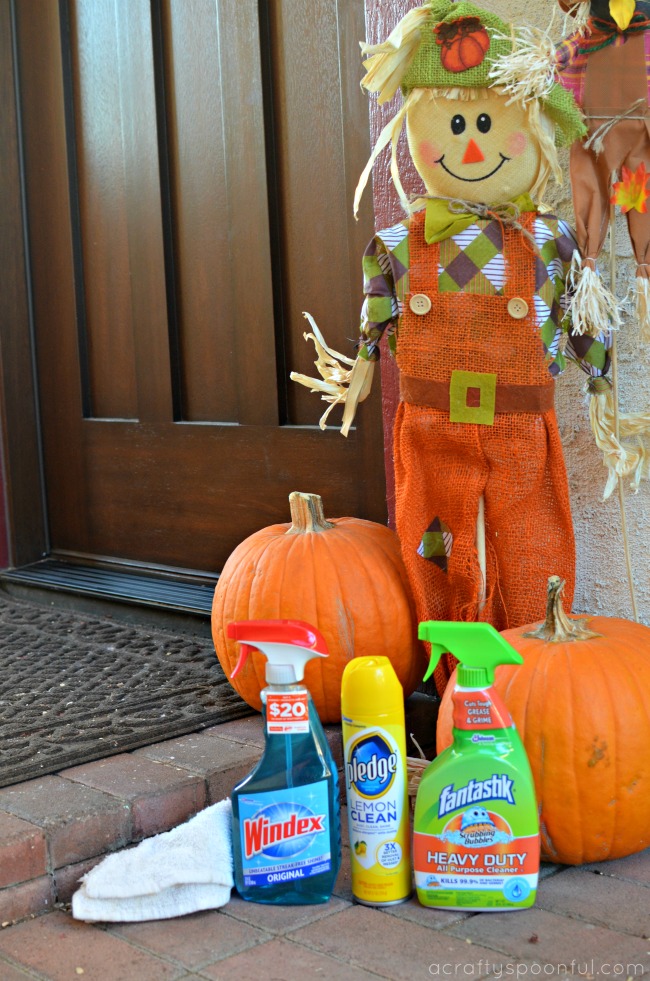 To keep the door in tip-top shape, we rely on our go-to cleaning products to spruce things up. With the door being the first thing all walk through to enter the home, it can get a bit beaten up over time and gather dust and grime from the outside elements.
Since our new door has three windows in it, we keep Windex® Original close by. It has an Unbeatable Streak Free Shine and starts working on dirt and grime even before you wipe*. Trusted for generations, Windex® Original cleans and shines glass, mirrors, and more!
Pledge® beautifies and enhances the appearance of your hard surfaces and our finished, sealed door always looks so much better after we wipe it down with Pledge®. Pledge® Lemon Clean can be used on furniture all around the house to quickly clean, condition and protect –all while leaving behind the classic, fresh lemon Pledge® scent. It also features Allergen Trappers® to remove dust and up to 90 percent of the allergens found in dust. That means in addition to cleaning the front door, we can clean up the other household hard surfaces including wood, laminate, stainless steel, leather, marble, granite and plastic.
Scrubbing Bubbles® Fantastik® 32 oz. All-Purpose Cleaner is the perfect cleaner for our door threshold. It gets a beating as the kids run in and out of the home so we need a powerful antibacterial solution cuts to the center of grease and grime and dissolves it on contact and disinfects the area. And the no-rinse solution means you don't have to spend as much time cleaning.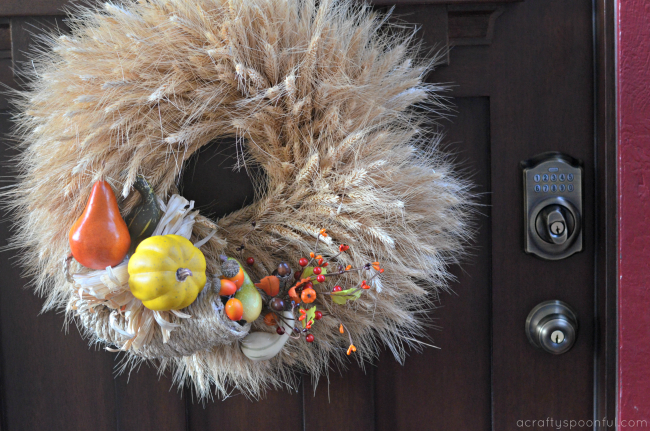 Easy DIY Thanksgiving Door Decorations
Now that our door is all nice and clean, it's time to spruce things up even more with a few easy DIY Thanksgiving Door Decorations. This DIY Cornucopia Wreath is not only easy to make, it can be saved to use year after year!
DIY Cornucopia Wreath
What you'll need:
Wheat wreath (found at Home Depot)
chicken wire
twine
hot glue gun
hot glue sticks
plastic/fake fruit and veggies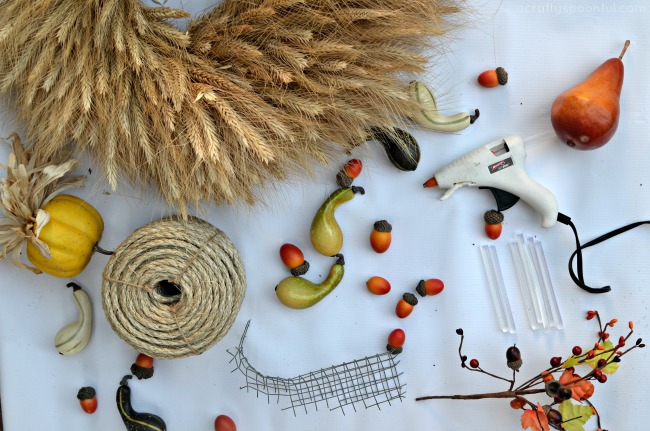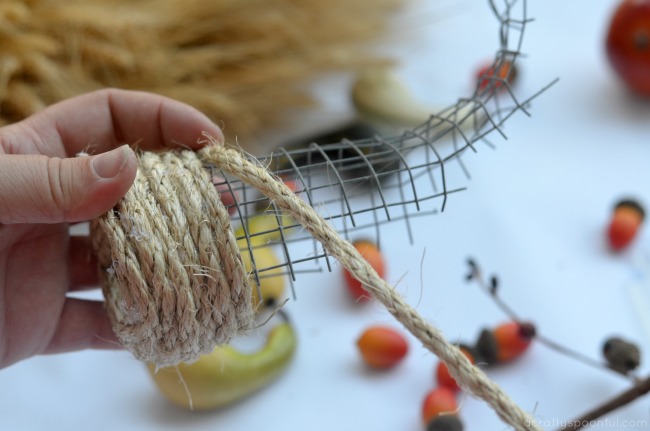 What you do:
1. Cut a wide triangle out of the chicken wire and form into a cornucopia shape.
2. Using the twine, wrap around the cornucopia frame and secure twine to the form and itself with hot glue.
3. Continue wrapping the twine all the way down the form to the smallest tip and then secure the end by sticking it back in the end of the form.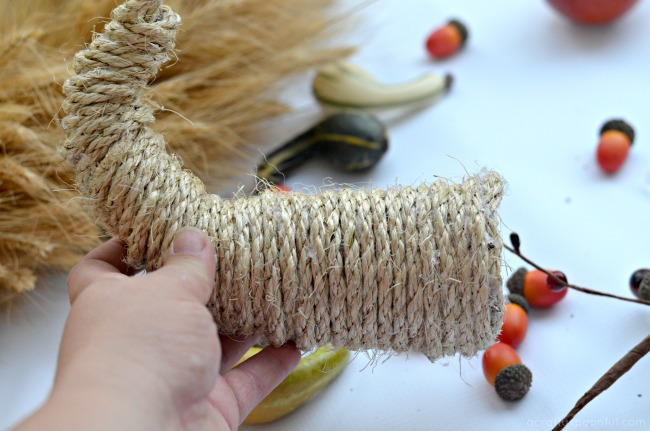 4. Secure the cornucopia onto the wheat wreath with hot glue.
5. Add decor in and around the cornucopia by hot gluing it in place. Make sure to balance the size of each piece and the colors.
6. Hang on the door and step back to enjoy your handiwork!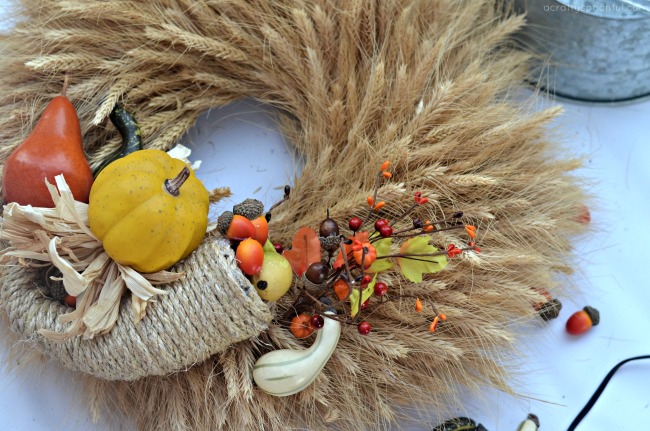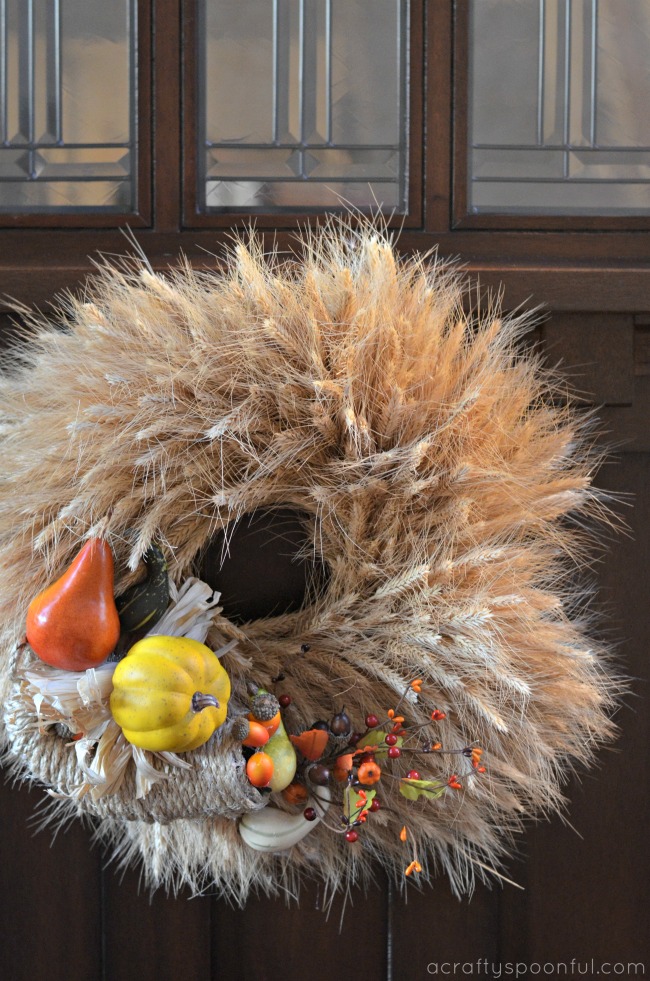 We grabbed a fun scarecrow and stacked two of the pumpkins from our trip to the pumpkin patch next to it to complete the Thanksgiving door decorations.
Keeping things simple yet welcoming is key. The front door doesn't need too many decorations so choosing the pieces you use wisely will help keep a nice balance.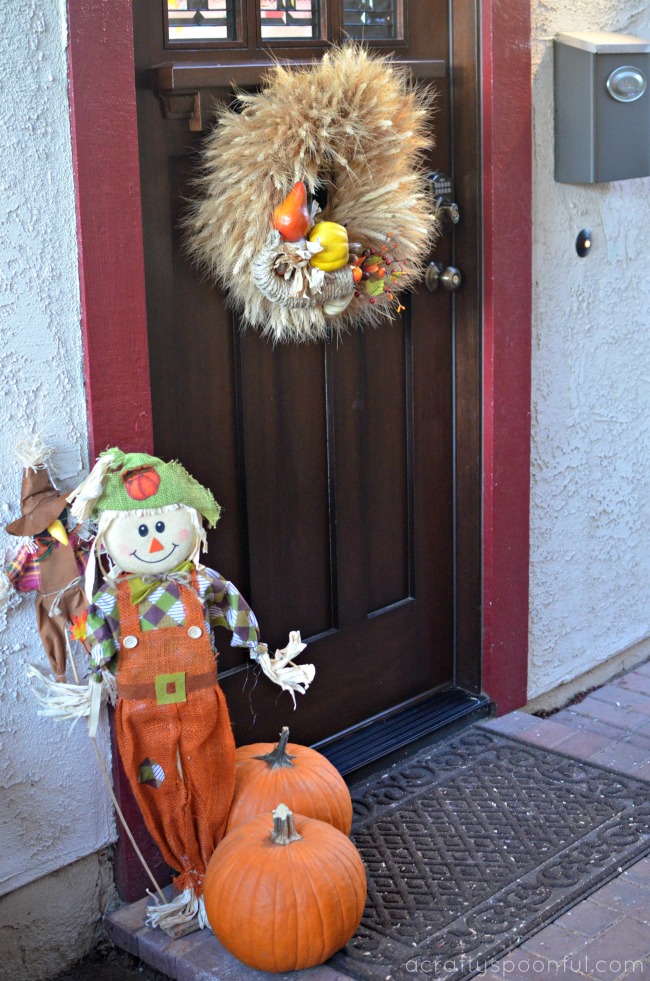 Be on the lookout for Windex® and Scrubbing Bubbles® Fantastik® product promotions on display in Home Depot stores until 10/31/17, and Pledge® products on display starting 11/1/17. You can find all products in the cleaning products aisle at your local Home Depot store.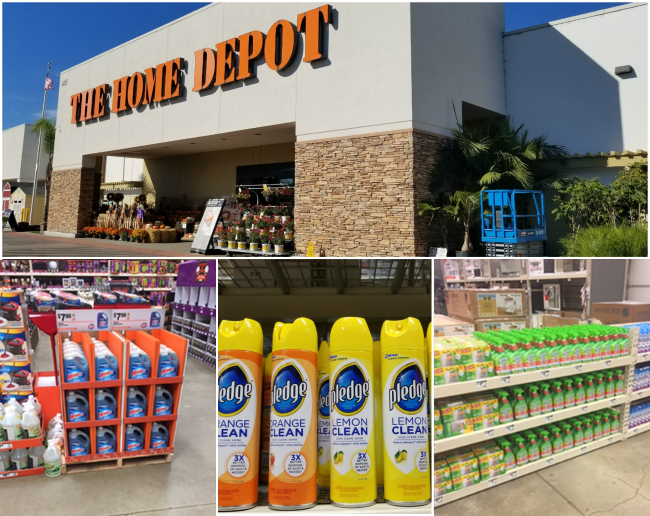 What do you do to spruce up your front door during the holidays?
*Claim Based on Windex® Original lab testing against leading competitor glass cleaners per AC Nielsen 52 weeks ended 7/29/2017
Love what you read? Check out these great posts!
Pin this article for later!
Click the Pin button on the image below to save for later.