This is a sponsored post written by me on behalf of PAM Cooking Spray.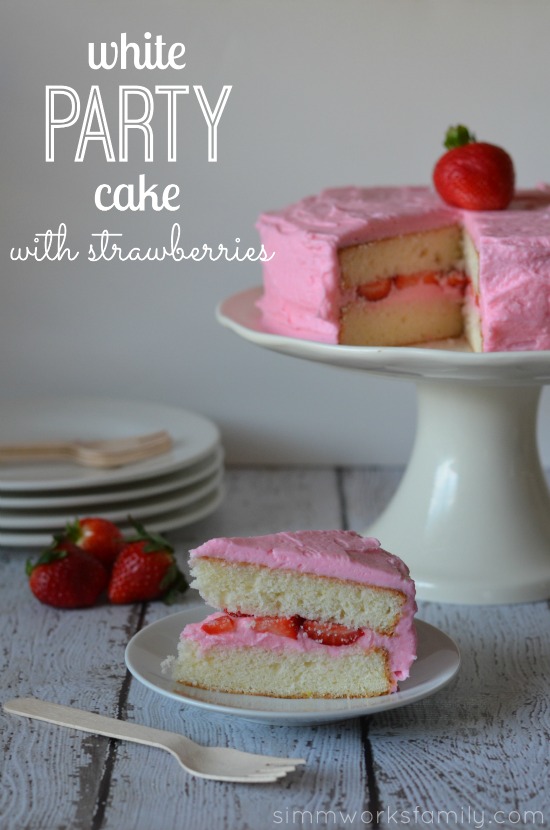 My baby is turning 3 tomorrow. 3 years old! How did that happen? In celebration of her birthday we baked together and made her a delicious white party cake with pink strawberry frosting. It's a trial run for the cake I'm making for her party on Sunday and I think it's a winner!
Every year I bake my kids a cake or cupcakes for their birthday party. We end up having both cake and cupcakes but I try and make one of them. And without fail I'm baking the night before the party and always have to re-do everything because my cakes stuck to the pan. Well not this year. I busted out my secret weapon: Baking PAM Cooking Spray. Not only is it the perfect non-stick spray, it also has flour in it so my baked goods come out perfectly every time.
The kids are slightly disappointed because they don't get to eat up all of the cake crumbles from the broken cakes that I've just about ruined. But I'm happy because a cake that slides right out of the pan means less work and stress for me!
After experimenting and baking for the past 10 years, I have a few tips I've saved up.
Baking Tip #1
My favorite duo to use when baking cakes is Baking PAM Cooking Spray and parchment paper. Lining a pan wiht parchment paper and coating the paper and the pan with PAM assures me that my cakes will slide out and I won't be re-baking into the night trying to fix a stuck cake.
This combo also works well for brownies and other baked goods that you don't want to stick.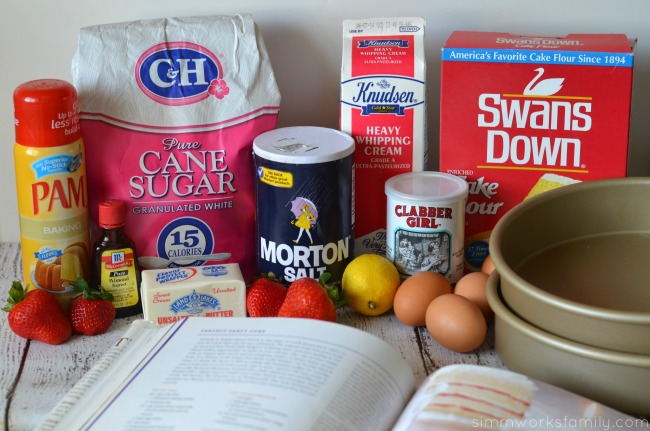 Baking Tip #2
With the ingredients gathered up, it's time to get baking! One thing I always try and do is take out all of the ingredients when I have my cook book in front of me. That way  I can visually check to make sure I have everything.
There may have been a time or two where I've forgotten an important ingredient or two. And cakes without eggs – well – they just shouldn't happen.
Then I measure everything out into separate bowls and make sure I read over the directions in full before starting the recipe. That way I don't miss a step either!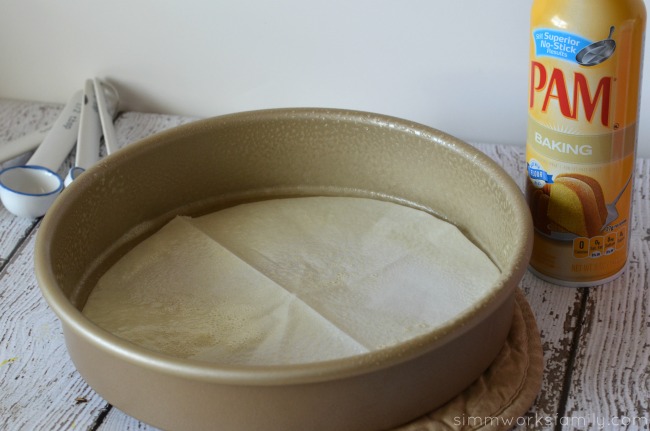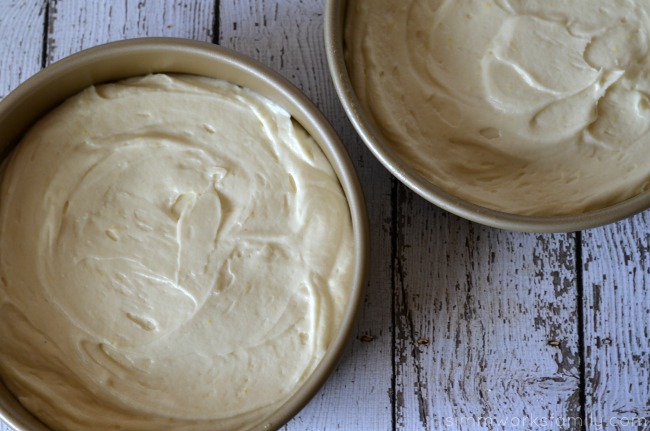 Baking Tip #3
A few years ago we invested in an oven thermometer that we keep in there at all times. That way we know that the temperature we set the oven to is the temperature inside the oven. If our oven dings to tell us it's at the pre-heated temperature I always check just in case.
I've found that having an oven thermometer and knowing what temperature our oven is at means more accurate baking times and no over or under-done baked goods!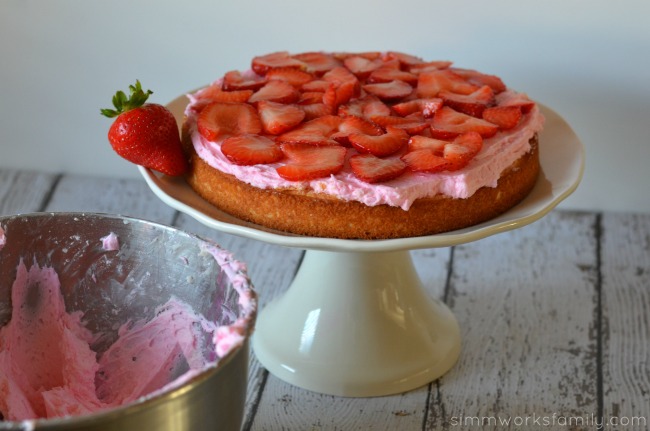 White Party Cake with Strawberries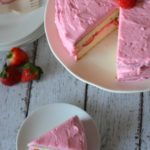 For the Cake
2 ½ cups cake flour
1 tablespoon baking powder
½ teaspoon salt
1 ¼ cups heavy whipping cream
juice from 1 lemon
4 large egg whites at room temperature
1 ½ cups sugar
2 teaspoons grated lemon zest
1 stick unsalted butter (8 tablespoons, at room temperature)
½ teaspoon pure almond extract
Baking PAM Cooking Spray
For the Frosting
5-6 cups powdered sugar
2 cups butter
1/4 cup heavy whipping cream (or more if needed)
1 teaspoon vanilla extract
Juice from strawberries
pink powder food coloring (optional)
For Finishing
1 cup macerated strawberries
Center a rack in the oven and preheat the oven to 350 degrees. Line two 9 x 2 inch round cake pans with parchment paper and spray with Baking PAM Cooking Spray. Put the pans on a baking sheet.
Sift together the flour, baking powder and salt.
Whisk together the milk and egg whites in a medium bowl.
Put the sugar and lemon zest in a mixer bowl or another large bowl and rub them together with your fingers until the sugar is moist and fragrant. Add the butter and beat at medium speed for a full 3 minutes in your electric mixer, until the butter and sugar are very light. Beat in the extract, then add one third of the flour mixture, still beating on medium speed. Beat in half of the cream-egg mixture, then beat in half of the remaining dry ingredients until incorporated. Add the rest of the milk and eggs beating until the batter is combined, then add the last of the dry ingredients. Finally, give the batter a good 2- minute beating to ensure that it is thoroughly mixed and fluffy. Divide the batter between the two pans and smooth the tops with a rubber spatula.
Bake for 30-35 minutes, or until a toothpick inserted into the centers come out clean. Transfer the cakes to cooling racks and cool for about 5 minutes, then peel off the parchment paper. turn the cakes over and cool to room temperature, right side up (the cooled cake layers can be wrapped airtight and stored at room temperature overnight or frozen for up to two months).
To Make the Buttercream
Put 1 cup of powdered sugar and all of the butter in the electric mixer bowl and, with a whisk attachment, beat until combined. Add cream and contine to add the sugar, a cup at a time, whisking in between, until light and fluffy.
Add extract and strawberry juice to the frosting and whisk again until frosting has thickened. Add pink powder food coloring if juice from the strawberries doesn't make the frosting as pink as you'd like.
To Assemble the Cake
Using a sharp serrated knife and a gentle sawing motion, slice the top of each cake to make a flat surface.
Put one layer cut side up on a cardboard cake round or a cake plate protected by strips of wax or parchment paper. Spread it with about one quarter of the frosting. Top with a layer of strawberry slices.
Place the last layer cut side down on top of the cake and use the remaining frosting to frost the sides and top. Add a strawberry to the top and serve!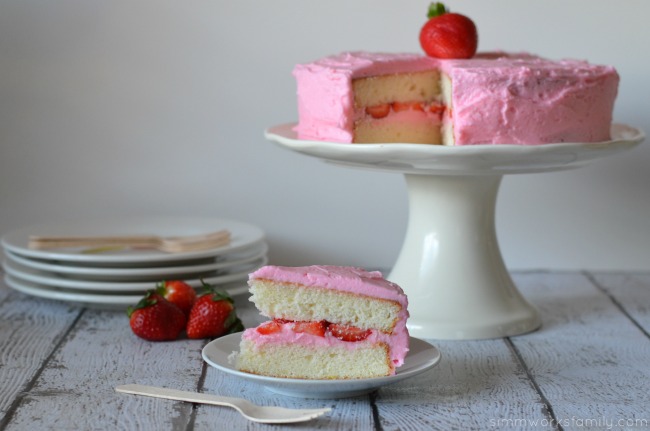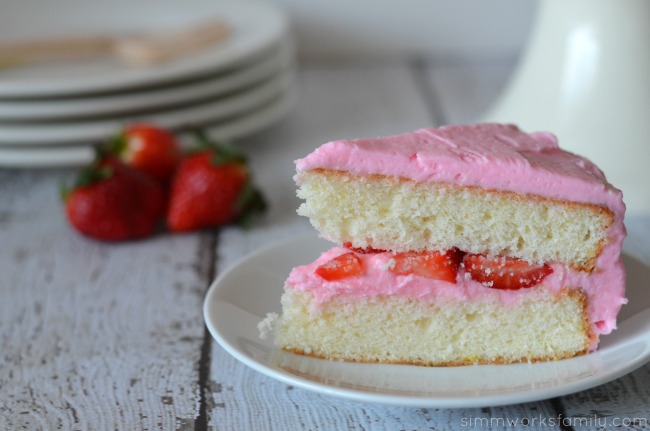 The cake turned out perfectly! And we're ready for the final round this weekend before the big day.
There was no fussing with this cake to get it out of the pan, I simply turned it over onto the cooling rack and it came right out! My little miss was quite excited to try it out and kept asking when she could "lick it!" I finally let her have a slice and she was overjoyed.
And the cleanup afterwards? A breeze! PAM Cooking Sprays leave up to 99 percent less residue buildup than margarine or bargain brand-cooking sprays so you don't have that icky coating left on your pans after you use them.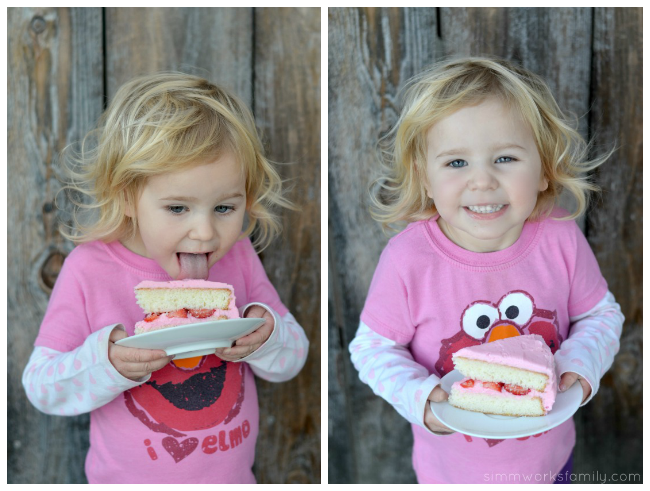 What's your #1 baking tip?
THIS GIVEAWAY IS NOW CLOSED – CONGRATS TO MARY G.!
This giveaway is open to the continental US only, 18+, Void where prohibited. It ends on December 11, 2013, 11:59pst. One winner should be selected at random and announced on this blog post after confirming via email. By commenting below you have confirmed that you've read the complete terms and conditions.
Disclosure: This is a sponsored post written by me on behalf of PAM Cooking Spray. For more information, visit http://www.pamcookingspray.com.