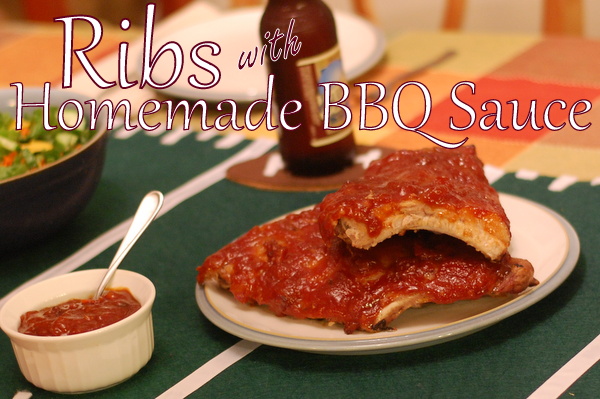 There's one meal that I wish I could cook better. And that's baby back ribs with bbq sauce. I absolutely love ribs. Love the taste, the mess, and the pile of bones left over at the end. I know, I know… I'm weird. But a good plate of ribs just hits the spot.
And they're the perfect dish to make for tailgating! So when I was planning my menu for my tailgating party I knew we had to serve ribs. Not only can they be made at home, but they can also be made on the grill and in the crock pot. So many different ways to make one delicious dish!
These ribs are even tastier because of the homemade barbecue sauce I made to go with them. And I have two surprises… my secret ingredient! Total Iron Chef moment here.
We headed out to Smart & Final for our ingredients and I knew I wanted to pick up some flavored preserves. As soon as I saw the First Street apricot pineapple preserves I knew I needed them for my sauce. And it was the best choice I made! While you can use peach, apricot, or even raspberry preserves in this recipe, the combination of the apricot and pineapple gave this sauce an amazing flavor.
You can check out my whole shopping experience by checking out my Smart & Final Tailgating Google + Album.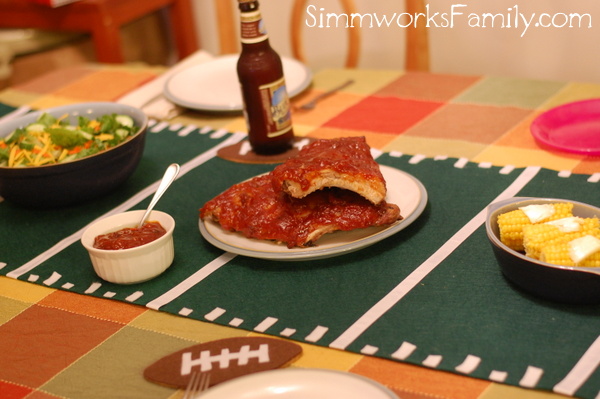 We got even more festive with our meal and created a football field table runner and football coasters to match. They made eating our meal even more enjoyable.
Check out even more mazing recipes by keeping up with the Smart & Final Social Circular. You can also find Smart & Final on Facebook or follow them on twitter at @SmartFinal.
Baby Back Ribs with Homemade BBQ Sauce
Ingredients
Ribs:
2 slabs baby back ribs (about 3 pounds)
1 1/2 teaspoon salt
1 teaspoon black pepper
1 teaspoon garlic powder
1 tablespoon extra-virgin olive oil
BBQ Sauce:
1 tablespoon extra virgin olive oil
2 bacon slices, diced
1/2 onion
3 garlic cloves, diced
2 cups ketchup
1 cup apricot pineapple preserves
2 tablespoons Dijon mustard
2 tablespoons brown sugar
1/4 cup molasses
2 tablespoons red wine vinegar
2 tablespoons worcestershire sauce
1 teaspoon ground cumin
1 teaspoon ground paprika
Directions
1. Preheat the oven to 250 degrees. Salt and pepper each side of the ribs. Drizzle each side with olive oil.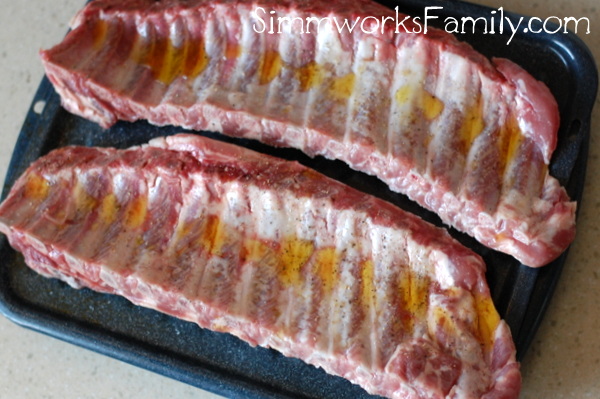 2. Bake ribs for 1 1/2 hours (don't worry… we'll come back to them before that). Start gathering the ingredients for the barbecue sauce. Not pictured: worcestershire sauce and garlic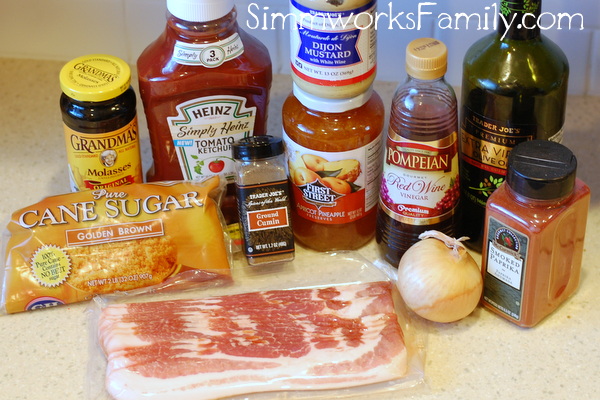 3. Heat up a skillet and add the olive oil. Cook diced bacon, onions, and garlic for 5 minutes or until onions are translucent, bacon is crispy, and garlic is fragrant.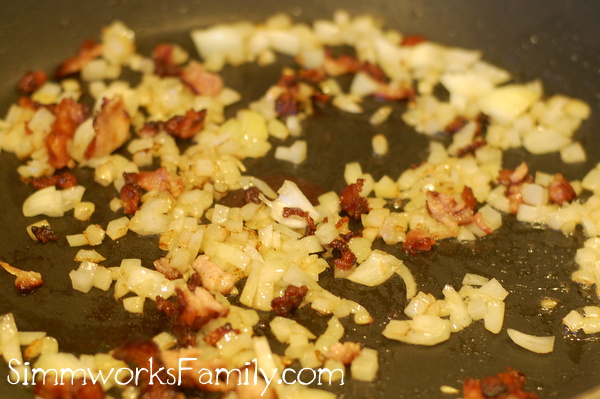 4. Add in the rest of the barbecue sauce ingredients and stir to combine.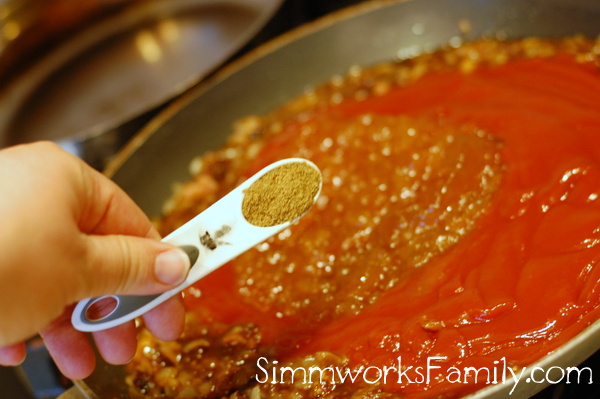 4a. Don't forget the second most important ingredient (besides the preserves)! Worcestershire sauce gives this sauce an added kick in flavor.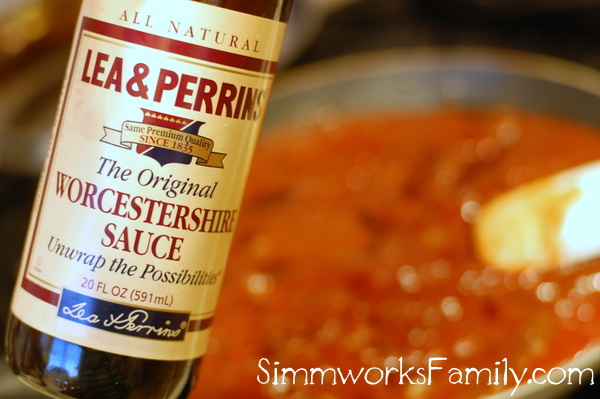 5. Allow sauce to simmer for 20 minutes to allow flavors to meld. Reserve 1 cup of sauce for serving.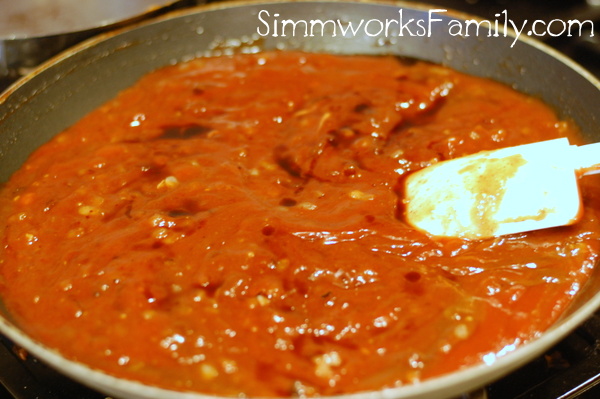 6. Once sauce is done, remove ribs from oven and baste with sauce.
6. Return to oven and let cook another 30 minutes. Repeat one more time and let ribs cook the remainder of the 1 1/2 hours.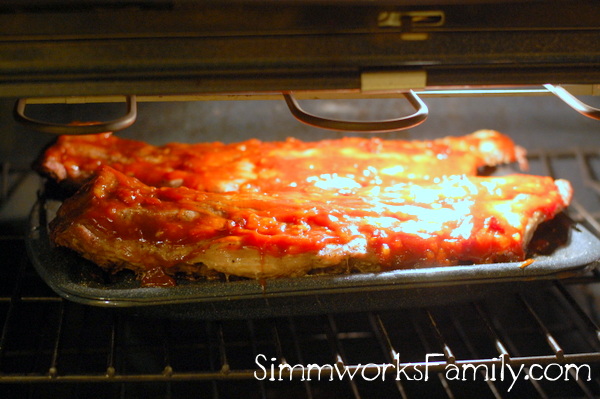 7. Once ribs are done remove from oven and baste with sauce one more time. Set broiler on high and return ribs to oven. Cook 5 minutes or until top of ribs are crisp and charred.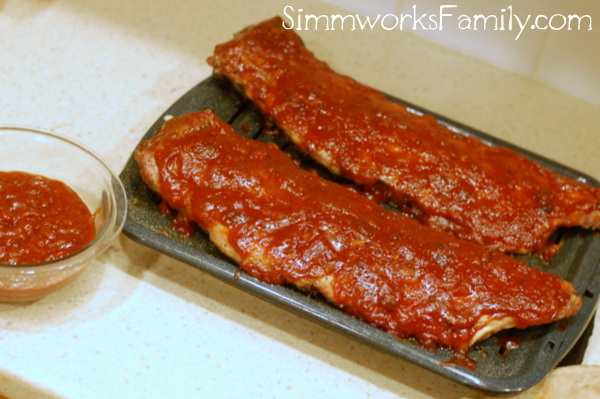 8. Allow ribs to rest for 5-10 minutes before serving with reserved sauce.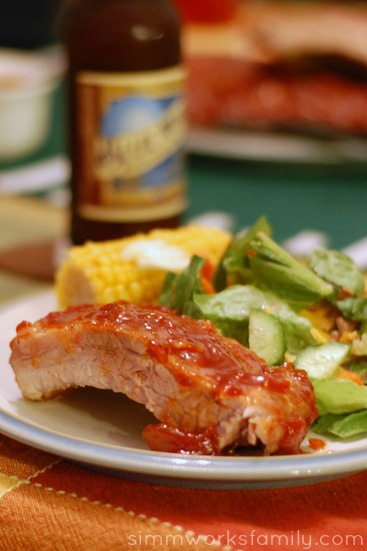 Grab your favorite beer, a great salad, and some corn on the cob and your tailgating meal is complete! The flavor of these ribs with homemade barbecue sauce is out of this world! Next time I might even try to make the ribs in the slow cooker. And there might be a very good chance that I blend and jar this sauce to give as gifts this Christmas. Yum!
How do you like your ribs? Super saucy or nice and dry?
Disclaimer: I am a member of the Collective Bias™ Social Fabric® Community. This shop has been compensated as part of a social shopper insights study for Collective Bias™ and Smart & Final. All opinions are my own. #CBias #SocialFabric