In sponsorship with Tree Top, I'm sharing a DIY Milk Carton Bird Feeder tutorial and talking about how I keep the kids entertained outdoors in the afternoons.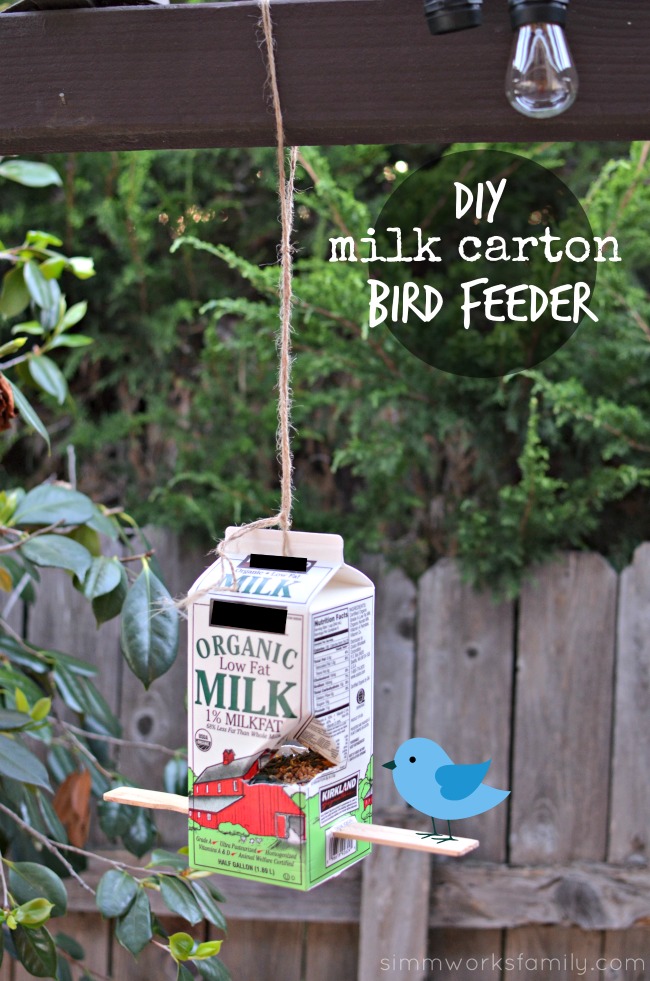 We love finding fun ways to spruce up our outdoor living areas in our new home and are slowly adding all of the things we came to love at our old house. This April we're planning on building some garden beds to go along with the fruit trees that came with our new home. We loved having our garden beds at the old house and even though we have a plot at the community garden still, we're missing the ease in walking out our door to pick fresh veggies and herbs. And the kids are missing their bug hunts.
While we wait for my husband to figure out exactly how he wants to construct our new beds, the kids and I are doing a few projects of our own. Including making a few bird feeders for the local birds to enjoy. One thing we love about our new home is the constant chatter of birds we hear outside our windows.
Afternoons are the perfect times for us to do this because it keeps the kids from whining about using the iPads and watching TV. Keeping the kids entertained and busy after we get home from school can sometimes be a chore. But if it's something they can do outside then they're all for it!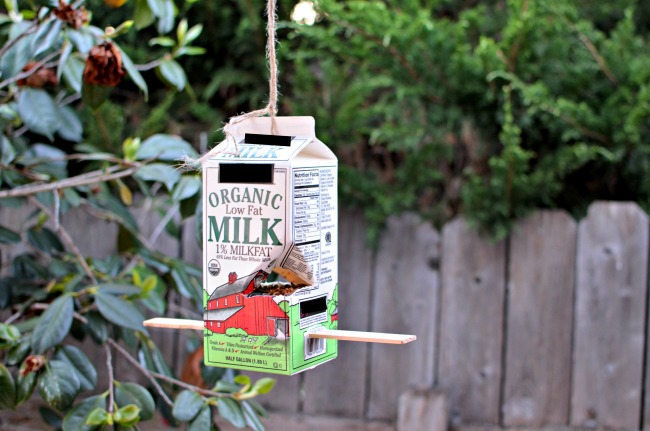 The kids love watching the birds come to feed in our yard as we play outside. They love it even more when the birds start to take advantage of the bird houses we made for them a few months back.
And it keeps our new chicks entertained as they watch the local birds come out to eat while they peck around underneath them. The chicks love the treats they find in the leftover bird seed that's strewn down from the feeders.
Now when the kids come home they run out to check the feeders and make sure they're full, then they let the chicks out to play in the yard. Then the kids are ready for their afternoon snack. Nothing a Tree Top Apple Sauce pouch can't handle!
Want to make some bird feeders of your own? Here's how!
DIY Milk Carton Bird Feeder
Inspired by this tutorial from KidsGardening.org
What you need:
half gallon milk or juice carton with cap, washed out and dried
sharp knife (to be used by an adult)
paint stir stick or dowel/rod
twine or string
wild bird seed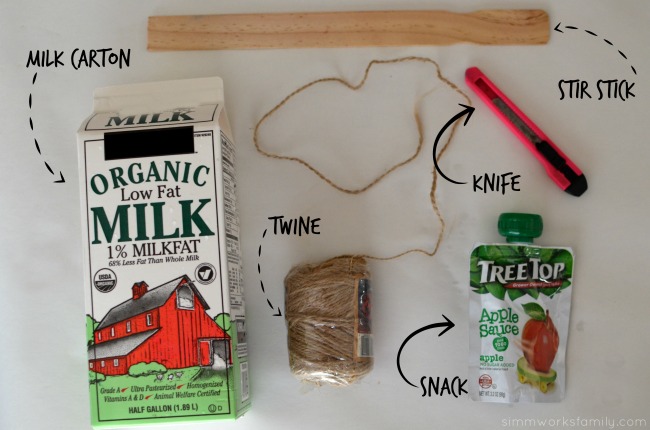 What you do:
1. Make a cut in the corner of the milk carton about 2-3 inches from the bottom. Cut out about 1 inch from the corner in each direction. Repeat on the opposite corner.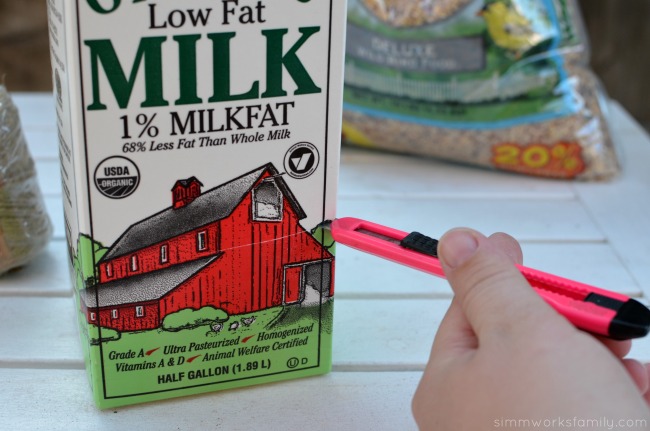 2. Let your child press inward on the cut to create a triangle punch in the milk carton. This is where the bird feed will be added and where the birds will eat from.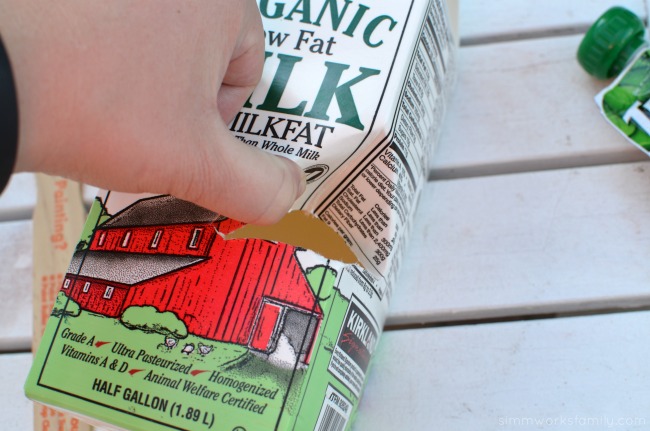 3. Add a small 1 inch cut on either side of the milk carton about 1 inch from the bottom to slide the stir stick in. Slide the stir stick in on one side and out the other. Make sure each side is sticking out evenly. This will be the bird's perch so they can sit and eat the seed.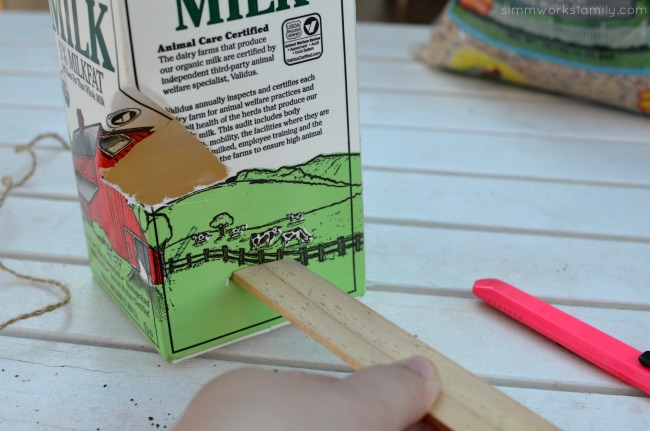 4. Using the knife, punch a hole at the top of the milk carton and let your child thread through some twine or string. The length you'll cut it depends on the place you're hanging the feeder from.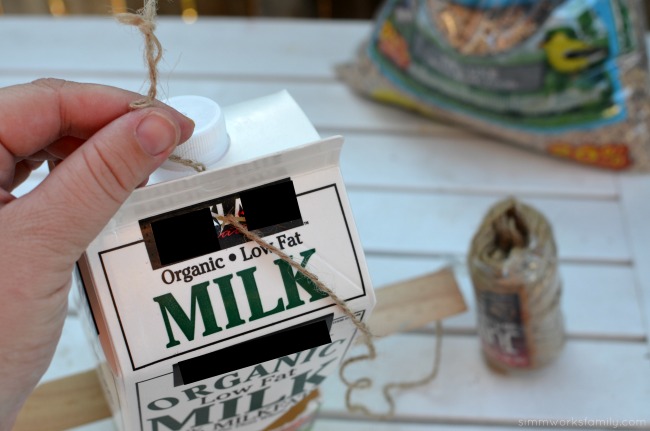 5. Let your child add the bird feed in. Make sure to fill it to the opening line so that the birds have access and can see the bird feed. When filling you can either fill from the sides as we're doing or get a funnel and fill from the spout at the top. Expect some spillage.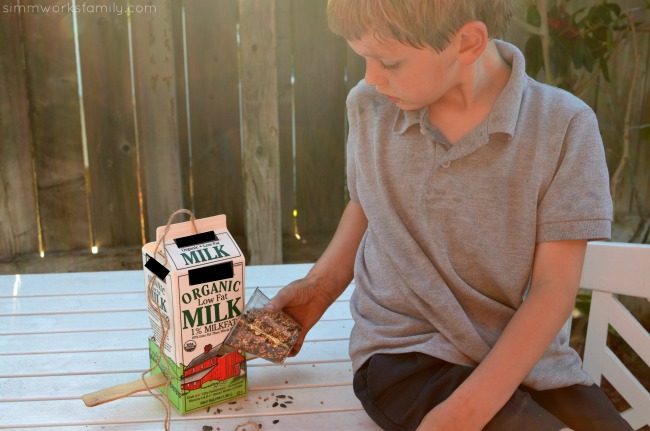 6. Hang the bird feeder where it will be easy to watch the birds that come to eat.
Tips from KidsGardening.org: Place it about 10 feet from plants such as evergreens or dense shrubs that can provide birds with easily accessible cover from predators. But don't place the feeder closer than 10 feet to avoid giving neighborhood cats a hiding place from which they can wait to ambush visiting birds.  Also try to choose a spot that is sheltered from winter winds.
Now it's time for that afternoon snack!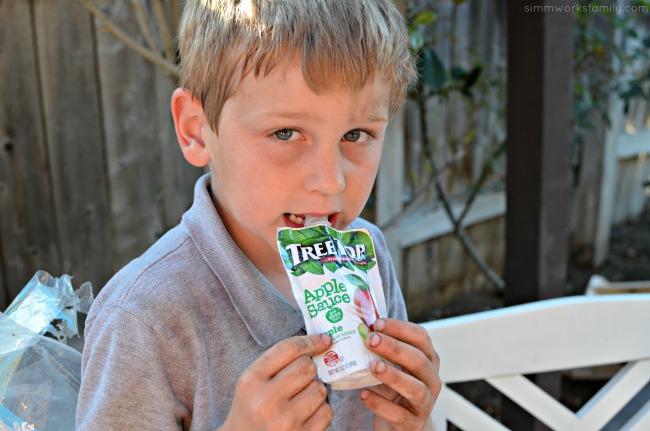 I'm excited to share that Tree Top is teaming up with KidsGardening.org to build gardens in communities across the country, helping children to understand the value in caring for the land and connecting with the food they eat. And you can help! For every Tree Top Apple Sauce Pouches product purchased, Tree Top will donate a dollar to help fund community garden projects and raise good apples across the country.
Looking for some great ways to get the kids in the garden or keep them active with fun activities? Check out the great ideas KidsGardening.org has on their site. As we start up our garden beds again at our new home I'm sure we'll be heading back to this great resource for tips and tricks. Another great idea are these DIY Cardboard Seedling Starters to get started. 
We truly believe in the importance of teaching our children where their food comes from and how they can grow it. They learn so much by staying hands on in the garden (can you tell that my son loves to be hands on? This boy is ALWAYS dirty!) whether it's in the community garden, at their school's garden, or at home in our own back yard.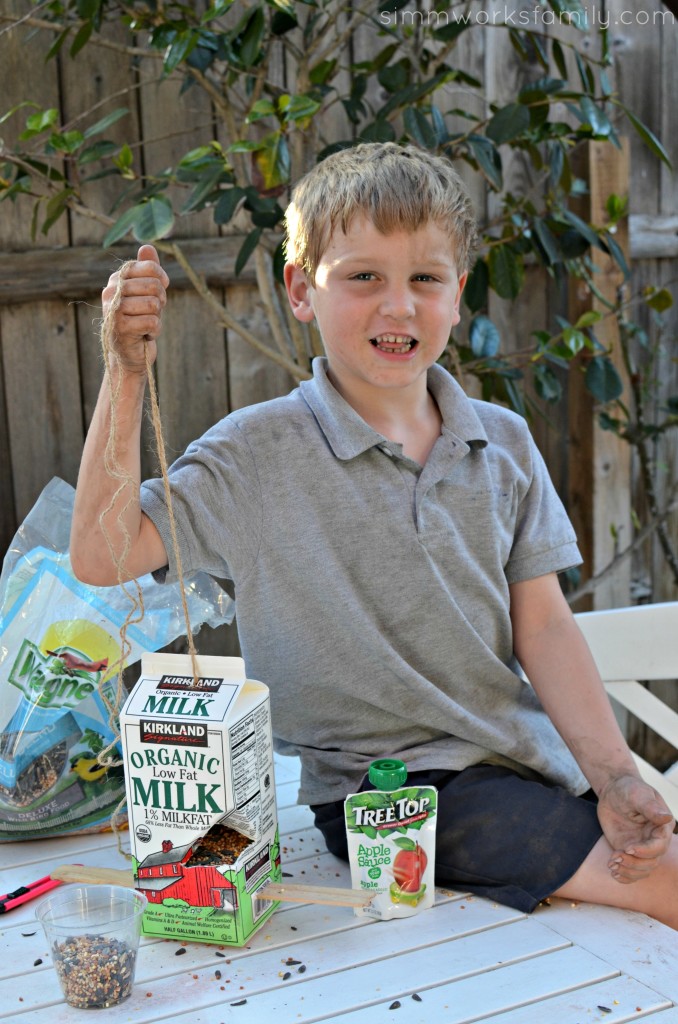 Do you have a garden in your back yard?
Disclosure: This is a sponsored post written by me on behalf of Tree Top.