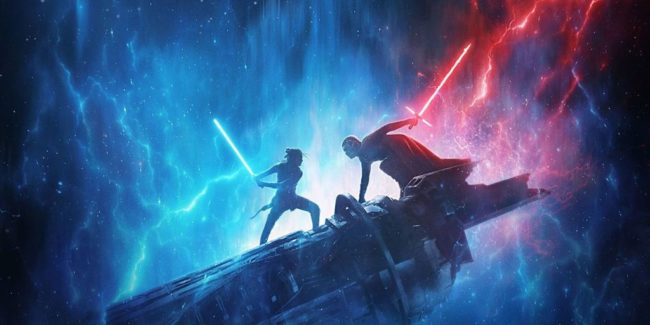 The time has come to end this long legacy with the final chapter and the last movie in the Star Wars trilogy. The last installment, while entertaining, did not answer or explain much of what the first movie started. What could we expect in this third act? I was actually pretty excited to see how they would wrap this arc up, but I did so with cautious optimism. Here is the verdict: it was a satisfying conclusion and I enjoyed it.
We find that the First Order is in firm control and asserting their dominance, as it appears that some time has passed since the events of the Last Jedi. The significantly reduced Resistance is hiding out in secret base camp lead by Leia. She has dispatched her agents to run around and gather intelligence which finds them being pursued by the First Order, at high speed this time.
The Resistance gains some intel that tells them they are running out of time to overthrow the evil organization because they are about to become unstoppable. Rey, Poe, Fin, and Chewbacca set off on a quest to find something they can use to stop the First Order for good. Along the way, we find out answers to a lot of the questions we thought would be addressed in the second installment. We also get a lot of familiar Star Wars scenes and images.
Did The Rise Of Skywalker Satiate Our Needs?
What I found satisfying is that we get explanations for some of these mysteries that were set up in the first installment. There are many new places we get to visit and new characters along the way too that were enjoyable. It's true this movie does appear to try and address some of the complaints from the last movie which I appreciated. Just like the Force Awakens it also recreates or reuses some of the same scenes we have seen in past movies in new ways.
The movie moves at a pretty quick pace and covers lots of ground. I actually plan on seeing it a second time soon so I can absorb more of the details. There is also some more back story provided about Luke and Leia after the Return of the Jedi. I wish we could have seen more of this earlier in the Trilogy, but at least we got this before it concluded. I left the theater thinking the story covered and repaired most of the elements I was concerned with. The movie also leaves the door open to move adventures too.
Is The Rise Of Skywalker OK For Kids?
This movie has a few dark scenes and is rated PG-13. The language is mostly tame. Its the imagery at times and audio that may spook younger children. There are space battles where people die in fiery wrecks as well as blaster and lightsaber combat. I am pretty confident an 8-year-old could sit through it fine. You could go a little younger if your child is really into Star Wars.
I have seen a lot of the critics are saying negative things about this movie, but give it a chance. Its Star Wars and its meant to be fun. Could it have been better, sure, but given where this movie had to pick up from I think it did an admirable job of wrapping up the story. Star Wars fans should enjoy it just fine and hopefully, they come in force.
Star Wars: The Rise of Skywalker is in theaters everywhere on December 20th. Grab your tickets!