I purchased some hazelnut crusted salmon at Trader Joe's this weekend in case I got lazy one night this week… well, that night came quickly. I wanted something else to make the dish really pop but didn't know what to make.
So with a bit of searching in my pantry, and perusing Food Network, I was inspired by a meal I watched and tried to re-create it with what I had on hand. I was not disappointed! This coconut lime rice is not only easy to make, it's so delicious, rich, and flavorful. And it paired perfectly with the salmon.
Plus, I could use the rice cooker to make it. That means one less pot on the stove or dish in the oven. Looking for a great rice maker? This one is my favorite!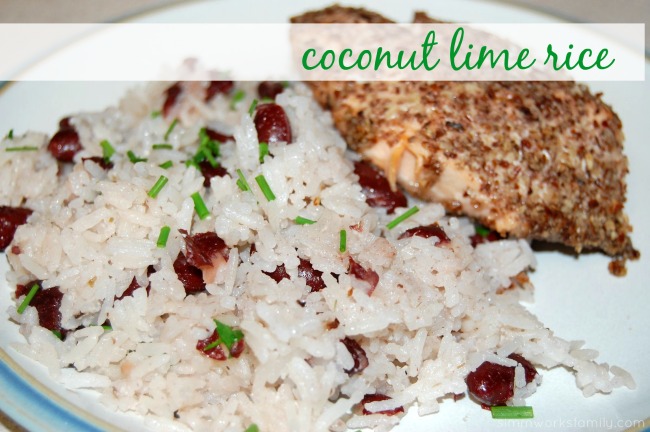 Coconut Lime Rice and Beans
2 cups brown jasmine rice
1 14 ounce can coconut milk
1 1/4 cup water
1 15 ounce can kidney beans, drained
1 teaspoon dried thyme
1/2 teaspoon finely grated lime zest
3 tablespoons chopped chives
Juice of 1/2 a lime
Throw everything but the chives and lime juice into a rice cooker and flip the switch to cook… wait for switch to go to warm.
Fold in chives and season to taste with salt and pepper if desired. Squirt the juice of 1/2 a lime on top and stir.
Makes 8 servings, 7 WW points per serving (and sooo worth it!)
What's your favorite rice cooker recipe?
Looking for something else to make in your rice cooker? You won't want to miss this delicious oatmeal recipe!