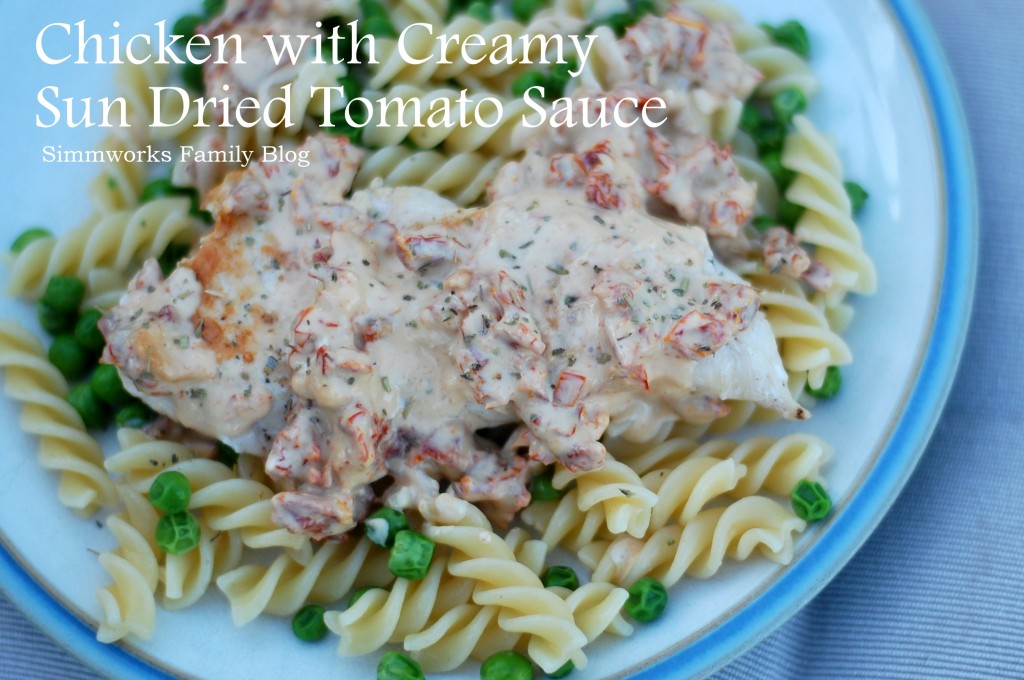 When I can prepare a meal that is both delicious and quick to make then not only have I found a winner but I've found a winner that deserves a spot on our monthly line up!
This dish not only creates an all in one meal (where each component is layered together… grains, veggies, meat, etc) it's a meal that you can drink wine while cooking. And any meal that includes wine both before and during dinner is a good one.
If you enjoy goat cheese you can totally sub it for the cream cheese we used. We just don't like it in our home.
Inspiration: Annie's Eats
Chicken with Creamy Sun Dried Tomato Sauce
2 chicken breasts, pounded thin & cut in half
1 tablespoon olive oil
1/2 cup white wine
1/2 cup chicken broth
2 tablespoon sun-dried tomatoes, chopped (and drained, if packed in oil)
4 ounces cream cheese
1 teaspoon Italian seasoning
salt and pepper
1 cup frozen peas
noodles

Boil some water and add pasta.
Sprinkle chicken breasts with salt and pepper. Heat skillet over medium-high heat and add oil. When oil is hot, add chicken breasts. Cook through, about 6-8 minutes per side, depending on the thickness. Set aside and keep warm.
Add frozen peas to pasta for last 1-2 minutes of cooking.
In the same skillet the chicken was browned in, add the wine. Cook over medium-high heat until reduced by half, being sure to scrape up the browned bits from the chicken. Add the chicken broth and reduce that by about half too. Add the sun-dried tomatoes and heat through.
Remove skillet from heat and stir in the cream cheese. Drain the pasta and peas. Put a piece of chicken breast over pasta and peas and top with sauce. Enjoy!
Serves 4