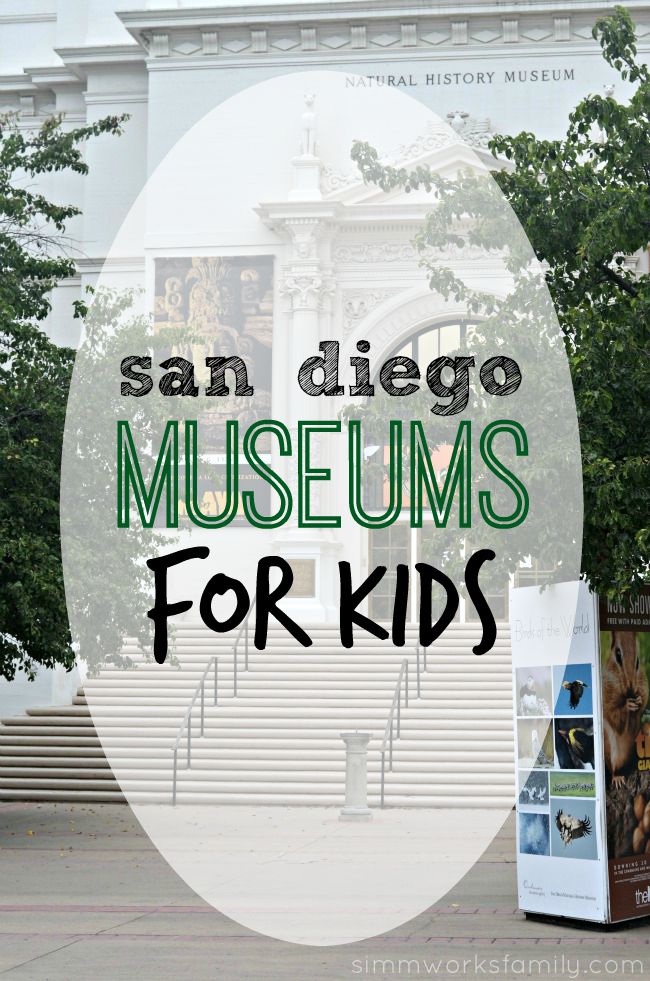 With summer break in full swing here in San Diego, we wanted to share some ideas for combining fun and education all summer long!
Finding things to do with your children over the summer can be a difficult task, especially when it is so easy to go the beach or park. But why not take a family outing that can be exciting as well as educating for everyone involved. Experience and learn with your children at these unique museums.
Oh, and if you find yourself in Balboa Park a lot, I'd check out their Balboa Park Explorer pass. They have a family pass (2 adults, 4 kids) for only $199.
San Diego Museums For Kids
For the Nature Loving Kids:
theNAT in Balboa Park lets kids get a hands on look at various animals and people through their amazing exhibits. Currently they're featuring Maya: Hidden Worlds Revealed where kids can try their hand at building bridges like the Maya did, practice their balance, and create mosaic artwork. When they're done exploring the Maya, they can visit the Coast to Cactus exhibit. Using specimens from the Museum's scientific collections alongside immersive environments, hands-on interactives, live animals, and innovative media, Coast to Cactus will help visitors discover what it means to be a biodiversity hotspot
General Admission: $19 for adults, $14 for children ages 7-17, and $11 for children ages 3-6
Hours: 10:00AM-5:00PM, 7 days per week
For the Music Loving Kids:
The Museum of Making Music in Carlsbad allows kids to explore and play as adults relive the musical memories they grew up with. The exhibits take visitors through the historic milestones of music as they look at the vintage instruments, listen to the music from different era, and get a glimpse of how music has evolved through time. The interactive area will sure get kids excited as they play the many instruments provided. 
General Admission: $8 for adults and $5 for children ages 6-18
Hours: 10:00AM-5:00PM, Tuesday-Sunday; Closed Mondays
For the G.I. Joe loving Kids:
For kids who love aircrafts, ships, tanks and G.I. Joe's, a visit to the USS Midway Museum on downtown's Embarcadero is a must. When visitors board the longest serving navy aircraft carrier in the 20th century, they will be taken back through 50 years of history. See how the navy men aboard these ships lived, climb into a cockpit, watch music videos and short films and take a ride in a flight simulator. The Midway will intrigue kids and adults of all ages.
General Admission: $20 for adults and $10 for children ages 6-12
Hours: 10:00AM-5:00PM, 7 days per week
​
For the Sports Loving Kids:
 Active kids can journey through sports history at the San Diego Hall of Champions Sports Museum in Balboa Park. Take in exciting exhibits like the Padres, Chargers and surf history exhibits or get your photo taken in the athlete Hall of Fame. See all the athletic achievements in San Diego as you and your family explore the three levels of this museum.
General Admission: $8 for adults and $5 for children ages 6-17
Hours: 10:00AM-4:30PM, 7 days per week
For the Mad-Science Loving Kids: 
The Children's Discovery Museum in Escondido combines experimentation, exploration and of course, imagination. From an outdoor Discovery Garden that captivates children with a wide variety of nature-based science activities, to a full size sailboat playground where kids can let their imaginations travel to new lands, parents and kids of all ages will love interacting at this museum.
General Admission: $6.00 for adults and children
Hours: 9:30AM-4:30PM, 7 days per week
www.sdcdm.org