As we get closer to the start of school, I am all about the easy morning breakfast hacks. And this kid-approved strawberry smoothie recipe is all of that and more. This post was sponsored, but all thoughts and opinions are my own.
As I got up the other day, I was greeted by both of the older kids complaining that they were STARVING and needed something to eat. Somehow the fully stocked fridge and pantry weren't enough for them to fend for themselves and they needed me to whip something up to satiate their hunger. When you have two growing kids in the house, this moment can happen quite frequently. So I grabbed a handful of fresh strawberries and our tub of FAGE Total 0% Plain Greek yogurt to make a smoothie for them. With a splash of almond milk and drizzle of honey, I had a simple smoothie that they both enjoyed.
While smoothies are quick to make, when we start school, things can sometimes get hectic in the morning. So I figured I'd get a step ahead of myself and prep my own homemade smoothie freezer bags that the kids could grab and pop in the blender on their own. That way if I'm taking care of the little one and don't have two seconds to drop everything and feed them, they can take care of making their own kid-friendly strawberry smoothie recipe.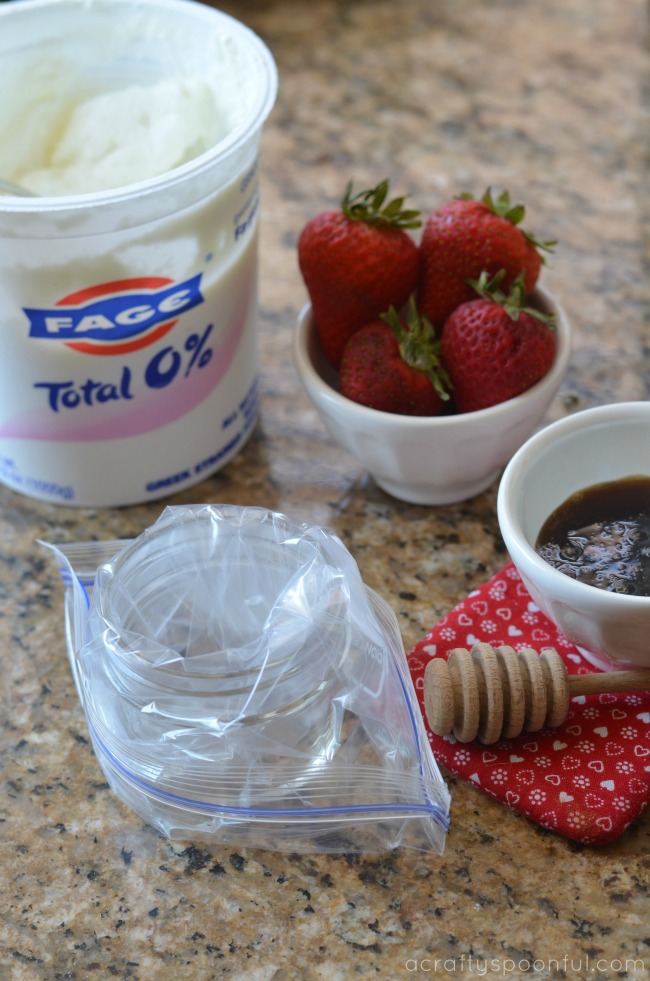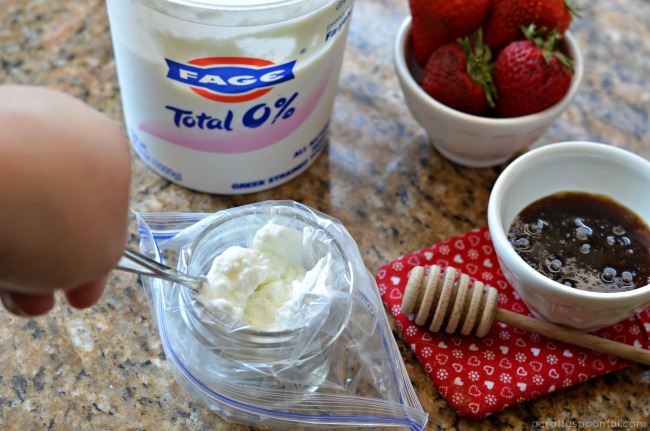 Easy Morning Breakfast Hacks
I love keeping ingredients on hand that the kids enjoy eating that are good for them and good for me too. By keeping these items on hand I can make a variety of breakfast goodies throughout the week for us to enjoy. Plus, when I purchase fresh berries, I like to freeze half of the container once cleaned and prepped so that it lasts a bit longer.
Here's what we keep on hand:
FAGE Total 0% Plain Greek yogurt
strawberries
raspberries
blueberries
honey
almond milk
With these ingredients we make these awesome breakfasts:
Kid-Approved Strawberry Smoothie Recipe
This kid-approved strawberry smoothie recipe is so easy to prep! Simply use an ice cube tray OR adding a baggie to a small individual mason jar and add yogurt. Top with a swirl of honey and then freeze until solid. Once frozen, transfer the yogurt to a bag with 1/2-1 cup prepped berries and store in the freezer for up to 2 weeks. Then follow this recipe for smoothie deliciousness.
Kid-Approved Strawberry Smoothie Recipe
1/2 cup FAGE Total 0% Plain Greek yogurt
1 cup berries
1 cup almond milk
1/2 cup orange juice
2 teaspoons honey
5 ice cubes ((if not using frozen berries or yogurt))
Place FAGE Total 0% Greek yogurt, berries, almond milk, orange juice and honey in the blender. Blend for 30 seconds.

Add ice (if not using frozen berries or yogurt) and pulse until smoothie is completely smooth and lump free.

Serve and enjoy!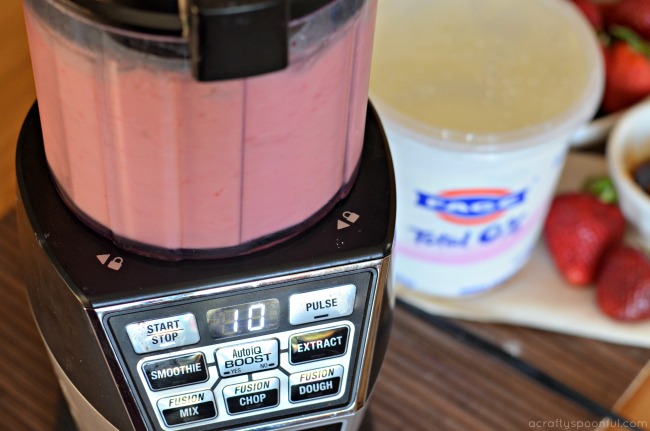 You can find FAGE Total yogurt and seasonal berries at your local Walmart store. Head over to the dairy aisle in the refrigerated section of your store to pick up a tub of your own!
And don't forget to check out the quick and easy recipe creations that incorporate FAGE Total Plain Greek yogurt during the in-store demos at Walmart 8/26.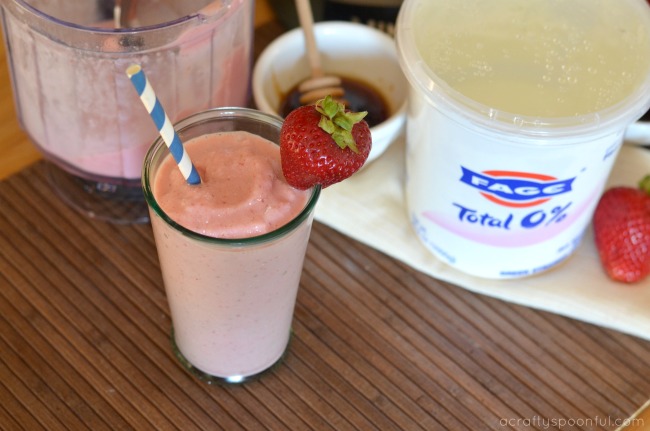 What are your breakfast hacks for smooth school-day mornings?
Pin this article for later!
Click the Pin button on the image below to save for later.